August 2019 Exhibit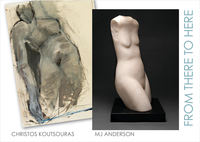 MJ Anderson and Christos Koutsouras
From There to Here

To commemorate our 7th anniversary we are proud to be presenting a dual exhibition for internationally known artists MJ Anderson and Christos Koutsouras, who bring From There to Here. The exhibition opens for Astoria's Second Saturday Artwalk August 10, with an artist's reception 5 – 8 pm. Please join us to celebrate this powerful exhibition focusing on the human form in both two and three dimensional portrayals. MJ Anderson will be present and available to answer questions about the work, all are welcome to stop by and meet her and learn firsthand about her unique process where antiquity meets contemporary. The exhibition will remain on display through September 10.

MJ Anderson and Christos Koutsouras, both legendary for their work share more than one common thread to their creative process. Both artists have worked tirelessly for decades honing their artistic skills, while placing themselves in a personal epicenter for continuous cultivation of inspiration. The two carefully balance careers that connect the Mediterranean to the Pacific Ocean. For Anderson that means splitting her time between her two studios, one located in the small coastal town of Nehalem, Oregon and the other in Carrara, Italy where she is close to the marble quarries she hand selects her own stone to sculpt. Christos Koutsouras, a painter also manages a career that takes him from his birthplace of Samos, Greece where he still maintains a studio, to his stateside home base of Astoria. For Koutsouras both places offer inspiration through landscape and light. The two also share a mastery of chosen medium, born of their love of the classics and ultimately utilizing that element as a springboard, to give voice to their mutual love of the human form, in expression of human nature itself.

Regarded as one of the Northwest's most important sculptors, MJ Anderson brings her iconic marble torsos. Taking a nod from the masters and personalizing it, she focuses primarily on the female form in her work. She creates forms that might remind some of the sculpted marble work falling somewhere between the Cycladic and Hellenistic periods, but exquisitely refining form to define to her own style. Hand selecting her marble, usually directly from the quarry, she has moderate control of what will occur once the chisel hits the surface. For MJ the magic happens within the stone itself, revealing what some might refer to as flaws, she leaves the revealed rawness to become an integral part of the finished form. Having experienced profound loss in her life, MJ utilizes her skills to portray woman as survivors, to serve as example of woman who have overcome adversity. The imperfections of surface become a living record of strife and struggle, becoming part of the overall beauty of form.

About her work she states:
I carve in response to the unique qualities of each stone I touch. It is an intimate and reverent dialogue of lasting consequence. And being a woman sculptor, I attempt to convey the essence of what it feels like to be human, to be woman. Whether working abstractly or in the figurative vein, I approach the form as if it has always existed. The process of direct carving keeps me active in the present tense as I respond to the form with each hammer blow. I am increasingly delighted by the endless possibilities that the human form and spirit provide as vehicle for expression. Often presenting a full-on facing forward figure without the contortions of vanity, I want to express the essence of our human-ness rather than the image of a person. Although stone carving is the most ancient and durable of art forms, working within the moments of my own time and evolution imparts a contemporary insight into that which is both ancient and immediate in all of us.

Anderson has been exhibiting her work extensively throughout the Northwest and abroad since the mid 1990's. Her work is included to the permanent collections of the Portland Art Museum, Hallie Ford Museum, Salem, OR, Caesar's Palace, Las Vegas and the Maroochydore Bushland Botanic Gardens & Noosa Botanic Gardens, QLD. Australia. She has been the recipient of a Pollack- Krasner Foundation Grant, a two month Fellowship Award in Civita di Bagnoregio, Italy through NIAUSI through the Northwest Institute of Architecture & Urban Studies in Italy and most recently a career opportunity grant through the Oregon Arts Commission and The Ford Family Foundation.

Koutsouras who was born and raised on the island of Samos Greece, sharing the birthplace of famed philosopher/mathematician Pythagoras; came to the lower Columbia Region of the Pacific Northwest in a rather surreptitious manner. Preparing for his second solo exhibition at the Indianapolis Museum of Contemporary Art, Koutsouras found his way to the region. Knowing he wanted to create a body of work about the ephemeral yet powerful Pacific Ocean to share with his audience in the Midwest, he took an exploratory trip down the Oregon Coast. It was along the banks of the Lower Columbia River he found his muse, her name is Astoria, Oregon. His intent was simple, to stay six months for an intensive period of painting, ultimately creating a body of work inspired by the wildness and integrity of the region. This place of confluence took hold like an anchor dropped from a freighter; Astoria beckoned and he listened. Inspired by the landscape, and tenacity of those who settled here, he has worked from the same studio on the banks of the Columbia River for nearly ten years, creating four distinct bodies of work for exhibitions shown here in the United States as well as Europe.

Still maintaining his studio in Greece, this current series was created there. Working towards this exhibition shared with MJ Anderson, Koutsouras took inspiration from her marble torsos, shifting gears and going back to his love of the human form. Smaller works on paper and canvas, mostly in oil show his deft and muted palette handled with calculated nuance. Almost ghost like forms languidly recline across the paper, with compositions that place the figure within the landscape of the region even while he is abroad and working from his studio in Greece, as if haunted by the spirit of Astoria itself.

About his process and choice of medium he states:
Painting has always been the medium I could channel feelings, moods, thoughts, and observations, and communicate those, using the aesthetics and the freedom it provides me, to get into the space between, the place that creates those images.
Painting allows me to be romantic, and at times even rewards me with images of beauty and depth.
Painting allows me to travel in many ways, and gives me the task, to communicate my experiences with others, and by saying that, I come to the last but foremost ...painting has taught me how to share.
Enjoy what you see, be critical about it, and hopefully it does catch your curiosity to think and express those thoughts.

Koutsouras has enjoyed a career that has offered many unique opportunities including commissions for large scale public art projects. One such project was located at the East Side Gallery in Berlin, Germany where a monument of freedom was established when the Berlin Wall came down. He, along with over 100 other internationally respected artists were each designated with a 30' segment of the wall to create a mural celebrating a message of peace. In addition to being represented by Imogen Gallery in Astoria, Koutsouras has exhibited work in various solo exhibitions around the world including the Martin Luther Kirche in Cologne, Germany; Abraham Lubelsky Gallery in New York, New York; Center for the Artist, Melian Merkouri in Athens, Greece; Christel DeHaan Art Center and the Indianapolis Museum of Contemporary Art in Indianapolis, Indiana. Koutsouras firmly has one foot in two continents, managing a career that spans from Astoria, Oregon, to Samos, Greece with several stops in between.

---
July 2019 Exhibit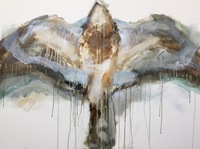 The Long View, Up Close

The Paintings of Bethany Rowland

Bethany Rowland returns to Imogen Gallery with her fourth solo exhibition, inspired by her continued love of landscape and the raptors that inhabit its skies. Her latest series The Long View, Up Close opens during the Astoria's Second Saturday Artwalk with an opening reception Saturday, July 13 from 5 – 8 pm. Join us for the evening and meet Bethany Rowland who will be available to answer questions about the collection and her painting techniques.The exhibition will be on view through August 6th.

For any artist, surroundings become part of the creative process, taking inspiration from the play of light, the shift of color due to atmospheric qualities and the connected dependence of flora and fauna that results within varying ecosystems. Having recently completed her second artist residency at PLAYA, located in eastern Oregon at Summer Lake, Bethany Rowland found herself immersed in a vast terrain drastically differing from the Douglas fir forests of her home, west of the Cascades. The long and sweeping views brought her focus to the immense skies and its inhabitants. Her careful observation of Red Tailed Hawks, soaring high to scour the land far below for prey, noting the stillness of a Great Horned Owl perched but alert, and the impossible aerodynamic show put on by Kestrels hunting. Working in acrylic on clayboard, her paintings offer a perfect blend of realism and abstraction, with subtle nuance of brush stroke she crafts composition lending to the mysticism of landscape and animals she honors.

Her experience of placing herself in this ancient (yet new to her) landscape made a profound impact on how she views her surroundings. She fell into a daily rhythm of looking skyward for careful observation in slight shifts of light, revealing nuance of birds in flight as they meandered through their daily tasks of existence. The long views of distance pulled sharply into focus through juxtaposition of billowing cloud formations within an enormous sky that scraped snowcapped mountains in the far distance, became intrinsic to her painting. About this series she states:

The title of this show comes from what shifted in me when exposed to this ancient wild expanse of land, water and sky, and observing the ways of seeing of raptors. I was born into the sheltering fragrance of Douglas fir trees in the Pacific Northwest. The PLAYA landscape has loosened something in me that needed untethering, and has drawn me closer to exploring new questions of hope, empathy, and what motivates us to act, in response to the growing threats to our interconnected world. There are many ways of being in the world. What does it mean to take the 'long view' in a world that calls for our love and attention? If proximity and attention help us to care, what is there to learn about taking the long view without disconnecting?

Can we expand our imaginations to access the wisdom of natural intermediaries?

I found myself soothed, gazing across the evaporating lake, where ghostly forms of alkali dust gathered and ascended to the heavens. Unto dust we shall return…

Rowland who has been painting for well over 20 years handles her medium, style and subject matter with unabashed confidence, carefully cultivating imagery that is a beautiful and evocative marriage of representation and abstraction. Combining quiet corners of complex layers of sheer color with definitive mark and gesture, she conveys emotion; a hint of melancholy, comfort and acceptance within each composition. She readily sights such artists as Phil Sylvester of The Drawing Studio in Portland, OR as well as others including Andrea Schwartz-Feit, William Park and the late Royal Nebeker for giving her the courage to trust her own intuition in her practice. She understands form and allows herself freedom to explore the nuance of posture through the discipline of painting the human figure. Her figurative work has been juried into Clatsop Community College's annual Au Naturel: The Nude In The 21st Century, for multiple exhibitions throughout its history. Her work is regularly included to the annual Sitka Art Invitational as well as the juried annual Cascade Aids Project art auction.
---
June 2019 Exhibit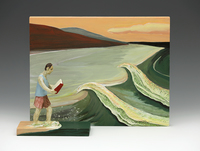 Safe Harbor
Stan Peterson

Imogen Gallery is pleased to be hosting a solo exhibition of the delightful and thought provoking sculpture of the well-known Portland artist Stan Peterson who brings his latest series of work, Safe Harbor. Join us for Second Saturday Artwalk, June 8 with a reception for Peterson, 5 – 8 pm who will be in attendance and ready to share his tales of whimsy and inspiration. Safe Harbor will remain on view through July 9th.
Stan Peterson delights in storytelling and with that in mind has put together a new series of carved and painted wood pieces, both wall hung and freestanding that reference his love of travel and the tales that ensue. Inspired by Astoria, its maritime history and dramatic landscape, he brings a collection focusing on boat and barge vessels carrying his friends the "restless travelers of the random" to safe harbor. Safe Harbor and its cast of characters are sure to delight with a healthy dose of whimsy grounded by just enough introspective sensibility.

Peterson, a self-taught woodcarver has been exhibiting his narrative and figurative sculpture for nearly four decades, utilizing animal form as a vehicle to explore human interaction and connection. As a retired postal carrier, walking is something he has always enjoyed, whether it be the city streets or remote beaches; long sidewalks give way to stretches of beach pulled and reshaped by tidal flow. These elements give him the time and space for introspection of daily experience and random encounters that quite often become center stage to his finished work. About this exhibition he states;

My work travels. Shaped with hand tools to a scale that fits in a pocket. Works in process often go out for a drive, or a walk on the beach. I take iPhone pics of them and post on social media. It's a type of storytelling. The changing tides of migration are having a major effect on all of our sensibilities.

Astoria, being on the water, offers wide views and distant horizons. Cargo ships and fishing boats anchor to wait out the tide. My carved rabbits, penguins, giraffes, etc have found a safe harbor at the Gallery as Spring turns into Summer. Sometimes they assemble on stage sets for the wall. Vignettes telling of their adventures in a painterly manner. They are restless travelers of the Random.

Peterson has enjoyed a remarkable career as an artist, exhibiting his work from the west coast to as far away as New York and Paris with collectors all points in between. He has been a featured artist on the much loved OPB Art Beat program and written about in PDX Magazine. He has enjoyed several artist's residencies over the years including award of an individual artist's grant from the William T. Colville Foundation to travel to Bali for "Arts in Bali" where he worked with a traditional mask carver in Bali.

---
April and May 2019 Exhibit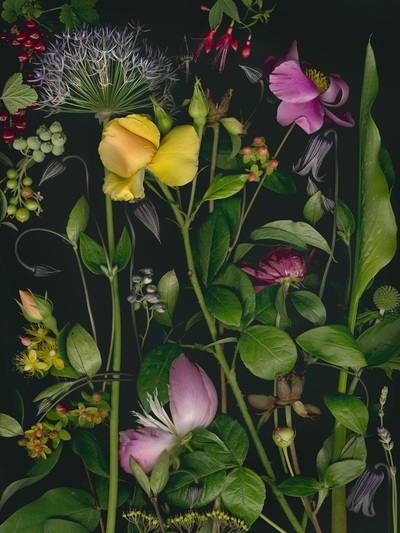 Garden Studies
Deb Stoner

Imogen Gallery is honored to be hosting a solo exhibition for Portland artist Deb Stoner. Garden Studies opens April 13th for Astoria's Second Saturday Artwalk with a reception for Stoner, from 5 – 8 pm. Stoner, an accomplished photographer brings a new series of archival pigment prints, focusing on her love of gardening and the Dutch masters of still life painting. All are invited to enjoy good company and conversation with the artist during the reception. The exhibition will be on view through June 4th.

With the arrival of spring and the gardening season we are thrilled to host the lush and spectacular photographs of Deb Stoner. Stoner from Portland, OR, combines her skills as photographer, researcher, and gardener along with a meticulous sense of detail to create dramatic still life imagery. Reminiscent of the still life painting of the 16th and 17th centuries she weaves complex mazes of texture and color within each composition. With a strong background in craft as a jeweler, scale and precision are always at the forefront of her work today. Her fine art prints are the culmination of a passion for growing plants, collecting insects, and choreographing the still life image.

Garden Studies, Stoner's current series showcases her love of botanicals with large format prints that allow the viewer to immerse themselves in details not normally seen without careful scrutiny. With some images printed as large as 60" x 42", insects larger than life reveal themselves within her compositions, looking at home in their artist made world. Incredible detail in a vast array of plant varieties included to each print, Stoner's work is easily a horticulturist's dream come true. She carefully cultivates each detail of her compositions with the delicate nuance of curl on a petal, or the subtle shift of hue within a blossoming rose. The juxtaposition of the bright and shiny surface of an eggplant next to the matte, almost velvety skin of a purple string bean gives the allure of indescribable texture and dimension that leaps from the flat surface of rag paper that each image is printed to.

Stoner is an artist who is constantly challenging herself to create and reveal the unexpected. Her photographic process is not the atypical point and shoot format with a hand held camera and lens doing the work, instead she creates each high resolution image on her scanner, literally building her compositions on the scanner bed to capture as much detail as possible. About this series she states:

"I make high resolution images of things I gather in nature, from intensely dense urban floral gardens to experimental vegetable breeding gardens. This year was the first where I made photographs from the mobile studio that my partner made from a 1952 vintage trailer, marking freedom from the tether of my usual home studio. Some of these photographs have come from that experience. All are a continuation of a large ongoing body of work called "A Year in the Willamette Valley", a reference to place and time. Obviously inspired by 16th and 17th century European floral painters, as well as the natural/fake large scale dioramas in natural history museums, I'm mostly interested in making beautiful compositions. The scanner, as my photographic tool of choice, reveals extraordinary details far beyond the ability of my unaided eyes. My obsession is paying attention to phenomenal and ephemeral events in gardens throughout the year, and making images with them in real time."

Deb Stoner holds an MFA in Applied Design from SDSU, a BS in Geology from UC Davis, and a decades long teaching career at Oregon College of Art and Craft. Recently she presented lectures on photography to the Yuma Symposium, the Portland Art Museum, and the SPE NW Regional Conference. She has also had solo shows in 2017, 2016 and 2015, as well as numerous group shows, and currently has two scheduled for 2019, the first at Imogen. Stoner has juried purchases in the permanent public art collections at University of Oregon, OHSU, PCC, and Portland International Airport; is the recipient of grants and a recent residency, and sells work to enthusiastic collectors around the world.

---
March 2019 Exhibit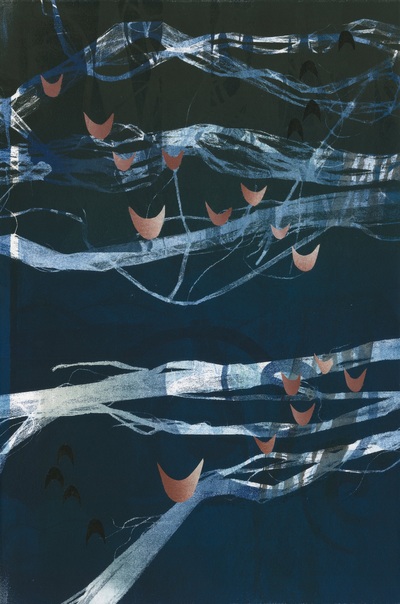 Voyages and Migrations
Miki'ala Souza

Imogen Gallery is honored to be hosting a solo exhibition for Astoria artist Miki'ala Souza. Voyages and Migrations opens March 9th for Astoria's Second Saturday Artwalk with a reception for Souza, 5 – 8 pm. Souza, an accomplished printmaker brings a new series of monotypes and chine colle prints that explore journey and migration of people from one culture to another. All are invited to enjoy good company and conversation with the artist during the reception. The exhibition will be on view through April 9th.

Souza, a native Hawaiian brings a complex series of montypes and chine colle prints for her first solo exhibition at Imogen Gallery. For this series she depicts waterways and currents that might be utilized to traverse from homeland to a new and unknown environment. Her imagery acts as representation of past to present and the overlapping of cultures that ensue by migration. Through the intrinsic layering process of printmaking she brings dramatic imagery of rich and saturated color. Incorporating bold swathes of sheer inks to act as current, finding themselves winding over the page in rhythmic patterns such as a traveler trusting themselves to currents that propel them around the globe. The very process of printmaking is a perfect metaphor for this transference of cultural identity that Souza depicts in each composition, weaving the layers of inks to create an imprint of one's history, building a sense of journey from past while fusing that with present and giving reference to what may come with new sense of identity.

Souza is both a practicing artist and educator, teaching art at the high school level and in the past printmaking at Clatsop Community College. She has always had a strong love of travel, exploring the world to deepen her own knowledge of sense of place. Her prints include bits and pieces of all the places that have touched her through experience and memory. Souza's exploration of other cultures includes six months study at Parsons School of Design in Paris, three months in the Solomon Islands studying art practices in a small village, as well as multiple trips to New Zealand including one visit granted by the Oregon Arts Commission for residency and exhibitions of indigenous artists. About her work she states, "The spaces created during the monotype process of layering ink, build elusive landscapes full of symbolism, depth and color. I build environments that combine influences from my immediate surroundings as well as imagery from my indigenous background."