June 2023 Exhibit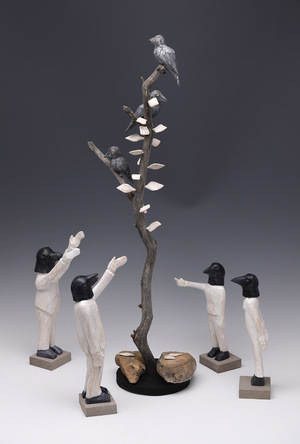 Stan Peterson
What the Ravens Saw
We are excited to welcome back Stan Peterson for his third solo exhibition at Imogen. He brings a new series of carved and painted wood sculpture, paintings, and photographs. This new series was directly inspired by his most recent artist residency in New Mexico where he spent time observing the areas ravens, framing this body of work. Join us for ArtWalk June 10, 5 – 8 pm and have a chat with Stan, he'll have many great stories to share about his work and experiences. The exhibition will be on display through July 3.

Stan Peterson is not one to incubate his creative ideas strictly within the 4 walls of his studio, instead he enjoys travel, attending (and teaching) workshops and artist residencies to direct his creative path. He gathers observations from daily walks that once back within his studio become 2 and 3 dimensional reflections of experiences and thought. His most recent residency took him to the famed Ghost Ranch where Georgia O'Keefe lived, worked, and wandered throughout the terrain. Peterson who walked the same hills as O'Keefe and the Navajo people who came before her, took in the power of the landscape and its vastness, imbued in spirituality. This and his time observing the areas ravens became the backbone of this series of sculpture and paintings.

Peterson, a self-taught artist has been exhibiting his narrative and figurative sculpture for nearly four decades, utilizing animal form as a vehicle to explore human interaction and connection. As a retired postal carrier, walking is something he has always enjoyed, whether it be the city streets or remote beaches; long sidewalks give way to stretches of beach where he can observe his feathered friends and where his source of inspiration begins. These elements give him the time and space for introspection of daily experience and random encounters that quite often become center stage in his finished work.

As an artist who delights in storytelling, Peterson has created yet another fantastical body of work still based on the figurative, whether it be a hybrid creature of his brilliant imagination or a more literal depiction of birds, horses or human figure, each piece always lends to story. While at Ghost Ranch, Peterson adopted the early morning practice of walking a labyrinth, always shared with the neighboring ravens who called to each other as he walked amongst them. Folklore extends deep within our shared histories of the great raven and for many native cultures the esteemed Corvus was a creature of metamorphosis, or trickster and/or shape shifter. Peterson embodies the spiritual side of these great ebony avians with totemic hand carved sculpture.

About this exhibition he states:
Ravens are powerful guides. So well known as intelligent communal beings who are assertive and clever. They have become prominent subjects on my journeys away from cities. Big skies and open spaces with soaring ravens. This exhibit groups ravens, horses, and hybrid figures with carved wood sculptures, small painted dioramas with carved figures, memory paintings of landscape on canvas, and photographs of onsite installations. Nature is an ever-changing backdrop and inspiration whether by the ocean shore or the high desert. Memories of time immersed informs the slow task of carving with hand tools.

Peterson has enjoyed a remarkable career as an artist, exhibiting his work from the west coast to as far away as New York and Paris with collectors in all points in between. He has been a featured artist on the much-loved OPB Art Beat program and written about in PDX Magazine. He has enjoyed several artist's residencies over the years including an award of an individual artist's grant from the William T. Colville Foundation to travel to Bali for "Arts in Bali" where he worked with a traditional Balinese mask carver.

---
April 2023 Exhibit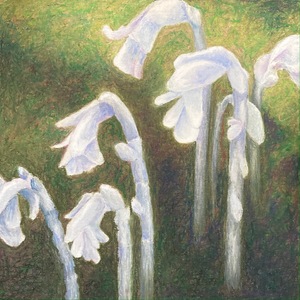 Kathleen Faulkner
The View from Here
April 8 – May 8
We are pleased to host a solo exhibition for Northwest artist Kathleen Faulkner, her first show at Imogen. Faulkner who works in oil and oil pastel brings a new series of paintings titled The View from Here, focusing on landscape of the coastal Pacific Northwest, depicting the quiet places that she lives within. The exhibition opens during Astoria's Artwalk, Saturday, April 8. Faulkner will be in attendance from 5 – 7 pm and available to answer questions about her work. The exhibition will remain on view through May 8th.

Kathleen Faulkner, a native to the Pacific Northwest calls Anacortes, Washington home. Living along the Salish Sea, her paintings are informed by her love of land and sea. She conveys a meditative sense within her work, a gentle and serene interpretation of coastal waterways and forests, while reflecting on past and future of these places and the sustainability of them. With a nod to history of the land, Faulkner brings soft edged skies meeting with sea that melts into shore. Her deft use of oil pastel as medium to convey mood, adds to the subtle layers of color as water reflects sky. Carefully developing background to foreground she builds a deceptively simple composition of a complex ecosystem of wetlands and forests. Both equally important to global health, as forests are considered the lungs of the planet while wetlands the kidneys, both crucial to our existence.

About this series Faulkner states: "My work is about the environment and how I view it. Life on earth is a lot different than when I was younger. Earth is paying the price for our over consumption. Other species, wild places and biospheres are declining. I keep track of what is here now in a small portion of a region called the Pacific Northwest. I miss the abundance of the past but try to live in the moment. It is less than it was but more than it may be in the future." With muted palette she conveys the delicate balance and symbiotic relationship between land, water and sky or our coastal rainforests, bringing both hope and awareness to reality.
Faulkner has exhibited her paintings, prints and jewelry primarily throughout the Northwest but extending around the globe when her work was included to a traveling exhibition throughout Europe as well as a permanent home in Kosova when her paintings were selected for the Art in Embassies program in 2022. She has exhibited in multiple museum exhibitions including an upcoming 20 woman exhibition planned for the early Spring of 2024 at the Museum of Northwest Art. The exhibition, "Silva Cascadia: The Forest is Female" explores the nuance of our forests and will also include the work of Imogen represented artist Laura Hamje.

Imogen Gallery is located at 240 11th Street, on the vibrant block shared with Cargo (now located across the street) and Astoria Coffeehouse & Bistro. Current business hours are Thursday thru Monday 11:00 to 5:00 and Sunday 11 – 4, closed Tuesday and Wednesday. For more information about Imogen Gallery or its represented artists please call 503.468.0620 or stop by in person to see what is new. Imogen Gallery can also be found on the internet via Facebook or at www.imogengallery.com .

---
March 2023 Exhibit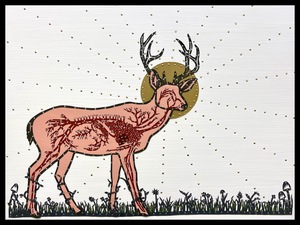 Kim Hamblin
Outskirts of Biophilia
March 11 – April 3

We are eager to welcome back Kim Hamblin and her complex hand cut paper assemblages. Known for her intricate compositions on wood panel, created with paper, acrylic paint, steel nails and an X-Acto knife, Hamblin brings a new series titled "Outskirts of Biophilia". Within this series she takes a deeper consideration into the relationship between humankind and the wild, still drawing inspiration from her love of biology, botany and anatomy. The exhibition opens during Astoria's Second Saturday Artwalk March 11 from 12 – 8 pm; stop by and meet Kim, she'll be at the gallery 5- 7 pm. The exhibition will remain on view through April 3.

Kim Hamblin of Sheridan, Oregon is a woman who wears many hats. Besides being known throughout the northwest for her intricate paper – cut assemblages, she is also a farmer, realtor, music festival organizer, and winemaker. Hamblin and her husband own a 50-acre farm called Roshambo ArtFarm located in the Willamette Valley where they also hosted the Wildwood Music Festival. Her interests and talents are vast but always intersect with her artistic endeavors.

Specific to her artwork, inspiration is gleaned from her lifelong love of the sciences; particularly anatomy, botany, biology, entomology and zoology. The focal point of her work is a compelling blend of imagery and process, becoming quintessential to each finished piece. Hamblin's use and application of materials is a unique blend of paper cutting, painting and mixed media, culminating in an industrial yet delicate composition. She considers her process a form of meditation as she hand cuts paper and then mounting to painted wood panel. She then meticulously adds small nails to further tessellation and texture, bringing a more industrial nature to the delicateness of pattern revealed in each paper cut. The juxtaposition between paper and steel makes for a unique and striking finished composition.

Hamblin's imagery is always indicative of her love of science. As her show title implies, Outskirts of Biophilia she focuses on that direct parallel. Biophilia, a term first coined by psychologist Erich Fromm and later evolved into scientific theory by biologist Edward O. Wilson, literally is defined as "love of life" and describes the human drive to connect with nature and other living things. This is the very crux of Hamblin's work, with a twist thrown in.

Most have heard the term "forest bathing" the simple practice of taking a walk in the woods for emotional and physical health. It is an innate need of humankind to connect with flora and fauna and has been scientifically proven as being beneficial to well-being. Through imagery, Hamblin explores the importance of this basic connection while also addressing the complex issues of mankind's impact on nature. About this series she states, "We humans tend to simultaneously spiritualize and destroy our natural world. Some creatures inspire us to understand our connections by acting as omens, some represent our ancestors, some our future. Yet, as a whole, we rarely value nature enough to fully protect it. By valuing nature for only it's 'resources', we tend to destroy habitat for our own enrichment without understanding that we are slowly destroying ourselves in the process. We are often on the outskirts of nature, but I think the only way to save ourselves is to understand that we need to protect and understand the intrinsic value of our natural world."

Hamblin has exhibited her work throughout the northwest, including past recognition the "Best of Show" award for Art in The Pearl, one of the Northwest's esteemed art festivals held annually in Portland. She is also a recipient of two purchase awards from the Oregon State University's Art About Agriculture where her work is included to their permanent art collection.

---
February 2023 Exhibit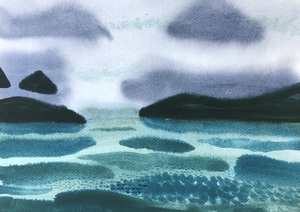 Northern Light

Paintings by George Wilson

In celebration of the return of FisherPoets Gathering, we are pleased to welcome back George Wilson, a commercial fisherman and professional artist. Wilson who comes from a generational fishing family in Scotland now resides in Portland. His love of water, merging where sky meets shore is ever present in soothing and dreamlike watercolor paintings. For this series Wilson continues in true fashion bringing ethereal paintings, focusing on landscape, flora and fauna etched within memory. The exhibition Northern Light opens Saturday, February 11th from 5:00 – 8:00 pm and will remain on display through March 6th. George Wilson will be in attendance from 5:00 – 7:00 pm as well as the delightful duo Weird Fishes, comprised of Graham Nystrom and Celeste Olivares performing acoustic music.

For George Wilson, waterways are essential to life. Born into a fishing family in a small coastal Scottish village, he was raised on and around Moray Firth, an inlet of the North Sea. Wilson's relationship to water has always been a part of his existence, as well as a source of livelihood. His work is infused with his experiences as a fisherman, bringing the beauty of solitude as surveyor of land, water and its inhabitants. His profound connection has culminated in an enchanting series of paintings that serve as visual poetry to places he has known, reflecting shoreline and its ever-changing edges as weather fronts work to shape and define.

For this series he brings serene landscapes depicting his love of terrain of places he's known. The saturation of pigment on paper gently pools, emulating the climate and impact of atmospheric quality. Trees, lush with life dot hillsides held by waterways. As a fisherman, Wilson's work is framed by the importance of where land and sky meet. He shares with the viewer his love of the land with dreamlike renditions of places that resonate with a deep and rooted sense of nostalgia. About this series he reflects, "I am thinking about Northern Oceans today; of haar (sea fog) and the call of the kittiwake; of pink blushing dawns, long daylight hours and blazing sunsets. I know the Northern Light of Scotland and Alaska. I've seen it dancing on the Moray Firth and on the Shelikof Strait. I have seen it at the end of the day dipping behind the peaks of Morven and behind the snow-capped mountains of the Alaskan Peninsula. It is memory and longing, familiar yet far away."

Wilson who has painted as long as he's fished, eventually found himself entering the academic world with studies at Gray's School of Art, one of the United Kingdom's most prestigious art schools located in Aberdeen, Scotland. After graduating with a focus on painting and drawing, he found his way back to the sea where his time was shared between fishing trips and the studio. His work is a beautiful balance of both worlds with one love always merging with the other.

---
January 2023 Exhibit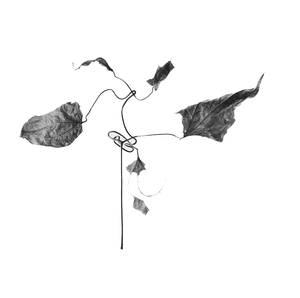 Aaron Johanson
The Biopsy Revisited
January 14 – February 6
During the month of January, we welcome the photographic work of Aaron Johanson who brings twenty stunning black and white prints that he created in his Portland studio. The series, titled The Biopsy Revisited is a fusion of the past and the present, created over a twenty-year span focusing on Johanson's deft use of lighting and traditional printing techniques through compositions based on botanical imagery. Aaron Johanson will be at the gallery and available to answer questions about his work Saturday, January 14 from 5 – 7 pm. The exhibition will remain on view through February 6th.

This series, The Biopsy Revisited, originally inspired some time ago when a neighbor of Johanson's left a desiccated Dollar plant at his door. The structural transparency became a source of intrigue, inspiring a series of photographs based on leaves of all forms of decomposition. Some of the images created then, dating back to 2000 were exhibited and then relegated to Johanson's personal archives. He has since revisited that body of work and reconsidered its importance compositionally while going through his own journey through cancer treatment. The work, created so long ago took on a new meaning. About the series he states: "I titled this exhibition The Biopsy Revisited after having a biopsy performed. I saw these leaf samples — detached from their life source, some dead, some dying, other looking very much alive — as similar to a biopsy performed for medical evaluation. Both are based on living tissue. It is interesting to me how our personal experiences shape our perception of the world."
By isolating his subject matter and stripping it down to its bare essentials, Johanson lets us appreciate natural form through the inherent beauty of large format, traditional black and white film photography. He revisited what was created twenty some years ago in preparation for this exhibition and scanned the negatives to see how digital prints might differ from his original prints. The series will include both his traditional printed work alongside his digitally printed images, based on film exposed around 2000. This series depicts the incredible delicateness of form in an intimate and parred down way, imagery floating in space, held in careful study by the eye behind the lens. Johanson's sense of composition is deliberate yet tender.

Johanson who was born into a creative family, his father being the late George Johanson, acclaimed printmaker, and educator, became hooked on photography as a teenager after receiving his first camera as a gift. During his studies at University of Oregon and studying under Willie Osterman he had the opportunity to visit Ansel Adams, tour his home and darkroom along with a portfolio critique. He was hooked and knew that was his future. After several apprenticeships at large commercial photography studios in Portland, followed by years of travel he landed a job in a Japanese publishing firm as the only foreign staff photographer. His assignments took him throughout Japan, a dream job for any photographer. In 1996 he returned home to Portland and opened a commercial studio, taking on newspaper and magazine work which eventually led to his specialization in photography of artwork. Johanson has photographed the work of several Imogen represented artists over the years.
Beyond his success as a commercial photographer, his personal work as an artist has been exhibited from Portland to Tokyo, including a solo exhibition at the Yamanashi Prefectural Museum of Art in Japan. His work is included to many private, corporate and museum collections such as the Hallie Ford Museum and the Portland Art Museum.