September Exhibit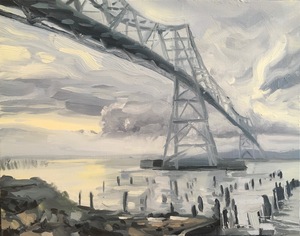 Laura Hamje

In The Clouds

This region, known as a place of confluence where the mighty Columbia River flows into the Pacific Ocean, has long attracted artists, who pay homage to the vast and ever changing skies hovering over both natural and manmade elements that define the region. Photographing, painting, and writing about the unfolding drama of windswept hillsides, remnants of pilings left from the grand days of a thriving fishing industry, along with the iconic Megler Bridge, has long held the imaginations of all who visit. This is what has captured the attention of Seattle based artist Laura Hamje, who brings a new series of oil paintings, In The Clouds, for her second solo exhibition in Astoria. The exhibition will open Saturday, September 12th and be on view through October 6th. Laura Hamje will be available to answer questions about her work Saturday, September 12th, 5 – 8 pm. Also available will be her newly published book Concrete Ghost: Seattle's Vanished Viaduct and Emerging Paintings by Laura Hamje.

Laura Hamje has found herself drawn to the region of the Lower Columbia River for years. Her strong love and fascination for the area has become informative to her work, shaping her vision and sense of composition. Hamje's paintings portray a nostalgic and contemplative landscape, defined by architectural structure seemingly to support sky while at the same time acting as a point of connection between land, water, and atmosphere. Hamje, like many, has been drawn into the allure of Astoria and through that she depicts elements of history, a lost past, while also suggesting a path to what remains unknown; the future. When discussing this series she states, "Cloudy days can make the world seem darker and duller. However, I have witnessed the vibrancy that cloud cover brings having lived in the Pacific Northwest for 15 years now. The dim and subtly changing light illuminates the earth in unexpected ways, creating forms and shapes not visible on a sunny day. Without the high contrast of full sunlight objects, land, sea and sky bleed into each other creating unnamable space where ones' mind can roam without constraints. This space has become for me not only quiet and reflective, but ethereal."

Within this series Hamje depicts the moodiness of the region suspended with heavy skies moving dramatically as if they themselves are shaping the landscape. Through steel girders that bind structure, she carries the viewer across the river, into the ocean, and up quite streams of known and not so well known locations of the region. Ominous skies break, pierced by light while currents of wind move tumultuous up and over the river. Fog hangs heavy, shrouding and encasing pathways of transit, almost appearing as a blanket of comfort and protection. Hamje captures the dance of the ever changing and un-choreographed movement of atmosphere that dominates the terrain.
About the area she also states:
"When I drive across the Astoria-Megler Bridge, I feel like I'm taking my life into my own hands. Although the area can be calm and sleepy, this is not its constant state. There is a feeling of the impending storm, which can materialize without warning. How many storms has the bridge weathered? Which structures along the river remain, and which of them show obvious wear and destruction? It makes me consider permanence, and the things we cling to as anchors. It makes me consider the storm, and if we should just give in to the unpredictability, the tumult…the anchor-less-ness of mortality. Within this paradox, I find endless inspiration."

Hamje's paintings have been shown from New York to Los Angeles and many places in between. She has also been juried into Au Naturel: Nudes In the 21st Century by Jane Beebe, owner and director of PDX Contemporary, where she was awarded 2nd place for her drawing. She earned her BFA from the University of Washington, studied in Rome, Italy as well as the Chicago Art Institute.

---
August 2020 Exhibit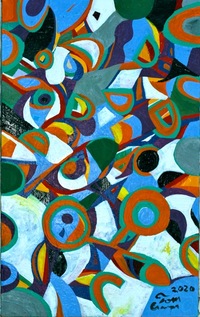 Tom Cramer: New Works 2020

We are excited to be presenting the third exhibition at Imogen by the renowned Portland based artist Tom Cramer. He brings bold, complex, color saturated paintings along with carved wood relief furniture and wood burned oil paintings. The exhibition opens August 8th during Astoria's Second Saturday Artwalk; Tom Cramer will be available to answer questions about his work and career from 5 – 8 pm. The gallery is currently open Thursday – Monday, 12 – 5 pm and Sunday 12 – 4 pm. We are also available by appointment for private viewing. The exhibition will remain on display through September 8th.

Tom Cramer has been at the epicenter of the Portland art scene for decades, known for his distinct and evocative painting style that reverberates with a sense of playful drama. For years many things have acted as a canvas to Cramer, utilizing furniture, cars, buildings, the ballet; these are just a sample of the channels of creative self-expression Cramer has utilized. Within this series, his collectors might notice a shift in style as he merges into a new era, both personally and artistically. His work continues with strong use of color and pattern, echoing his long interest in Eastern spirituality, music and botany. Also using wood as a medium, the exhibition will include just a few of his wood burned oil paintings, still exploring abstraction though use of form and line. Cramer, utilizes organized color, and pattern to hold elements of geometry, that then in entirety become a vessel of essence and/or spirituality. He also includes to this exhibition one of his rare pieces of relief furniture, a carved golden bench.

A conversation with Cramer always leads into avenues that may have been little explored or considered, full of energy, ideas and many twists. Cramer's paintings reflect very much the same, and are in many ways a direct reference to his own experiences. Drawing inspiration from intense periods of travel, and engaging on a deep and personal level in what he considers to be older and wiser cultures, has helped him to create "an art driven by emotional content".

Cramer considers this current series an homage to time past, a reflection on his youth spent here on the north coast when in his words, "life was good". He reflects back on summer days spent at Short Sands Beach, haunting Seaside and taking in the vibrant colors and flavors of the iconic Phillips Candies; these fond memories are the backbone of the series. With the turbulent times of now, it makes sense to want to step back in time, when life seemed simpler. When discussing his work, he states, "The paintings emerged slowly and were worked on for months. This allowed them, in a sense to paint themselves. A lot of layers and steps were involved and a passage of time hopefully is reflected in the imagery. A common thread in all the paintings is my attempt to record memories of certain cherished places or emotions that have meaning for me. Included are positive childhood recollections of the Oregon Coast. Other themes range from urban to rural, and from organic to the human construct. Or, to quote Edward Munch, "I paint not what I see, but what I saw." My way of responding to the current scary and chaotic social situation is to attempt to lift the viewer towards an elevated consciousness. I believe without art, music, love, and immersion in the natural world, life is not worth living." It's with this in mind that Tom is offering his paintings at levels that all can afford. His goal is simple and straight forward; to put art in the hands and hearts of all who will benefit from living with an original painting. Each painting holds spirit and soul, and much like music or poetry it has the profound ability to carry those who engage, to a better place whether it be momentary or forever.

Cramer's formal training began at PNCA in Portland and then on to Pratt Institute in New York. He has enjoyed a long and diverse career, showing in many reputable Northwest galleries over the years, including Russo Lee Gallery, and currently Augen Gallery, both in Portland. His work has been exhibited at the Tacoma Art Museum and the Portland Art Museum, as well as many other prestigious visual art venues. Cramer's work can be found in the permanent collection of the Jordan Schnitzer Museum of Art, University of Oregon, Eugene where they recently held a retrospective exhibition of his work, curated by art critic and writer Richard Speer. The exhibition Journey to the Third Dimension was a comprehensive exhibition focusing on paintings and drawings, by Cramer, created from 1977 to current. Cramer's work can also be found in the permanent collections of Microsoft, Inc, Portland Art Museum, the Boise Art Museum, and many other prestigious institutions.

---
July 2020 Exhibit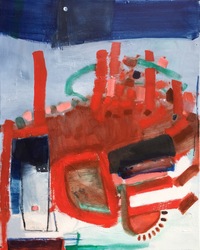 Diane Kingzett
Dig In

We are excited to welcome back Diane Kingzett of Portland for her fourth solo exhibition at Imogen. Describing herself as a painter of emotion, Kingzett brings a new series of oil and mixed medium abstract paintings titled Dig In. Within her process she leaves preconceived ideas of content and composition to consider her own internal dialogue, allowing psyche to become muse. The exhibition, Dig In, will open for Astoria's Second Saturday Artwalk, July 11. Kingzett will be present that evening from 5 – 8 pm and available to answer questions about her work. The gallery is now open Monday and Thursday – Saturday, 12 – 5 pm and Sunday 12 – 4 pm. We are also available by appointment for private viewing. The exhibition will remain on view through August 4.

Diane Kingzett is an artist who creates from an intuitive approach: her own response to outside circumstances help to form her imagery. Places she's been, memories of experiences and events, for better or worse, are all open to consideration once in the studio. As an artist, she conscientiously utilizes this in her painting practice as a tool to compartmentalize and process life changing events, in this case from a place of profound loss. Through her art she grapples with grief, taking it on with honesty and truth no matter how messy that process can be.

Within this series, Kingzett's work conveys in sublime and provocative ways elements echoing her own response and impression to traveling through grief while holding onto humor as an anchor to survival. Through abstraction, her compositions might bring vague imprint of place which for her are personal documentations of time and memory. With calculated use of palette, exquisite deep blues to intense and passionate pink blocked by black all lend to elements of landscape while offering a sense of haunting mystery and a nod to the unknown, much like death itself. Pale washes of grey over warm infused color defined by thoughtful use of line and distinct calculated mark making echo the impressions of the day to day experience of moving through grief. These marks define the marching forward of time, while looking back to things that will never be the same again. Kingzett's paintings provide space for that intuitive consideration of process through an ethereal sense of reality.

About this series she states,
"Someday I'll be a weather-beaten skull resting on a grass pillow, serenaded by a stray bird or two. Kings and commoners end up the same, no more enduring than last night's dream." (Ryokan:1758-1831, Japanese Zen Buddhist monk)

These paintings are my personal conversation with death and grief. Honor and freedom reside in being offered crushing grief. When it is our turn to process great loss we are afforded true ownership of our very own, private process. Dig in to it, sleep on it, talk it through, drink it away, laugh it off, hold it up to the light, burn it, spit at it, cherish it, antagonize it, let it go, clutch it near your chest, outrun it, interrogate it, outsmart it, remember it, forget it, toss it to the stars, bury it in garden debris, keep it, guild it, forgive it, fuck it, release it, rinse, repeat.

Each of these paintings represents a day in the process of grief. Memories of specific places, tiny excerpts of previously forgotten conversations with those who have left, regrets, hopes, moments of clarity and areas of confusion. Days of rolling a boulder up a hill, days of letting that same boulder crash to the earth below. All reliably lead to the same place, freedom, finality, release.

In the words of Caddyshack's Carl Spackler as spoken to the Dalai Lama…

And I say, "Hey, Lama, hey, how about a little something, you know, for the effort, you know." And the Dalai Lama replies, "Oh, uh, there won't be any money, but when you die, on your deathbed, you will receive total consciousness." So I got that goin' for me, which is nice.

Each painting represents a collection of memory, putting it into a place of understanding, even acceptance in relinquishing oneself to profound loss. Her work is not an attempt to mirror what she sees, but through reflection of emotional response she constructs imagery to create beauty, clarity, and resolve out of debilitating heartache.

Kingzett, who has painted for over 30 years earned her BFA at West Virginia University and studied at the San Francisco Art Institute as well as the Vermont Studio Center. Having lived in all four corners of the country, Kingzett has taken inspiration from her experiences and utilized that towards the development of her work as a painter. She has recently added silversmithing to her repertoire of creative expression. We are thrilled to offer her exquisite bezel set stone jewelry pieces along with her new collection of paintings.

---
June 2020 Exhibit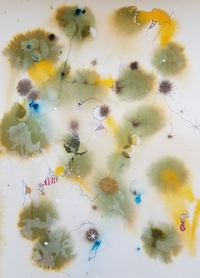 My Harmless Little Monsters
Linden

We are excited to welcome back long time Astoria artist Linden who has returned to her roots. Known for her evocative abstracted paintings Linden brings a whimsical collection of new ink and watercolor paintings for her third solo show at Imogen. This series, My Harmless Little Monsters is exemplary of her exploration of process and experience through intuitive painting. The exhibition open Saturday, June 13 and will be on view through July 7th. We will be open Saturday, June 13 12:00 – 5:00.
Linden's current series, My Harmless Little Monsters is a delightful collection of mostly paintings on paper. She infuses her warm and welcoming palette with subtle constructed drawing elements depicting curious creatures from her own fantasy world. Portraying joyful personality within her abstractions, each piece is sure to delight with lightness and a strong sense of play. For Linden her finished compositions are all about her process, beginning to end. Painting for her has become a sort of ritual or meditation, allowing her psyche to flow from her subconscious to whatever drawing and/or painting implement she might be holding in hand to then find its place on paper. Her lines provide connection from one point of substrate to the other, carefully held together by sheer and luminous use of color. Some of her compositions contain elements of story while others lead back to bursts of pigment freely moving across the page.
About her current series and her process she states:
"This body of work represents a huge milestone in my creative life. I finally feel settled enough
emotionally and physically to just 'let 'er rip'. As much as others think making art is simple and easily
done, I'm here to say: Not so much. The Creative Process is one of the most complex and compelling endeavors we can undertake. I liken it to both self-administered brain surgery and psychoanalysis.
And yet, we can't NOT do it."

Linden conveys thought and idea through abstraction, allowing her the freedom to thoroughly explore the visual language by reducing forms to suggestion of content. Her goal is to allow the viewer to participate in her process of analogy and perception. These works display a fresh boldness that seem to jump from surface, while still honoring past influences and input.

Beginning her studies at Clatsop Community College, Linden sites the late instructors and founders of the CCC art department Royal Nebeker and Roy Garrison as instrumental in her development as a fine artist. She continued her studies at Pacific Northwest College of Art where she earned a Bachelor of Fine Arts, focusing both on painting and sculpture. Relocating to the Bay Area in the late 90's, Linden continued her career while also teaching. In Benicia, California she founded a school dedicated to the education of all fine art practices for all ages. Linden opened the school under the premise that "the innate creativity that we have as children isn't ever really lost. It just needs to be fed so it can blossom." The Linden Tree is still in operation today with the same mission that Linden founded it under. She has exhibited throughout the northwest as well further locales, including Chicago. She began her local exhibition career at the former Ricciardi Art Gallery in 1996. Some of her accomplishments include a "Juror's Award" for sculpture created for the 2003 Journey's End International Art Exhibition held at Clatsop County Heritage Museum. Her paintings have been juried into the 12th Around Oregon Annual exhibition held at the Art Center in Corvallis, OR by Martha Lee, director and owner of Russo Lee Gallery in Portland, OR. Her work is included in the permanent collection of Clatsop Community College, Pacific Northwest College of Art and the Astoria Public Library.

As we are all adjusting to a new normal along with health needs of our community we will be working hard to keep the space clean. We also ask that visitors wear face masks, if you don't have one we are happy to provide one for you. We are also available by appointment for private viewing if that feels more comfortable. And as always the exhibition can be viewed online via our website, imogengallery.com

---
May 2020 Exhibit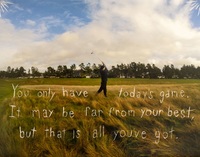 Don Frank

The Summer of Letters
In this time where nothing is as it was, many of us are reflecting on what really matters in life. The importance of friends and family while navigating challenging times together but apart seems to be our common denominator. So, as they say…."The show must go on." And with that we are pleased to present a solo exhibition for the talented North Coast photographer, Don Frank. Known for his compelling and sometimes quirky compositions of the coastal region, Frank brings a new series of work which includes photographic based imagery as well as three dimensional wall hung pieces. Summer of Letters is a collection of work inspired directly by Frank's love of golf applied to the philosophy of life. The exhibition can be viewed online via our website imogengallery.com or by appointment for in person viewing, May 9th through June 9th.

Artists have always taken a strong role in narrating the complexity of life, providing a window to safely step back from day to day challenges in order to ease the burden that reality can bring. Don Frank, known regionally for his compelling sense of composition, has always tended to bring what might be considered the more obscure to the foreground. His slightly sardonic worldview seeps into powerful imagery that lends to good storytelling. For this series, he delves deep into the world of golf to consider the parallels between the game and life itself. He brings witty commentary within his altered photographic imagery of golf courses, scratched photographs as he refers to them, as well as sculptural pieces utilizing reclaimed remnants from the game.

In discussing his thoughts behind the content of the series as well as the game of golf itself Frank states: "It is interminably difficult yet easy at the same time. If one thing goes right, ten things can go wrong. Or vice versa. Many who play compare it to the struggle of daily life: exhilarating, disappointing, confusing, overwhelming, inspiring… And those are just the swing thoughts as one brings the club back. In reality, it doesn't mean anything. Golf is simply an exercise in being human and at the end, if you care, you count up what you've done and measure yourself against your peers and foes. Like life, does it really matter? That depends on the person playing, or living."

For this exhibition, Frank explores his ideas through the lens of his camera, bringing the beauty of landscape within his photographs of many of the golf courses he has visited. Always looking for new ways to express his creative ideas, Frank alters his photographs to personalize them, adding a rough touch to an otherwise pristine and controlled landscape. He adds quotes that are wry, colloquial, or relate to the absurdity of golf and life. This roughness is echoed with his foray into the sculptural realm. He chose to utilize discarded remnants from the game itself to create beautiful and raw patterns of color and texture. About his three dimensional pieces he states: "These objects are the detritus of the game. The tee markers signal where to begin. The flags tell you where to end. But nothing is permanent and each item has a life span until it is deemed unusable. Sound familiar? But there is hope, like waking each morning with the optimism that today will be a great day on or off the course. People can be granted second chances to fulfill their purpose and these pieces of golf's machinations can too. The game of life will trudge forward to that steady drum of existence that can only be experienced, not explained."

Frank has enjoyed a career that has taken his work across the country both in galleries and in private collections, including the Museum of Contemporary Photography, Chicago and the Center for Fine Art Photography in Colorado.

Imogen Gallery is currently closed to walk in clientele. Private viewing by appointment is available. Please follow us online via Facebook and Instagram and check our website for the full exhibition. We can be contacted through our website, email imogengallery@gmail.com or by phone 503.468.0620. And please support your favorite artists.