June 2022 Exhibit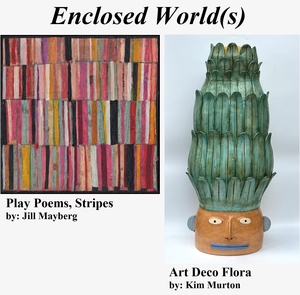 Enclosed World(s)
Paintings by Jill Mayberg and ceramics by Kim Murton

We are pleased to be hosting a two person exhibition by the dynamic duo, Kim Murton and Jill Mayberg. Together they bring Enclosed World(s), a new series of work considering the world at large and changed perceptions from two plus years of looking inward through their chosen medium of clay and paint in two- and three-dimensional work. Kim Murton, brings her delightfully playful terra cotta sculpture and Jill Mayberg returns with a new series of mixed medium paintings, pushing into abstraction. The exhibition opens June 11 for Astoria's Second Saturday Artwalk, 12 – 8 pm. The exhibition will remain on view through July 3.
Mayberg and Murton, who are both from Vancouver, WA share a commonality in their interest and appreciation of South American art. Through her interest in Folk, Outsider, Aboriginal, Primitive and children's art, Jill Mayberg brings her compositions to life with use of vivid color, form, and pattern. She readily takes inspiration from primitive art, expressionism and abstract modernism while merging that with imagery depicting her love of nature, animals, water, color and geometrical design.

Utilizing primarily acrylic paint, Mayberg incorporates other elements through collage and other mediums to build a sense of dimension. Bold colors pop from the canvas while background shapes and form push forward her imaginative imagery. About her process she states, "An idea is conceived (sort of-it can change) and a tentative paper sketch is affixed to a painted substrate. It is then worked on, added and subtracted, to and from, until it feels right-the result being a textured, dimensional painting." About this series Enclosed World(s)she hopes to achieve a rhythm, balance and pleasing combination of colors and textures in her art providing what she hopes to uplifting and joyful sense of play. It's an intuitive process fed by curiosity and constant observation. About this series she states: "At the outset of the pandemic everything slowed down. I spent more time walking and looking. I noticed the cracks and patterns in the pavement; lots of dots. I took in the plants, kids playing in the schoolyard, various critters: squirrels, cats and the very vocal crows and waves of flora through the seasons. Right now the Dogwoods, Cherry trees, Tulips and Irises have my attention and I am eager for the summer burst of color which provide an amplitude of inspiration for painting. This body of work includes repeated elements such as dots, stripes, rectangles, and squares. I often begin with a grid as a foundational structure. Some of the paintings include celestial representation which reflects a reverence for the immensity and mystery of the cosmos."

Mayberg's work has been exhibited across the country and is also included in private collections throughout the United States. She is the recipient of an Artist's Trust Fellowship award, a non-profit organization supporting Washington State artists, and has been a featured artist to Oregon Public Broadcast's ArtBeat program.

Kim Murton, a long time ceramic artist works in low-fire terra cotta clay and colored slips creating hand built sculpture, vast in scale that are inspired by pre-Columbian and Mexican pottery. Her colorful, whimsical pieces borrow from the traditional forms of South American art combined with her training and work history in animation and love of comics. Murton studied ceramics at The School of the museum of Fine Arts, Boston as well as study of film and animation at The Cooper Union School of Art in NYC.

About her work she states: "Back in the winter months I was thinking about what to make for this show and the fact of being stuck at home both by the pandemic and the weather led me somehow to the idea of making sculptures with plants on their heads. Houseplants became my main inspiration and as it turns out the possibilities are endless. I started with the Art Deco inspired larger piece and the round artichoke pieces and then started thinking about The Celtic Green man. Then my childhood spent watching hours of television seeped in with thoughts of the Jolly Green Giant and Punchy from Hawaiian Punch commercials. I worried about these references but kept going with the theme, in my own way, veering into mushroom inspired lattice work and the idea of a cage and terrarium. Now it is summer after a long, chilly but blossom bursting spring. I probably would have made more flowers if I had started later. All the pieces are hand built using coils and slabs. I paint most of the colors on the clay before it is fired using colored slips. The green theme gave me an opportunity to try out different green glazes and I used China paint for a third firing as accents on some of the pieces."

Murton is also a freelance illustrator for the New York Times, has her own blog dedicated to the cartoon of the day as well as exhibiting her ceramic work in Portland, Seattle, Bainbridge Island and now Astoria.

---
May 2022 Exhibit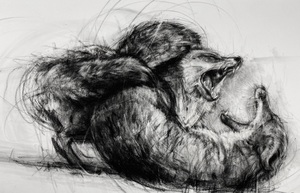 April Coppini

Oceans of Disbelief/Jungles of Longing

In a time of uncertainty there is one thing that does remain certain; art is a necessity in our lives, yesterday, today and tomorrow. As we ease back into a world altered by pandemic, there are still elements beyond the individual's control that impact us all. Throughout this, artists are still creating and communicating, providing a gift of reprieve to all. Artists have always been generous in what they do, whether it is to connect what is good about humanity or record an imprint of challenging times. They create and share with the goal of easing burden, fear, and struggle; to uplift and bring peace to the unknown and even aiding in the comprehension of matters out of one's control.

With this in mind we are honored to present a new series of charcoal drawings, Oceans of Disbelief/Jungles of Longing by the acclaimed artist, April Coppini. The exhibition opens May 14th during Astoria's Second Saturday Artwalk, Saturday from 12 – 8 pm.

Coppini, known for her passionate interest in all creatures and their importance to place, brings a series of gorgeously rendered charcoal drawings. She portrays a focused record in her subject matter depicting the wild and unseen side of animalia. A slight tension of muscle before a possible leap, or the look of pensive awareness in preparation for escape from a possible predator, are all elegantly conveyed through beautiful and gestural mark making. With the underlying message of the importance of all creatures and their independent role to ecosystem and/or as pollinators, predators, scavengers or even domesticated animals, Coppini asks the viewer to consider the role our species takes (or doesn't) in protecting the delicate relationship between mankind and animal as well as a direct reminder of our symbiotic relationship to all life on a global level. Coppini states: "We humans have this role as stewards, if not because most of the ecological difficulties we're experiencing are human-caused, but because that's who we are. We are caretakers by nature. A duty that as a species connected to all other living things on this planet, we have (mostly) abused and/or neglected. We also have capacity for greatness and beauty. A calling to responsibility and redemption. I feel this tipping point we are coming to in my heart, in my body, my spirit, in the shifting energy of my work and in the frenetic, tumultuous energy of the world right now (ecologically, politically, socially). I feel the other species we share the planet with turning their gaze to us, as stewards, in our moment, to see; what will we do?"

Coppini tends to focus primarily on charcoal for her chosen medium because of "its immediacy and forgiving nature". For her, the starkness of black on white strikes a basic and guttural cord. Within this series there are several pieces that include color, utilized with care to define emotive qualities or even echo elements of subject matter while still allowing for the dominant line of charcoal to do its work. The stark juxtaposition lends to the overall power and drama conveyed in each piece.

About this series, Oceans of Disbelief/Jungles of Longing, Coppini candidly brings honesty and reality and shares the tribulations of balancing her career with the challenges of life. She states: "There is this puffy, far away feeling of disbelief. I've been trying to shake it for months- and I'm learning to recognize when it comes and settles in. Over the past 2-ish years my 19 year old, diagnosed with Ehlers-Danlos Syndrome (a connective tissue disorder), has been complaining of joint pain, then using a cane, then a wheelchair, and now bed-bound. It's happened during a pandemic, where we've been alone and tucked away; where no one could see the change but us. It didn't seem real.
They have complications that are on the rarer side and we are in the midst of a health crisis- and my brain has resisted its reality at every turn for the worse. Isn't that weird?! Maybe it's a self-preservation or biology… I have two other children bouncing off the walls- it can't be that one is in the other room just lying there! Things have to keep going. Kids go to school, meals made, laundry piles, holidays come and go and we're coming off a pandemic and I'm longing for connection, for adventure, for travel, for anything else! And to draw! And things DO keep going, but at a stutter and stop - for hospital stay, for research, for moments of struggle and extreme emotions… any plans for the future ride on what happens next and these drawings have come bumping out on waves- rougher around the edges than usual, as I try to show up where I'm needed and still be myself, full of all of this."

Coppini has also taken great interest in the rapid disappearance of honey bees, also known as "colony collapse disorder". As a result she has created over 1000 drawings of bees. Her hopes in this practice is to create awareness of the significance bumble bees have on mankind. In her own words, Coppini states, "I believe, foolishly or not, in the possibilities of the human race. I believe the act of being called on to make these drawings is something that comes from a force bigger than us. Its stating, here's what needs attention, listen to the fables being told here. What we do next, what happens to all the imperiled species is, quite literally, up in the air." Coppini has taken the cause to heart, not only by creating her luscious drawings of bumble bees in flight, but also donating a portion of the sale of each bee drawing to the Xerces Society for pollination research and conservation.

---
April 2022 Exhibit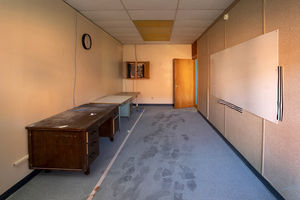 Don Frank
The Lost Winter

April 9 - May 9
Artwalk and reception Saturday, April 9 12 - 8 pm

Photographer Don Frank, known regionally for his compelling sense of composition has always tended to bring what might be considered the more obscure to the foreground. His deep immersion into subject matter within his work always brings a compelling series that is thought provoking and sometimes containing a stark perspective on contemporary life. His latest series The Lost Winter is indicative of his approach. The exhibition opens during Astoria's Second Saturday Artwalk, Saturday April 9, noon – 8 pm. Frank will be on hand to answer questions about his work and this current series. The exhibition will remain on view through May 9.

Don Frank once again tackles life issues, this time focusing on the fallout of a global pandemic and it's not so subtle impact on the region He brings a new series of photographs looking back on the two years of pandemic, specifically the unoccupied spaces during lockdown. The past two years were something few could have ever imagined and through his keen eye for composition, he looks back to those who were the most effected, our restaurants and schools. Empty spaces, now eerily quiet where in normal times people would be enjoying libations and laughter mixed with conversation gone. Schools deserted of children that became nothing but the bones of tired institutions, void of the busy energy of youth. These images are stark reminders on those days of uncertainty, previously thriving with laughter and aromas, they became the testament to the resiliency of people continuing to move forward without knowing what the future may bring.

With permission from business owners and school administers, Frank was granted access to these spaces to document what never could have been fathomed. His compositions, somewhat sardonic in nature still contain a wry sense of humor even in the face of such uncertainty and sobering conditions. His lens defines what could be considered the lost days from months of "sheltering in place". Spaces once pristine and inviting now utilized for storage, and left with a sense of foreboding stagnation, void of the human inhabitants that gave each space life. Frank's imagery brings room to reflect on our collective experiences as we emerge from pandemic.

About the series Frank states:
The sobering news had finally hit home. The mystery virus that seemed so far away was now in our backyard. The days crept along slowly. Stay home. Don't socialize. Travel and vacations cancelled. And utmost, the fear. Most of us sacrificed for the greater good. But slowly, our lives adapted to this new reality, and we began to do the things we had done before, but with changes that became the new normal. To this day, we still live with the uncertainty, but for life, which is nothing new.

Some of us even enjoyed the solitude and quiet that came with being shuttered in. Yet, there were some that took it on the chin. Restaurants and schools bore the brunt of the burden that this pandemic had sown. Livelihoods were cratered. Education was stalled. Play was abandoned. The joy of dining out was gone. The proprietors and staff and teachers and kids carried a burden so great, we didn't know if they would make it. Some did not, yet some did.

But at the time between now and two years ago, things were so dubious, it became obvious that a documentation of the times would be a story that needed to be told. These images of restaurants and schools, previously thriving with laughter and aromas, are the testament to the resiliency of people continuing to move forward without knowing where they are going. Once polished and tidy, these spaces were now utilized as storage and a stark reminder of what had been lost. Though we now have a better understanding of what is happening and our responsibilities to ourselves and others, let us not forget that time when the unknown was the only thing we knew.

Frank has enjoyed a career that has taken his work across the country both in galleries and into private collections, including the Museum of Contemporary Photography, Chicago, and the Center for Fine Art Photography in Colorado.

---
March 2022 Exhibit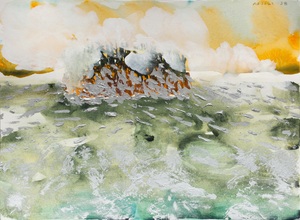 Marc Boone
Northwest Musings
reflections, introspection, and reverie

Imogen Gallery is honored to present a third solo exhibition for reputable artist Marc Boone who resides on the Long Beach Peninsula. For this exhibition, Northwest Musings he brings a series of watercolor paintings reflecting on the Northwest Painting Tradition, through landscape and history. His career has taken him from a farm in the Palouse region of Washington to New York, Baltimore and back to the great Pacific Northwest where his muse has always been. The exhibition opens March 12, for Astoria's Second Saturday Artwalk, noon – 8 pm and will remain on view through April 4th.

Within his latest series, Boone includes an element of introspection into his own feelings on his history as an artist and the environs that inform him of a mutual visual experience. Boone states "There is reverie, through dreams of this place we call home, the magical, the unseen and the spiritual." This body of work, Northwest Musings is a continuation of what has always inspired Boone's creative process. Instead of taking oil to canvas he utilizes the immediacy and spontaneity of watercolor on paper to express his profound connection to Northwest landscape, jazz music and Native American shamanism, while giving a healthy nod to the Northwest painting movement.

Boone's sense of abstraction, always firmly rooted in landscape brings powerful yet poetic imagery. Dramatic use of color couple with a constant sense of movement, perhaps reminding the viewer of the relationship between music and dance, and/or the musician and the dancer.
As an artist and educator, Boone has enjoyed a diverse and rewarding career. After earning his Bachelor of Fine Arts from the Pacific Northwest College of Art, formerly the Portland Museum School where he studied under the iconic Northwest painter Louis Bunce, he went on to receive a Master of Fine Arts from Maryland Institute College of Art in Baltimore.

Richard Speer, author/art critic and curator, who wrote about Boone's previous exhibition at Imogen, eloquently described his work as "The ocean—and nature in all its forms—permeates his aesthetic sensibility in ways difficult to overestimate. The artist [has a] gift for distilling a composition down to its powerful, primordial bones. Confident and assured, yet never showy, these are the works of a master of chroma and composition… From teachers and mentors, intense observation, an experimental attitude toward materials, and an innate sensitivity to the possibilities of line, he learned to distill an image's components into an alloy of representation and abstraction so intertwined, so highly developed—to paraphrase Arthur C. Clarke's truism about science—as to approach magic."

Beyond mentorship by Louis Bunce, Boone after moving to New York City found himself in the midst of many of the art world's influential figures, including the likes of Philip Guston, Elaine de Kooning, Salvatore Scarpitta, Edward Dugmore, Clyfford Still, Sam Gilliam, as well as others who ranked as illustrious leaders of modern abstraction. He has exhibited his work at the Portland Art Museum, the Seattle Art Museum, Spenser Museum, Lawrence, Kansas, and the Boise Art Museum. He has also exhibited his work extensively in galleries in New York, Washington DC, Baltimore, Idaho, Montana, and Seattle where he was represented by Polly Friedlander, a great champion to the Northwest contemporary art movement and founder of the former Espy Foundation that offered residencies to artists in idyllic and historic Oysterville, Washington. His work can be found in private and public collections, including the permanent collections of the Boise Art Museum, the Tucson Art Museum, and the Baltimore Museum of Art.

---
February 2022 Exhibit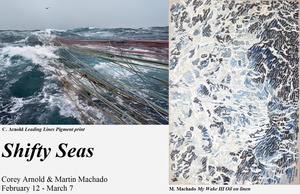 Shifty Seas
Corey Arnold & Martin Machado
February 12 – March 7

Imogen Gallery is proud to present Shifty Seas, an exhibition held in conjunction with the 2022 virtual FisherPoets Gathering and in honor of the importance of the maritime industry to our region. We bring together again the work of photographer/commercial fisherman, Corey Arnold of Portland and painter/ fisherman/merchant mariner, Martin Machado from San Francisco who share their love of the sea through chosen medium, merging their dual careers. Both artists are internationally respected having fished, sailed, and exhibited their work globally. The exhibition will remain on display through March 7th.

Longtime friends Corey Arnold and Martin Machado have much in common. Besides enjoying success as artists, both share a love of the sea and have cultivated careers that balance and inspire them professionally through maintaining constant connection to the world's oceans. Arnold who's chosen medium is photography brings a collection of images from his many years spent working as a commercial fisherman, always with his camera close by. Machado who has worked both as a merchant mariner and fisherman is a painter and printmaker and includes his paintings to this exhibition, specifically paintings inspired by his time working aboard container ships and smaller sailing vessels.

Corey Arnold began fishing as a child, about the same time he first picked up a camera. What began as a weekend family adventures quickly became a permanent part of life. Arnold began fishing commercially in 1995 as a deckhand aboard various vessels and skiffs in Alaska. His career as a fine art photographer and fisherman has taken him far, both documenting and fishing the world's oceans. Despite his international success as a photographer, Arnold returns every summer to Bristol Bay, Alaska where he captains a skiff, fishing for salmon.

Arnold's work is without doubt a celebration of the lifestyle of the fisherman. Through his lens he captures the raw and rugged reality of hard work, with brutal and honest images that depict both danger and beauty, sometimes in the same moment. Arnold is not one however to overly romanticize, he is critically aware of the struggle of a rapidly changing global fishing industry. His fine art photographic work runs deeper than capturing a way of life, he tackles environmental issues, food production and man's complex relationship to the natural world, all on a global level. About his work he states: "Although it's important to be aware of the challenges facing those who work at sea, the most essential message of all comes from the spirit of this way of life. Whether we are landlocked in the mountains, or out on a boat at sea, the hard work, passion, blood and guts of this profession speak to a vitality that I hope will inspire the viewer on his/her own personal journey."

Arnold, who graduated from the University of Art Academy in San Francisco has enjoyed a diverse and exciting career. His series Fish-Work was launched after receiving a commission from the PEW Charitable Foundation, taking him to Europe and photographing from aboard fishing vessels in eight European countries. He has also been awarded an American Scandinavian Foundation grant which led to the documentation of the work of fishermen in Northern Norway. His work has been exhibited in Portland, San Francisco, Los Angeles, Chicago, and New York as well as numerous other venues worldwide, and published in Harpers, The New Yorker, New York Times LENS, Art Ltd, Rolling Stone, Time, Outside, National Geographic, Mare and The Paris Review, among others. He is a recipient of a Hallie Ford Foundation Fellowship, a National Geographic Explorer Storytelling Grant, and the first-place award winner for the nature category of the World Press Review's annual photography competition. Arnold has published two books of photography by Nazraeli Press including Fish-Work: The Bering Sea, and Fishing with My Dad. He is represented by Charles A. Hartman Fine Art in Portland, Oregon.

Martin Machado earned his MFA from the San Francisco Art Institute and like Arnold has always held a lifelong love of the sea. He too has cultivated multiple careers that merge, one providing inspiration to fuel the other. Machado bring a series of paintings that like Arnold's work, provide a window into a world most of us will never experience. His work directly reflects his time spent at sea as a merchant marine, a commercial fisherman and sailor. Working wherever he could cultivate space, sometimes within his cabin aboard a freighter, the cockpit of a sailboat, and even between net sets in Alaska. About his work he states: "The ports and people I have worked alongside have become intertwined with the layers of my art, a visual story-telling based on my own experience but reaching back into the history of maritime exploration, colonialism, and ultimately our core human relationship with the sea."

For this exhibition Machado brings his "Wake Series" which includes several oil paintings on linen as well as on nautical charts from foreign seas. These paintings as the series title suggests, focus on the abstracted element of churning or upwelling of water, the quickly erased footprint of a ship as it cuts through current. Besides the "Wake Series" Machado brings several smaller scale paintings portraying a closer look at life at sea from three different personal perspectives. He includes paintings of mariners he has worked alongside, the romance of a solo night sail, and a still life painting that of course includes fish, the bounty of the sea.
Machado's work has been featured in The San Francisco Chronicle, The New York Times Magazine, Juxapoz, New American Paintings, and most recently The Surfer's Journal. His work has been exhibited stateside from Seattle to New York, and internationally Chili, Malaysia, Scotland, and Mexico. His work was most recently included to a group exhibition at the prestigious deYoung Museum, San Francisco, CA.

And of equal importance, Martin Machado and Corey Arnold have fished in the same set net community in Bristol Bay each summer for well over a decade, "sharing the incredible highs and lows that come with fishing the most powerful natural fish run on earth from ridiculously tiny skiffs." This is their second exhibition together.