October 2013 Exhibit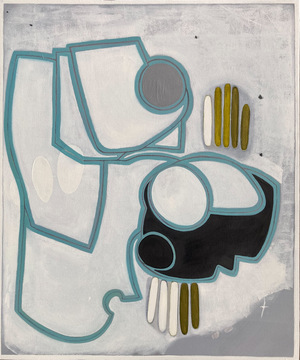 The Things We Leave Behind


Diane Kingzett



Diane Kingzett of Portland brings a new series of mixed medium paintings for her fifth solo exhibition at Imogen. Describing herself as a painter of emotion, Kingzett leaves preconceived ideas of content and composition to consider her own internal dialogue, allowing psyche to become muse. The Things We Leave Behind is consistent with Kingzett's abstract style of expression but with a departure, giving pause for clarity and acceptance. The exhibition opens during Astoria's second Saturday artwalk, October 14. Kingzett will be in attendance and available to answer questions about her work from 5 – 8 pm that evening. The show will be on view through November 6.

For Kingzett, the process of painting is a basic means of communication, a place where ideas and life experiences are gathered and utilized to distill into pictorial narrative. Within this series she considers the physical and emotional relics once so significant, which we ultimately abandon through maturity and a state of inner knowing. Through this process one may grow to understand and accept what to carry or what to put down, easing the burden of a lifetime of experiences. Through abstraction, her compositions might bring vague imprint of place which for her are personal documentations of time and memory.

With calculated use of palette, she brings exquisite blues melting into golden color fields; the warmth of vibrant, passionate pinks balancing quiet washes of grey, lending to memory of landscape while offering a sense of peace with what was.

Exploring new ideas, she has also incorporated the use of new medium. Working with flashe paint for the first time along with oil, her first love, she brings an intensity of color with a deep matte finish. Flashe paint is typically utilized on stage sets in theaters for its ability to absorb light with less reflection. For Kingzett this has granted a new-found freedom in the process of painting itself. Her painting style has always held the element of confidence, the addition of a medium new to her has enhanced that assuredness, freeing her hand and eye even further to explore her own ideas while bringing a deeper level of richness to color, texture, and finish. Consistent to her work is her ability to provide space for intuitive consideration of process through an ethereal sense of reality.

About this series she states:
These paintings address physical and emotional relics once significant to me that I ultimately had to abandon to embody maturity and a state of inner knowing. Tired attachments to places, ideals, fears and false securities become inert. The idea that abandonment, once such a detriment to us when we are young, can ultimately compel us forward into self-evolution.

While exploring a new medium in vinyl flashe paint, I found a fresh freedom of expression in the intense opacity of the paint, both as an under painting and in final layers partnered with oil paint, graphite and paper. The intensity and immediacy of the saturated color of flashe paint adds a new sensibility to intuitive painting for me coupled with a more decisive, authoritative hand. A sense of saying more with less has arisen, an old theme in contemporary art but relatively recent in my process. Painting feels more contemplative now, and paint has become a partner rather than something to conquer.

Kingzett, who has painted for well over 30 years earned her BFA at West Virginia University and studied at the San Francisco Art Institute as well as the Vermot Studio Center. Having lived in all four corners of the country, Kingzett has taken inspiration from her experiences and utilized that towards the development of her work as a painter. She is also an accomplished silversmith, translating her love of color and texture to exquisite bezel set stone jewelry pieces, also available at Imogen.

---
OPB's Think Out Loud interview of sculptor M.J. Anderson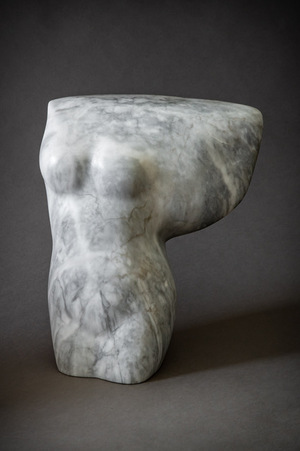 Click on picture for OPB's live interview

For nearly 40 years, sculptor M.J. Anderson has been making annual trips from her home on the Oregon Coast to Carrara, Italy. She spends up to three months there, traveling along a winding road to quarries with towering walls of marble, the same kind of stone that was used to create Michelangelo's sculpture of David and other timeless works of Renaissance art.

But Anderson isn't interested in recreating classical, idealized representations of masculine or feminine beauty. Instead, as a recent exhibit of her work in Astoria showcased, a unifying theme of Anderson's work is "the distillation of what it feels like to be woman." Starting at her studio in Carrara, she uses grinders and air hammers to carve torsos evoking the female form out of massive blocks of marble, onyx and travertine. The pieces are then shipped, unfinished, to Anderson's studio in Nehalem where she polishes them while retaining drill marks and other raw reminders of the stone's past and its "power." We'll talk to Anderson about her artistic process and the themes that animate her work today.
---
Review of Darren Orange's Paracosm By Richard Speer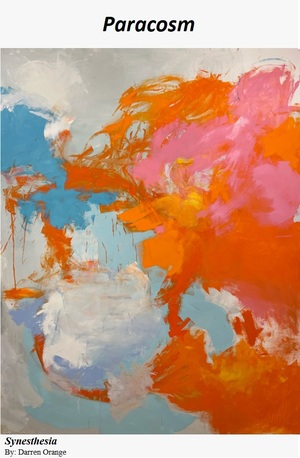 Darren Orange has maintained a long inquiry into the landscape of the region that nurtured him, the Pacific Northwest. (The show's title refers to an imaginary world, which Orange likens to "creating your own universe.") Born and raised in Yakima, Washington, to third-generation apple orchardists, he earned a B.A. in painting with an art-history minor at Western Washington University. Since 2000 he has lived in Astoria, Oregon, except for a two-year stint in Santa Fe. Over that quarter century Orange has transliterated the Northwest's rivers, mountains, forests, and logging towns into the genre of abstracted landscape.

Orange's palette has tended toward earth tones, his gestures toward natural and human-made referents such as the cut of the horizon line across the Pacific Ocean or the span of the iconic Astoria-Megler Bridge, which connects Oregon and Washington. This stylistic and thematic consistency makes his new exhibition, "Paracosm," all the more surprising a departure.

The 33 oil paintings that comprise "Paracosm" (all from 2022 and 2023) leave concrete referents behind in favor of pure abstraction. He also trades in his customary color palette of browns, blacks, and subdued gray-periwinkles for bright, bracing, edible sherbet hues. Nothing in Orange's prior work prepared me for the pinks and juicy oranges of the show's centerpiece work, the 7 by 5 1/2 foot "Synesthesia," nor the lemon-yellows and bubblegum blues in "Proclivity to Shadow the Sun," nor the scrumptious cherry reds of "Glass Skies." His handling of paint, however, retains the flowing, self-assured brushwork viewers will recall from previous bodies of work. In fact, arguably Orange's most successful paintings have been those in which bravura representational passages verged on abstraction.

His current deep dive into pure gesture seems to have liberated and invigorated him. There is a newfound ferocity, a jittery kineticism in his dashes and daubs with brush, palette knife, and spatula. A powerful centrifugal force animates "Thorn of the Recalcitrant" and "Abstracta Botanica," their crescent-shaped gestures telegraphing mass and motion hurtling outward.

He comes to abstraction not on a pointless mission to change art, but to discover himself personally and aesthetically. The works on aluminum panel, in particular, lend themselves to what Orange calls "a wild ride in slippery, wet viscosity that makes the painting action fast and loose." The surfaces are thick with impasto, perhaps a nod to the mutant textures of Anselm Kiefer, one of his big influences.

I place Orange's style in the company of four Northwest painters of roughly his generation: Timothy Scott Dalbow, Jason Dickason, my late partner Dorothy Goode, and Scott Wayne Indiana in his work circa 2004-2007 — assertive, intuitive, and very much in the lineage of Abstract Expressionism. Lucinda Parker and Barbara Sternberger began working in this mode a generation earlier.

Orange has reshuffled the bones of this approach into something appreciably fresher that — having ditched the woodsy hues and heavily varnished surfaces of his incipient years for a brasher, more exultant palette without varnish — evinces a hyperspace jump after two decades of a consistent aesthetic message. His abstractions look suave and commanding here, their nubby surfaces, bold gesturalism, and Pop Art palette exuding a heady confidence as they update the painter's Northwest ethos with an agreeable jolt of flash and verve.

Although this is Orange's fourth solo exhibition at Imogen, it's his first in the gallery's expanded exhibition space, which doubled in size with a remodel in late 2021/early 2022. Some background about this gallery's location far from an urban center; it is unique in Astoria. Imogen is a light-filled white cube, warmed by rustic wooden beams holding up the ceiling. It is well suited for the large-scale paintings that Orange favors, and for sculptures such as those of M.J. Anderson, whose show preceded Orange's. It's hard to overestimate Imogen's impact on the Oregon Coast art ecosystem over the past decade.

Director/founder Teri Sund opened up shop in August 2012, incorporating coast-based artists such as Anderson and Marc Boone, as well as Portlanders like Corey Arnold, Tom Cramer, and Matthew Dennison, Lauren Mantecón from Santa Fe, and Anne Grgich from Seattle. Sund has an eye for work that is regional but not regionalist. This is not the place to buy a sunset-and-sand print to cart home as a souvenir of your vacation on Cannon Beach, and while the gallery does have a section for ceramics, glass, and jewelry, the doubling of the exhibition square footage keeps the ratio of contemporary art to craft at around 85/15, which is just about right for an integral but pragmatic seaside art space.
---
September 2023 Exhibit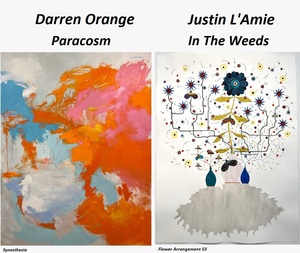 Darren Orange "Paracosm" and Justin L'Amie "In The Weeds"

September 9 – October 9, 2023

Artwalk and reception Saturday, September 9, 12 – 8 pm

We are excited to cap off the summer season with two powerhouse exhibitions opening during September's ArtWalk. In our new space we are pleased to be presenting the fourth solo exhibition for Darren Orange, "Paracosm", a new series of dynamic and explosive oil paintings. We are also proud to welcome the work of Justin L'Amie for his first solo exhibition at Imogen. L'Amie brings a new series of delightful watercolor and gouache paintings titled "In The Weeds". The two exhibitions open during Astoria's Second Saturday ArtWalk, September 9th 12 – 8 pm and remain on view through October 9th. Both artists will be in attendance from 5 – 8 pm that evening, please stop by to meet them and learn more about their work firsthand.

Darren Orange, known far and wide for his emotive oil paintings delves further into abstraction within his latest series "Paracosm". He continues with his bold and energetic style, employing movement synonymous with dance and filling our new exhibition space with powerful color and energy. His process always intertwined with finished composition demands the viewer to take note and participate in the echo left behind from its creation. Utilizing his past work as a springboard he without hesitation jumps head on into pure expression with dramatic color bursts, jolting all to full attention while beckoning for playful and joyous interaction.

Within this provocative series, he pushes the unseen boundaries of mark making as expression. About this exhibition he states: "A childhood dreamscape of imagination. A universe unlocked through creation. This body of work explores abstraction through the lens of altered perspective. The intention to achieve new insight in placement and composition. Inner mindscapes or landscape on its edge. An attempt to flip the script of my previous understanding of viewer painting relationship by leading the viewer inside of the painting." Through his painting, Orange moves beyond preconceived perception and takes a daring leap into the afterglow of sheer upbeat spontaneity, inviting all to come along for the ride. The shedding of past is apparent while looking directly to the unknown with exuberance and fearlessness.

Orange's work has been widely exhibited, reaching all four corners of the United States, including New York, Atlanta, Santa Fe, Portland as well as the Coos Bay Art Museum, Oregon. He has been presented awards from the Oregon Arts Commission, the Ford Family Foundation, and the Ucross Foundation Residency Fellowship. His work has been selected for exhibitions by Michael Klein of the Microsoft Collection, Nat Trottman of the Guggenheim, Bonnie Laing Malcomson formerly with the Portland Art Museum, Margaret Bullock of the Tacoma Art Museum, and many others. Academic institutions such as Portland State University, Peninsula College, Mt Hood Community College, Lower Columbia College, Oregon Coast Council for the Arts have all awarded him with solo exhibitions. He was also selected by the Oregon Arts Commission for the Art in The Governor's Office program, a prestigious recognition as an Oregon artist. His work can be found in private, public, and corporate collections around the world.

In our front gallery, we are proud to be presenting a solo exhibition for artist Justin L'Amie. Working primarily in watercolor he brings a new collection of delightful paintings portraying flora and fauna in whimsical and spontaneous composition. L'Amie who lives in Portland is from Astoria and began his art studies at Clatsop Community College before acquiring his BFA at Cornish College of Art. For his introduction to Imogen Gallery, L'Amie brings "In The Weeds", a refreshing and original take on still life painting, with vases overflowing with intricate pattern of life. His compositions focus on color and form, staging with structure his bouquets contain imaginative flowers hosting playful insects and fungi.

About this series L'Amie states: "In the weeds can have a couple different meanings. At once it can mean to be overwhelmed and lost, or completely focused and enamored with all the great details, and delighting in the world of the subject at hand. In an artistic pursuit sense of the phrase, it can mean that one is exploring with no end in sight or intention of coming to a conclusion. I find that all the meanings can be applied to the way I am working. I have been working in mostly watercolor for over fifteen years and I am only discovering that there is more and more to get lost in. I am gladly getting lost in it and there is no end in sight. Like a pig in slop as they say. I am happy out here." His work is imbued with that sense of "happy", encouraging the viewer to join in with a sense of mystical discovery from each impeccably painted moth or mushroom found within thoughtful and magical composition.

L'Amie who has been represented by PDX Contemporary Art since 2009 has had his work included to many prestigious private and corporate art collections as well as exhibiting at the annual Seattle Art Fair. He has been a recipient of the Career Opportunity Grant through the Oregon Arts Commission as well as being awarded a residency at the Morris Graves Foundation Retreat.


---
August 2023 Exhibit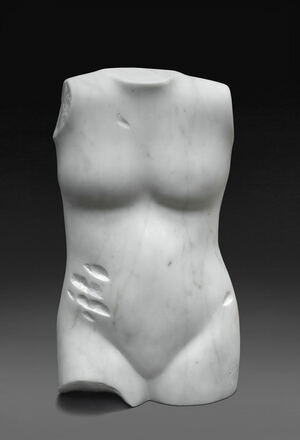 All Things Being Equal
M.J. Anderson

We are honored to welcome back the extraordinary sculpture of M.J. Anderson. She brings a new series of marble sculpture conveying the power and beauty of femininity. Her epic work in stone is a testimony to an ancient process of geological wonder, carefully coaxed into sublime form. Each piece brought to a sensual tactile surface, holds eons of history. M.J., who maintains two studios travels to Italy several times a year where she hand selects her stone from the great quarries of Carrara, Italy. From there much of the coveted stone is shipped back to Nehalem, Oregon where she chisels and polishes into finished sculpture. Known internationally for her female torsos, this exhibition will also include her coveted green onyx abstract sculpture. M.J. will be present and available to answer questions about her work and career from 5 – 8 pm during the artwalk. The exhibition will remain on view through September 4.
M.J. Anderson has cultivated a long and fascinating career, balancing a professional life that connects the Mediterranean to the Pacific Northwest. Her work exudes the romance and history of the Mediterranean while offering the allure and mystery of the rugged Pacific Northwest. Regarded as one of the Northwest's most important sculptors, for this exhibition she brings her iconic torsos in various marble types as well as abstract forms in green onyx.

Taking a nod from the masters and personalizing it, she focuses primarily on the female form in her work. She creates forms that might remind some of the sculpted marble falling somewhere between the Cycladic and Hellenistic periods, but exquisitely refining to define to her own definitive style. Hand selecting her marble, usually directly from the quarry, she has moderate control of what will occur once the chisel hits the surface. For M.J. the magic happens within the stone itself, revealing what some might refer to as flaws, she leaves the revealed rawness to become an integral part of the finished form. Having experienced profound loss in her life, Anderson utilizes her skills to portray woman as survivors, to serve as example of woman who have overcome adversity. The imperfections of surface become a living record of strife and struggle, becoming part of the overall beauty of form.

In the essay, "The Scars that Give a Stone its Soul: M.J. Anderson 's Ineffable Beauties" written by art critic, curator and author, Richard Speer, about a past exhibition held at Imogen Gallery, he states:

"Inhabiting a physical and psychological space midway between the Mediterranean Sea and Pacific Ocean—the conceit undergirding her To the Ends of the Earth exhibition at Imogen Gallery—has inevitably imparted an ambidexterity to Anderson's aesthetic orientation. She floats across paradigms. Although attuned to the figurative, biomorphic, and abstract work of 20th Century icons like Brancusi, Moore, and Noguchi, she has been more directly influenced by medieval altarpieces, Käthe Kollwitz, and Manuel Neri. These disparate influences, folded into her own lived experience, guided her to the lodestar of her own practice: a never-ceasing quest to capture the ineffable. Her finished sculptures testify to the ways in which an intuitive and restlessly inventive artist can part the veils that divide the material world from the metaphysical. The sculptures are exquisite objects d'art but also emblems, signifiers, and most enigmatically of all, presences."

Anderson, who began her career as a textile artist always held a love of stone and all things Italian. Her first visit to Italy was in 1974 and ten years later established her studio in Carrara. When discussing her choice of stone as vehicle of expression she says, "Marble was once alive. Marble was made from dying coral reefs and sea life billions of years ago. It was compressed and transformed by incredible heat, then lifted up into mountains by the forces of geology…some stones have smells, so when I'm sculpting, I'm handling and smelling something that once was alive." This sense of vitality carries over into her finished forms.

About this series she states, "The major theme running through my career is the female torso, the distillation of what it feels like to be woman. When I first began to carve stone, I realized I wanted to give voice to my gender. The torso, without the individual identity that inclusion of a head might create, provides an inclusivity that can apply to many. Women continue to get the short end of the stick in our society and all around the world --and my intention is to create strong and resilient images of women, women who do not have to "perform" for attention, but are enough in their own right, and their own mind. The medium of marble gives a timeless and enduring quality to the message. My abstract forms in onyx relate to my more spiritual and environmental concerns. When I work with onyx, it is like working with petrified water. I create sculptures which reference WATER: Oasis, Reservoir, Vessel, Holy Well.... hoping to highlight what we are at risk of losing. Many of my sculptures reflect on the interior life of our humanity, such as meditation, prayer, reflection.

Anderson has been exhibiting her work extensively throughout the Northwest and abroad since the mid 1990's. Her work is included to the permanent collection of the Portland Art Museum, Hallie Ford Museum, Salem, OR, Ceasar's Palace, Las Vegas and the Maroochydore Bushland Botanic Gardens & Noosa Botanic Gardens, QLD, Australia. She has been the recipient of a Pollack-Krasner Foundation Grant, a two-month Fellowship Award in Civita di Bagnoregio, Italy through the Northwest Institute of Architecture & Urban Studies in Italy, the recipient of a career grant through the Oregon Arts Commission and the Ford Family Foundation.

Anderson also gratefully acknowledges receiving funds this year from The Artist Relief fund, administered by the Oregon Arts Commission in partnership with Oregon Community Foundation and the James F. and Marion L. Miller Foundation. The program provides relief funding to Oregon artists who have experienced financial hardship during the COVID-19 pandemic.