October 2021 Exhibit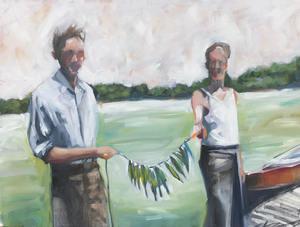 Ruth Shively
Gone Fishin' The Art of Rest & Relaxation
October 9 – November 8

We are excited to host a solo exhibition for Portland artist Ruth Shively. Known for her distinct style of figurative work Shively shifts gears from her typical subject matter for this series but her strong and deliberate use of brush stroke stays primary to her work. Gone Fishin': The Art of Rest & Relaxation opens during Astoria's Second Saturday Artwalk, Saturday October 9th 12 – 8 pm. Shively will be present and available to answer questions about her work from 5 – 8 pm that evening. The exhibition will remain on view through November 8th.

Not new to Imogen, Shively has participated in our annual invitational portraiture exhibition, including her evocative and gestural portraits of mostly women. She is highly regarded for her use of broad, rich swathes of color defining composition through brushstroke. This element remains pinnacle to her work but within this series she introduces a narrative quality, bringing in a bit of storytelling. Her figurative work now merges carefully into the realm of abstraction. Beyond a shift in her painting style, Shively also considers the past year and a half and the challenges is has brought, with lockdown, travel restrictions, missed family celebrations, etc. it has also revealed many other possibilities. Through her paintings, Shively takes a look at what this slowed down time has brought. The consideration of what really matters in life. Within this series she focuses on the simple concept of slowing down to relax and unwind to recharge, most prominently looking to our relationship with water and shoreline and its place in the process.

A sense of ease and relaxation is prevalent to this new series, a ship moving across the horizon line, a group of young women picnicking perhaps lakeside and a young girl with her catch of the day are just a few examples of the idea of what the water's edge brings. A sense of nostalgia is ever present, a quiet nod to the past and perhaps an easier time where worries were abated simply by going fishing. She blends these obscure memories of time well spent with friends and families into something meaningful that nurtures psyche, giving strength to move beyond what ever struggles life brings. Within her paintings, her figures always display a quiet ease of resilience and an innate sense of strength and beauty.
About her work Shively states: "I work largely with the figure, concentrating on women. In awe of strength women behold, I feel the need to express their character through my work, I can't explain how I choose my subjects, I go with my instinct and immediate feelings and am drawn to stark, positive/negative space. I like humor, mysteriousness, and intimate mood, wanting the viewer to make their own interpretation. I studied drawing and illustration in school but I'm a self-taught painter and prefer this medium as I love the spontaneity of the paint and using color to create space." About this series she states: "Gone Fishin' is a body of work reflecting on living in a pandemic for the last year and a half. Time at home has given me the appreciation for family, friends, travel and the freedom to go about life without restrictions. I want to live with the intent to rest and relax and appreciate the time I have to enjoy the things I most love in life. I hope these paintings bring you to a place of nostalgia and help you to remember what is important in your life." Shively depicts casual and simple scenes, things that perhaps were taken for granted during pre-pandemic times.

Shively grew up in the Midwest and has lived in Paris, New York City, Minneapolis and now Portland. She has exhibited her work in numerous group and solo exhibitions in Europe and NYC to LA with many venues in between. Her work has been featured in both Vice Magazine and 1859 Oregon's Magazine and is included to private and corporate collections around the country.

---
September 2021 Exhibit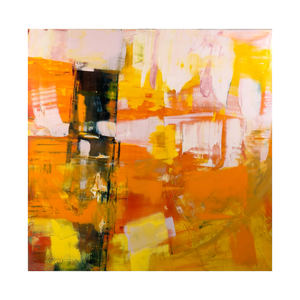 Darren Orange
Chrysalis
September 11 – October 4

We welcome back Northwest artist Darren Orange with his third solo exhibition at Imogen Gallery. Orange, known throughout the region for his bold and evocative style brings his latest collection, Chrysalis. His paintings typically encapsulate the raw power of the Pacific Northwest through abstract interpretations of landscape however for this series he moves further into pure abstraction. Chrysalis opens during the Astoria Second Saturday Artwalk, September 11 5 – 8 pm. Orange will be present and available to answer questions about his work. The exhibition will be on view through October 4.
Darren Orange brings yet another powerful and provocative series of oil paintings, pushing the unseen boundaries of mark making as expression. With the challenges of today's world many of us have been forced to change our perceptions while responding to a shift of paradigm. Employing meditation as practice Orange delivers a spirited departure from his past style with bold fresh swathes of color echoing the fractal nuance of the eastern sunrise or the depth of an old growth forest floor. With the still gritty element that has been the pinnacle of his work for decades he depicts quieter moments, leaving room for reflection with dedicated stillness through the art of art making itself. With intuitive mark making at the forefront of his process each painting becomes an exercise of part dance and part meditation and direct interpretations of his strong sense of place.

Orange was raised in the agricultural region of Central Washington where vistas are vast and life is connected intimately to land, much like his adopted home of the lower Columbia region. He seeks places of authenticity where man is directly linked to terrain through farming, timber or fishing. These places have stories to tell and readily weave themselves into his abstracted imagery. His work pays homage to independence and tenacity of the general spirit of the Northwest. Along with that and especially within this series he has pushed further into the very process of painting. The action is practice, something honed through repetition and contemplative study.

About this series he addresses the fact that art making is more than play. Its work, a continual dance of balance, juggling mood, light, surface and medium. And from that he stives to cultivate that lighter side with the goal of allowing composition to emerge effortlessly or at least appear to. About the series he states: "The not so randomness of free association mark making on canvas echoes the constructed creation of the cosmos. In the sublimity of forever spiral fractals in natural Fibonacci sequences I spin into creative ebbs and flows, high water marks and corrective retractions. Every mark affecting the next and the whole of the composition reflects the relations in harmony, balance, stress, and tension. In my attempt to make the work of painting fun by the act of play, I employ a type of aesthetic chess, active exploration in mark making, and carving out composition. While in a meditative focus the process has become a quieter practice of creative activity."
Orange's work has been widely exhibited, reaching all four corners of the United States, including New York, Atlanta, Santa Fe, Portland as well as the Coos Bay Art Museum, Oregon. He has been presented awards from the Oregon Arts Commission, the Ford Family Foundation, and the Ucross Foundation Residency Fellowship. His work has been selected for exhibitions by Michael Klein of the Microsoft Collection, Nat Trottman of the Guggenheim, Bonnie Laing Malcomson of the Portland Art Museum, Margaret Bullock of the Tacoma Art Museum, and many others. Academic institutions such as Portland State University, Mt Hood Community College, Peninsula College, Mt Hood Community College, and Lower Columbia College, Oregon Coast Council for the Arts have all awarded him with solo exhibitions. He was also selected by the Oregon Arts Commission for the Art in The Governor's Office program, a prestigious recognition as an Oregon artist. His work can be found in private, public, and corporate collections around the world.

---
August 2021 Exhibit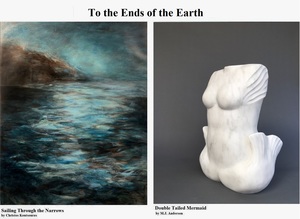 To the Ends of the Earth
M.J. Anderson & Christos Koutsouras

To commemorate our 9th anniversary, we are proud to be presenting a second dual exhibition for internationally known artists M.J. Anderson and Christos Koutsouras, who bring a new series of work titled From the Ends of the Earth. The exhibition opens for Astoria'a Second Saturday Artwalk August 14. Please join us to celebrate this powerful exhibition, 5 – 8 pm. M.J. Anderson will be present and available to answer questions about her work, all are welcome to stop by and meet her and learn firsthand about her unique process where antiquity meets contemporary. The exhibition will remain on view through September 6th.

Once again, we bring together the exquisite work of marble sculptor M.J. Anderson and painter Christos Koutsouras. Both internationally acclaimed artists share a common thread to their creative process by balancing a career that connects the Mediterranean to the Pacific Ocean. Although this past year plus has had its challenges with travel restrictions, they both maintain those strong ties while staying in place. Their work exudes the romance and history of the Mediterranean while offering the allure and mystery of the rugged Pacific Northwest. In normal times, Anderson splits her time between her two studios, one located in the quaint coastal town of Nehalem, Oregon and the other in Carrara, Italy where she is close to the marble quarries enabling her to hand select her own stone to sculpt. Christos Koutsouras, a painter of the sublime also manages a career that takes him from his birthplace on Samos, Greece where he maintains a studio as well as his stateside home base of Astoria, Oregon. For Koutsouras both places offer inspiration through landscape and light. The two also share a mastery of chosen medium, born of their love of the classics and ultimately utilizing that element as a springboard to give voice to their own vision and subsequent style.

Regarded as one of the Northwest's most important sculptors, M.J. Anderson brings her iconic marble torsos as well as what she refers to as her tablets and vessels from her Petrified Water series of green onyx. Taking a nod from the masters and personalizing it, she focuses primarily on the female form in her work. She creates forms that might remind some of the sculpted marble falling somewhere between the Cycladic and Hellenistic periods, but exquisitely refining form to define to her own definite style. Hand selecting her marble, usually directly from the quarry, she has moderate control of what will occur once the chisel hits the surface. For M.J. the magic happens within the stone itself, revealing what some might refer to as flaws, she leaves the revealed rawness to become and integral part of the finished form. Having experienced profound loss in her life, Anderson utilizes her skills to portray woman as survivors, to serve as example of woman who have overcome adversity. The imperfections of surface become a living record of strife and struggle, becoming part of the overall beauty of form.

In an essay, "The Scars that Give a Stone its Soul: M.J. Anderson 's Ineffable Beauties" written by art critic, curator and author, Richard Speer, he states:

"Inhabiting a physical and psychological space midway between the Mediterranean Sea and Pacific Ocean—the conceit undergirding her To the Ends of the Earth exhibition at Imogen Gallery—has inevitably imparted an ambidexterity to Anderson's aesthetic orientation. She floats across paradigms. Although attuned to the figurative, biomorphic, and abstract work of 20th Century icons like Brancusi, Moore, and Noguchi, she has been more directly influenced by medieval altarpieces, Käthe Kollwitz, and Manuel Neri. These disparate influences, folded into her own lived experience, guided her to the lodestar of her own practice: a never-ceasing quest to capture the ineffable. Her finished sculptures testify to the ways in which an intuitive and restlessly inventive artist can part the veils that divide the material world from the metaphysical. The sculptures are exquisite objets d'art but also emblems, signifiers, and most enigmatically of all, presences."

Anderson, who began her career as a textile artist always held a love of stone and all things Italian. Her first visit to Italy was in 1974 and ten years later established her studio in Carrara. When discussing her choice of stone as vehicle to expression she says, "Marble was once alive. Marble was made from dying coral reefs and sea life billions of years ago. It was compressed and transformed by incredible heat, then lifted up into mountains by the forces of geology…some stones have smells, so when I'm sculpting, I'm handling and smelling something that once was alive." This sense of vitality carries over into her finished forms.

Anderson has been exhibiting her work extensively throughout the Northwest and abroad since the mid 1990's. Her work is included to the permanent collection of the Portland Art Museum, Hallie Ford Museum, Salem, OR, Ceasar's Palace, Las Vegas and the Maroochydore Bushland Botanic Gardens & Noosa Botanic Gardens, QLD, Australia. She has been the recipient of a Pollack-Krasner Foundation Grant, a two-month Fellowship Award in Civita di Bagnoregio, Italy through the Northwest Institute of Architecture & Urban Studies in Italy, the recipient of a career grant through the Oregon Arts Commission and the Ford Family Foundation. Anderson also gratefully acknowledges receiving funds this year from The Artist Relief fund, administered by the Oregon Arts Commission in partnership with Oregon Community Foundation and the James F. and Marion L. Miller Foundation. The program provides relief funding to Oregon artists who have experienced financial hardship during the COVID-19 pandemic.

Christos Koutsouras, who was born and raised on the island of Samos, Greece (sharing the birthplace of famed philosopher/mathematician Pythagoras) came to the lower Columbia region of the Pacific Northwest in a rather surreptitious manner. Preparing for his second solo exhibition at the Indianapolis Museum of Contemporary Art, Koutsouras found his way to the region. Knowing he wanted to create a body of work about the ephemeral yet powerful Pacific Ocean to share with his audience in the Midwest, he took an exploratory trip down the Oregon Coast. It was along the banks of the Lower Columbia River he found his muse. His intent was simple, to stay six months for an intensive period of painting, ultimately creating a body of work inspired by the wildness and integrity of the region. This place of confluence took hold like an anchor dropped from a freighter; Astoria beckoned, and he listened. Inspired by the landscape, and tenacity of those who settled here, he worked from the same studio for over ten years, creating four distinct bodies of work for exhibitions shown here in the United States as well as Europe.

Working internationally during a pandemic has had its added challenges. Koutsouras completed an artist's residency in Indianapolis in the spring of 2020 and ended up staying longer than he'd planned due to travel restrictions. It was there that he created the powerful body of work that is included to the exhibition "To the Ends of The Earth". These large-scale paintings are highly inspired by the landscape of his home on the island of Samos, perhaps out of longing during the uncertainty experienced globally. While these canvases are inspired by another place, they also are reminiscent of his stateside home with vast expansive landscape laying focus on moody atmospheric qualities of earth, sky and water.

About this series Greek author Elena Chousni writes, "Koutsouras structures the landscapes with the abstract mastery of a mind that knows how to compose. With simplification he produces the composition. Born on the island of Samos, where the blue of the sea and the green of the earth battle daily, he intuitively understands that light is source, life giving and sometimes destructive. It can just as easily illuminate and obscure. By analogy with life itself Koutsouras bravely confronts light and dark, revealing their charm but also their darkness."

About his process and choice of medium he states: "Painting has always been the medium I could channel feelings, moods, thoughts and observations and a vehicle in which to communicate those. Utilizing the aesthetics and the freedom it provides me to get into the space between, the place that creates those images. Painting allows me to be romantic and at times even rewards me with images of beauty and depth. Painting allows me to travel in many ways and gives me the task to communicate my experiences with others and by saying that, I come to the last but foremost…. painting has taught me how to share."

Koutsouras has enjoyed a career that has offered many unique opportunities including
Commissions for large scale public art projects. One such project was located at the East Side Gallery in Berlin, Germany where a monument of freedom was established after the Berlin Wall came down. He, along with over 100 other internationally repected artists were each designated a 30' segment of the wall to create a mural celebrating a message of peace. In addition to being represented by Imogen Gallery in Astoria, Koutsouras has exhibited work in various solo exhibitions around the world including the Martin Luther Kirche in Cologne, Germany; Abraham Lubelsky Gallery in New York; the Center for the Artist, Melian Merkouri in Athens, Greece; Christel DeHaan Art Center and the Indianapolis Museum of Contemporary Art in Indianapolis, Indiana. He has also been interviewed on OPB's State of Wonder radio program and had his work juried into the annual Cascade Aids Project Art Auction every year since 2014.

---
July 2021 Exhibit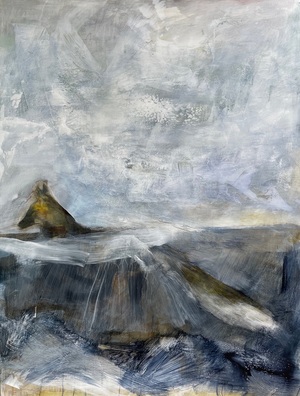 Mysterium
The Paintings of Bethany Rowland
The incredibly talented Bethany Rowland returns to Imogen Gallery for her fifth solo exhibition with her latest series of acrylic paintings, Mysterium. The exhibition opens during Astoria's Second Saturday Artwalk, Saturday July 10 from noon – 8 pm. Rowland, known for her soulful paintings, once again delivers another deep and powerful series. In times of turmoil, Rowland has always looked to the natural world to find order. Within this collection she cultivates and shares contemplative peace and utilizing imagery of wildlife she offers suggestion of acceptance for the unknown. Believing in the sacredness of mystery, through her painting Rowland works "to gain an understanding of the unseen, to understand through other ways of knowing, through observation, listening and being attentive to process." Her paintings fuse the undefined element of abstraction while gently leading into hints of realism, ultimately portraying an undeniable sense of order.
For many artists, landscape becomes muse. This holds true for Rowland who deems land and its inhabitants as spiritual guides. Her painting has always explored that side of nature and even more so with the unknowns and questions that have arisen after the past year and a half. While creating this body of work during a pandemic, Rowland found herself contemplating what could her painting convey? What could her visual metaphor offer? While she knew she did not hold answers, her painting process evolved into the acceptance of what is beyond control. Rowland considered the following passage taken from the book Arctic Dreams (page 228) by renowned writer Barry Lopez. With Lopez' words in mind she set the tone of this series:
"Our obligation toward [the land] then becomes simple: to approach it with an uncalculating mind, with an attitude of regard. To try to sense the range and variety of its expression – its weather and colors and animals. To intend from the beginning to preserve some of the mystery within it as a kind of wisdom to be experienced, not questioned. And to be alert for its openings, for that moment when something sacred reveals itself within the mundane, and you know the land knows you are there." -
Barry Lopez
Rowland, a keen observer to nature, allowed this series to direct itself. She paints in a dreamlike manner allowing wildlife to emerge from a dark and mysterious background. In one such painting, a lone deer breaks through a shroud, looking directly into the viewer without fear, its eyes intent on providing understanding and acceptance. With subtle nuance of brush stroke she crafts composition lending to the mysticism of landscape and animals she honors. About this series she states:
"T
his exhibition's title comes from remnants of childhood memories, and is connected to
who I am now, someone who believes in sacred mysteries. These mysteries aren't taught.
They are, as Lopez suggests, "a kind of wisdom to be experienced". I believe that making
or viewing a work of art can change us for the better by touching what we feel but don't fully understand, which leads to connection, empathy and hope. I don't have to know, for example, why I was moved to paint a fox in the middle of a stormy sea. What you see in this group of paintings is how we – those intermediaries and I – managed to work it out, which may be one way to help the land know we are there. It has helped me. There is more darkness and uncertainty. It might be an opening for the sacred."
Rowland who has been painting for nearly 25 years handles her medium, style, and subject matter with unabashed confidence, carefully cultivating imagery that is a beautiful and evocative marriage of representation and abstraction. Combining quiet corners of complex layers of sheer color with definitive mark and gesture, she conveys emotion: a hint of melancholy, comfort, and acceptance within each composition. She readily cites such artists as Phil Sylvester of The Drawing Studio in Portland as well as others including Andrea Schwartz-Feit, William Park, and the late Royal Nebeker for giving her the courage to trust her own intuition in her practice. She understands form and allows herself freedom to explore the nuance of posture through the discipline of painting the human figure. Her figurative work has been juried into Clatsop Community College's annual Au Naturel: The Nude In The 21st Century, for multiple exhibitions throughout its history. Her work is regularly included in the annual Sitka Art Invitational as well as the juried annual Cascade Aids Project art auction.
---
June 2021 Exhibit
Out on A Limb
Stan Peterson
We are excited to welcome back Stan Peterson for his second solo exhibition at Imogen. Included to the show will be his delightful wood sculpture, both wall hung and freestanding as well as paintings and prints. Considering his own love of winged creatures, Stan brings a beautiful new series devoted to our feathered friends. Known for his sly sense of humor and playfulness, this series provides a bit of a soulful look to birds acting as spiritual guides and/or companions while some pieces appear as totems to the grace and beauty of avians. Join us for artwalk June 12, 12 – 8 pm. Stan will be present and available to answer questions about his work 4 – 7 pm. The exhibition will remain on view through July 5.

Stan Peterson who delights in storytelling has created yet another fantastical body of work. As an avid lover of birds (he calls his studio The Laughing Woodpecker) he depicts both in 2 and 3 dimensional formats some of his favorite winged creatures. Downy Woodpeckers busy at work chiseling away for grubs along with Kingfisher's offering guidance in navigating life's twists and turns are just an example of the stories waiting to be told.

Peterson, a self-taught artist has been exhibiting his narrative and figurative sculpture for nearly four decades, utilizing animal form as a vehicle to explore human interaction and connection. As a retired postal carrier, walking is something he has always enjoyed, whether it be the city streets or remote beaches; long sidewalks give way to stretches of beach where he can observe his feathered friends and where his source of inspiration begins. These elements give him the time and space for introspection of daily experience and random encounters that quite often become center stage to his finished work. About this exhibition he states;

Flight is often on my mind. I'm walking down a path, small birds, probably sparrows, are scattered ahead pecking at the ground. As I get closer, they hop and scuttle a few feet further. We continue until, too close, they fly off in different directions.

If walking softly early or at dusk, a rabbit might appear, grazing on verdant growth. I stop, rabbit freezes other than chewing, watching with one large eye. I blink, and see the tip of the tail disappear into the side brush. Senses are now on full alert. Is that sound a woodpecker chiseling into deep wood for grubs? Now I'm taking the rabbit stance, freeze, listen, look. Often it's a Downey. If extremely fortunate, could be a Pileated with a mane of scarlet. I call my studio, "The Laughing Woodpecker". We both share compulsive behaviors with wood. I lace mine with sly humor.

Other times, walking by water maybe, just maybe, I'll see a Kingfisher ever watchful, and then, the dive. It's the accuracy of the dive which matters most. When carving the semblance of gestures, it is the skill with a knife, chisels, and hand saws that matter.

Sometimes I imagine walking with invisible lines connected to all the birds I see. If only, they could lift me off the ground. I rely on being in my art zone to do that.

Peterson has enjoyed a remarkable career as an artist, exhibiting his work from the west coast to as far away as New York and Paris with collectors all points in between. He has been a featured artist on the much loved OPB Art Beat program and written about in PDX Magazine. He has enjoyed several artist's residencies over the years including award of an individual artist's grant from the William T. Colville Foundation to travel to Bali for "Arts in Bali" where he worked with a traditional Balinese mask carver.