June 2019 Exhibit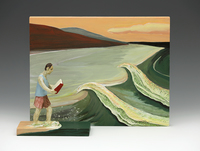 Safe Harbor
Stan Peterson

Imogen Gallery is pleased to be hosting a solo exhibition of the delightful and thought provoking sculpture of the well-known Portland artist Stan Peterson who brings his latest series of work, Safe Harbor. Join us for Second Saturday Artwalk, June 8 with a reception for Peterson, 5 – 8 pm who will be in attendance and ready to share his tales of whimsy and inspiration. Safe Harbor will remain on view through July 9th.
Stan Peterson delights in storytelling and with that in mind has put together a new series of carved and painted wood pieces, both wall hung and freestanding that reference his love of travel and the tales that ensue. Inspired by Astoria, its maritime history and dramatic landscape, he brings a collection focusing on boat and barge vessels carrying his friends the "restless travelers of the random" to safe harbor. Safe Harbor and its cast of characters are sure to delight with a healthy dose of whimsy grounded by just enough introspective sensibility.

Peterson, a self-taught woodcarver has been exhibiting his narrative and figurative sculpture for nearly four decades, utilizing animal form as a vehicle to explore human interaction and connection. As a retired postal carrier, walking is something he has always enjoyed, whether it be the city streets or remote beaches; long sidewalks give way to stretches of beach pulled and reshaped by tidal flow. These elements give him the time and space for introspection of daily experience and random encounters that quite often become center stage to his finished work. About this exhibition he states;

My work travels. Shaped with hand tools to a scale that fits in a pocket. Works in process often go out for a drive, or a walk on the beach. I take iPhone pics of them and post on social media. It's a type of storytelling. The changing tides of migration are having a major effect on all of our sensibilities.

Astoria, being on the water, offers wide views and distant horizons. Cargo ships and fishing boats anchor to wait out the tide. My carved rabbits, penguins, giraffes, etc have found a safe harbor at the Gallery as Spring turns into Summer. Sometimes they assemble on stage sets for the wall. Vignettes telling of their adventures in a painterly manner. They are restless travelers of the Random.

Peterson has enjoyed a remarkable career as an artist, exhibiting his work from the west coast to as far away as New York and Paris with collectors all points in between. He has been a featured artist on the much loved OPB Art Beat program and written about in PDX Magazine. He has enjoyed several artist's residencies over the years including award of an individual artist's grant from the William T. Colville Foundation to travel to Bali for "Arts in Bali" where he worked with a traditional mask carver in Bali.

---
April and May 2019 Exhibit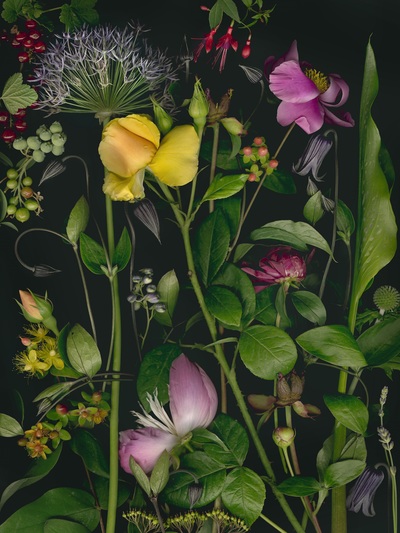 Garden Studies
Deb Stoner

Imogen Gallery is honored to be hosting a solo exhibition for Portland artist Deb Stoner. Garden Studies opens April 13th for Astoria's Second Saturday Artwalk with a reception for Stoner, from 5 – 8 pm. Stoner, an accomplished photographer brings a new series of archival pigment prints, focusing on her love of gardening and the Dutch masters of still life painting. All are invited to enjoy good company and conversation with the artist during the reception. The exhibition will be on view through June 4th.

With the arrival of spring and the gardening season we are thrilled to host the lush and spectacular photographs of Deb Stoner. Stoner from Portland, OR, combines her skills as photographer, researcher, and gardener along with a meticulous sense of detail to create dramatic still life imagery. Reminiscent of the still life painting of the 16th and 17th centuries she weaves complex mazes of texture and color within each composition. With a strong background in craft as a jeweler, scale and precision are always at the forefront of her work today. Her fine art prints are the culmination of a passion for growing plants, collecting insects, and choreographing the still life image.

Garden Studies, Stoner's current series showcases her love of botanicals with large format prints that allow the viewer to immerse themselves in details not normally seen without careful scrutiny. With some images printed as large as 60" x 42", insects larger than life reveal themselves within her compositions, looking at home in their artist made world. Incredible detail in a vast array of plant varieties included to each print, Stoner's work is easily a horticulturist's dream come true. She carefully cultivates each detail of her compositions with the delicate nuance of curl on a petal, or the subtle shift of hue within a blossoming rose. The juxtaposition of the bright and shiny surface of an eggplant next to the matte, almost velvety skin of a purple string bean gives the allure of indescribable texture and dimension that leaps from the flat surface of rag paper that each image is printed to.

Stoner is an artist who is constantly challenging herself to create and reveal the unexpected. Her photographic process is not the atypical point and shoot format with a hand held camera and lens doing the work, instead she creates each high resolution image on her scanner, literally building her compositions on the scanner bed to capture as much detail as possible. About this series she states:

"I make high resolution images of things I gather in nature, from intensely dense urban floral gardens to experimental vegetable breeding gardens. This year was the first where I made photographs from the mobile studio that my partner made from a 1952 vintage trailer, marking freedom from the tether of my usual home studio. Some of these photographs have come from that experience. All are a continuation of a large ongoing body of work called "A Year in the Willamette Valley", a reference to place and time. Obviously inspired by 16th and 17th century European floral painters, as well as the natural/fake large scale dioramas in natural history museums, I'm mostly interested in making beautiful compositions. The scanner, as my photographic tool of choice, reveals extraordinary details far beyond the ability of my unaided eyes. My obsession is paying attention to phenomenal and ephemeral events in gardens throughout the year, and making images with them in real time."

Deb Stoner holds an MFA in Applied Design from SDSU, a BS in Geology from UC Davis, and a decades long teaching career at Oregon College of Art and Craft. Recently she presented lectures on photography to the Yuma Symposium, the Portland Art Museum, and the SPE NW Regional Conference. She has also had solo shows in 2017, 2016 and 2015, as well as numerous group shows, and currently has two scheduled for 2019, the first at Imogen. Stoner has juried purchases in the permanent public art collections at University of Oregon, OHSU, PCC, and Portland International Airport; is the recipient of grants and a recent residency, and sells work to enthusiastic collectors around the world.

---
March 2019 Exhibit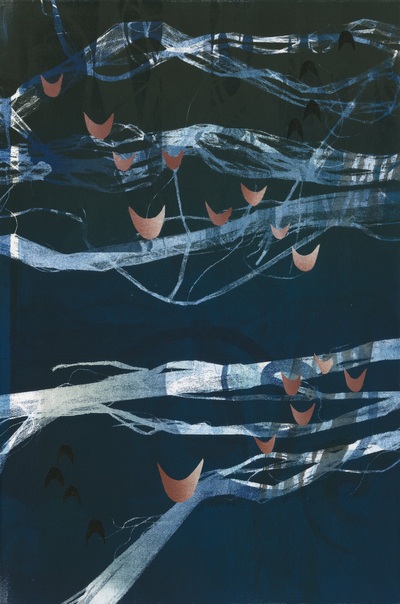 Voyages and Migrations
Miki'ala Souza

Imogen Gallery is honored to be hosting a solo exhibition for Astoria artist Miki'ala Souza. Voyages and Migrations opens March 9th for Astoria's Second Saturday Artwalk with a reception for Souza, 5 – 8 pm. Souza, an accomplished printmaker brings a new series of monotypes and chine colle prints that explore journey and migration of people from one culture to another. All are invited to enjoy good company and conversation with the artist during the reception. The exhibition will be on view through April 9th.

Souza, a native Hawaiian brings a complex series of montypes and chine colle prints for her first solo exhibition at Imogen Gallery. For this series she depicts waterways and currents that might be utilized to traverse from homeland to a new and unknown environment. Her imagery acts as representation of past to present and the overlapping of cultures that ensue by migration. Through the intrinsic layering process of printmaking she brings dramatic imagery of rich and saturated color. Incorporating bold swathes of sheer inks to act as current, finding themselves winding over the page in rhythmic patterns such as a traveler trusting themselves to currents that propel them around the globe. The very process of printmaking is a perfect metaphor for this transference of cultural identity that Souza depicts in each composition, weaving the layers of inks to create an imprint of one's history, building a sense of journey from past while fusing that with present and giving reference to what may come with new sense of identity.

Souza is both a practicing artist and educator, teaching art at the high school level and in the past printmaking at Clatsop Community College. She has always had a strong love of travel, exploring the world to deepen her own knowledge of sense of place. Her prints include bits and pieces of all the places that have touched her through experience and memory. Souza's exploration of other cultures includes six months study at Parsons School of Design in Paris, three months in the Solomon Islands studying art practices in a small village, as well as multiple trips to New Zealand including one visit granted by the Oregon Arts Commission for residency and exhibitions of indigenous artists. About her work she states, "The spaces created during the monotype process of layering ink, build elusive landscapes full of symbolism, depth and color. I build environments that combine influences from my immediate surroundings as well as imagery from my indigenous background."

---
February 2019 Exhibit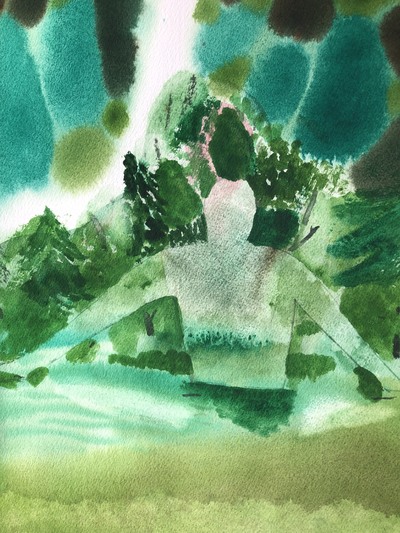 Tides

Paintings by George Wilson

With the annual FisherPoets Gathering just around the corner, Imogen Gallery is pleased to be hosting the third solo exhibition by professional artist/fisherman, George Wilson, who resides in Portland, Oregon. Tides opens February 9th during the Astoria Second Saturday Artwalk with a reception from 5 – 8 pm. Friday. February 22nd from 4 – 6 pm, all are invited for a welcoming reception, to kick off the full weekend of events scheduled for FisherPoets Gathering. The exhibition will remain on display through March 5th.

One wouldn't quickly draw a parallel of career choices between the fishing industry and the arts, whether visual or literary, yet it seems more prevalent than one might assume. Year after year the fishermen who might be poets, or vice versa, convene in Astoria to share their prose, their short stories, their livelihood with those of us who have perhaps never been to sea, let alone experienced first-hand the hard and dangerous work of being a commercial fisherman. Likewise, with visual artists who make their living from the sea. George Wilson is one of those unique individuals, who from childhood has enjoyed the beauty, sometimes solitude and unpredictability of the fishing industry while combining that with his other love, that of the visual language which he utilizes to narrate his observations as a fisherman.

For this series Wilson brings a collection of small and ethereal watercolor paintings that reflect his strong connection to the sea and its tributaries. Growing up in a generational fishing family in a small village off the coast of Scotland, waterways have always been a part of his existence, as well as a source of livelihood. That profound connection has culminated in an enchanting series of paintings that serve as visual poetry to places he's been, reflecting shoreline and its ever changing edges that define and connect land to sea through ebb and flow of tide.

He shares with the viewer his love of landscape with dreamlike renditions of places that resonate a deep and rooted sense of nostalgia. About the series he states, "My home village sits on a headland that juts into the sea. In the Moray Firth, my first ocean, the tides run hard and strong. I am fascinated by the surfaces of water- the patterns, lines and shapes the tides paint in their movement. Tides have brought me an understanding an understanding of timeless impermanence. I seek solace in the waters and in their truth: change is the constant. I am blessed by the waters at this time when the social, political and planetary tides stir our depths and ripple through our lives."

Wilson who has painted as long as he's fished, eventually found himself entering the academic world with studies at Gray's School of Art, one of the United Kingdom's most prestigious art schools located in Aberdeen, Scotland. After graduating with a focus on painting and drawing, he found his way back to the sea where his time was shared between fishing trips and the studio. His work is a beautiful balance of both worlds with one love always merging with the other.

---
January 2019 Exhibit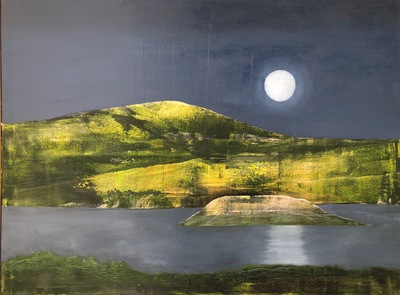 Ryan Dobrowski
Discover Solitude
Many artists can spend a lifetime trying to master one art form, Ryan Dobrowski happens to be one of those rare individuals who seems to cultivate a balance between two very different artistic expressions, music and painting. The Astoria based artist brings to Imogen a new collection of landscape paintings that inspire a sense of self-discovery and reflection. The exhibition, Discover Solitude opens Saturday, January 12, 5 – 8 pm with a reception for Dobrowski, who will be present and available to answer questions about his work. Light bites and drink will be provided by Astoria Coffeehouse and Bistro. Discover Solitude will be on view through February 5th.

Ryan Dobrowski is not one to sit idle; creative and physical energy seem to perpetually feed his talents. Known as drummer to the internationally known indie-pop band, Blind Pilot, Dobrowski still finds time to express himself through the visual language. Although he has cultivated a successful career as a musician, honing his skills as a drummer since childhood he has also consistently worked to express himself through painting, earning a BFA from the University of Oregon.

For this series, his third solo show at Imogen, Dobrowski, focuses entirely on landscape, not so much in reference of direct place but rather to conjure a sense of discovery that comes from quiet and solitude within the landscape. His painting process consists of layering of medium, building up surface and then working back into the painting, almost as if excavating to reveal a glimpse of geological time. Each painting contains its own history, more than is seen simply on the surface, offering subtle underlying elements that lend to emotive nuance, in the end revealing mystery and the gift of discovering solitude.

Dobrowski continues to show stark and rugged beauty of landscape sought out for its drama. With a primarily subdued palette and flattened plane, Dobrowski carefully plays with a fine balance of surrealism to hyper-realism, softening and whether intentional or not, romanticizing what appears as dramatic and inspirational landscape. He portrays through sometimes sharp contrast of color and defined raw edges powerful elements that bring suggestion of place without the mark of mankind, a place not known and waiting for discovery.

About this series Dobrowski states, "Discover Solitude is a series of paintings in search of a moment of discovery. They are landscapes of nowhere in particular. Places I can only get to through painting. They are built through many layers of paint applied and removed and applied again until that moment of discovery is found. Each piece holds more history than can be seen on the surface. Some have entirely different paintings underneath them, some are supported on wood panels removed from my house. All of this becomes part of the finished painting. One action directs another until I find something that feels new. Something that holds mystery. Something that feels like a return to myself."