January 2019 Exhibit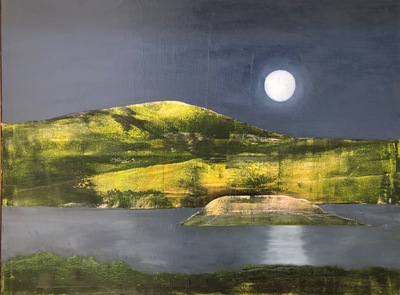 Ryan Dobrowski
Discover Solitude
Many artists can spend a lifetime trying to master one art form, Ryan Dobrowski happens to be one of those rare individuals who seems to cultivate a balance between two very different artistic expressions, music and painting. The Astoria based artist brings to Imogen a new collection of landscape paintings that inspire a sense of self-discovery and reflection. The exhibition, Discover Solitude opens Saturday, January 12, 5 – 8 pm with a reception for Dobrowski, who will be present and available to answer questions about his work. Light bites and drink will be provided by Astoria Coffeehouse and Bistro. Discover Solitude will be on view through February 5th.

Ryan Dobrowski is not one to sit idle; creative and physical energy seem to perpetually feed his talents. Known as drummer to the internationally known indie-pop band, Blind Pilot, Dobrowski still finds time to express himself through the visual language. Although he has cultivated a successful career as a musician, honing his skills as a drummer since childhood he has also consistently worked to express himself through painting, earning a BFA from the University of Oregon.

For this series, his third solo show at Imogen, Dobrowski, focuses entirely on landscape, not so much in reference of direct place but rather to conjure a sense of discovery that comes from quiet and solitude within the landscape. His painting process consists of layering of medium, building up surface and then working back into the painting, almost as if excavating to reveal a glimpse of geological time. Each painting contains its own history, more than is seen simply on the surface, offering subtle underlying elements that lend to emotive nuance, in the end revealing mystery and the gift of discovering solitude.

Dobrowski continues to show stark and rugged beauty of landscape sought out for its drama. With a primarily subdued palette and flattened plane, Dobrowski carefully plays with a fine balance of surrealism to hyper-realism, softening and whether intentional or not, romanticizing what appears as dramatic and inspirational landscape. He portrays through sometimes sharp contrast of color and defined raw edges powerful elements that bring suggestion of place without the mark of mankind, a place not known and waiting for discovery.

About this series Dobrowski states, "Discover Solitude is a series of paintings in search of a moment of discovery. They are landscapes of nowhere in particular. Places I can only get to through painting. They are built through many layers of paint applied and removed and applied again until that moment of discovery is found. Each piece holds more history than can be seen on the surface. Some have entirely different paintings underneath them, some are supported on wood panels removed from my house. All of this becomes part of the finished painting. One action directs another until I find something that feels new. Something that holds mystery. Something that feels like a return to myself."

---
December 2018 Exhibit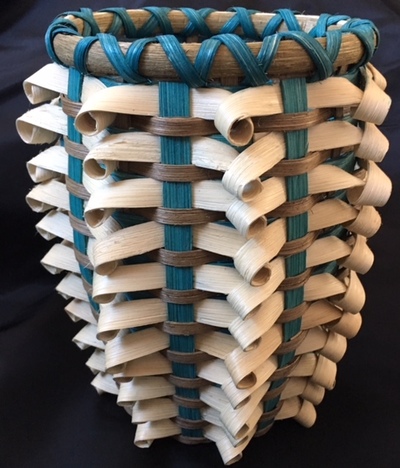 Hook, Pulp and Weave
An Exploration of Fiber as Medium
Celebrate the holidays with Imogen as we host a rich and diverse invitational exhibition exploring fiber. Functional and non-functional work will be included in this unique exhibition of textile based arts. Color, texture and composition form the backbone of this diverse collection including a new selection of hand hooked wall art by Roxy Applegate, artist-made paper lights by Lâm Quãng and Kestrel Gates of HiiH Lights, wall hung mixed fiber art pieces by Susan Circone, nuno felted scarves and wraps by Julie Kern Smith, basketry by Debra Carnes are just a few of the exquisite examples of fiber in art to be presented for the exhibition. The exhibition will open for Astoria's Second Saturday Artwalk, December 8th with a reception for the artists, 5 – 8 pm. All are invited to attend and enjoy good company and cheer. Food and drink will be provided by the Astoria Coffeehouse and Bistro.

Fiber based art has a long running history, with weaving techniques dating back to Neolithic times some 12,000 years ago. It is respected as one of the oldest surviving craft forms in the world that evolved from multiple cultures, including the Incans who utilized textiles as currency, which held a more prominent role then gold for trade. Native Americans, for centuries have created elaborate basketry for all uses, including vessels that were water tight, made from regionally known plant materials. Middle Eastern nomadic tribes, have been respected for intricate hand knotted rugs made of wool and silk, dating back over 4000 years, and the rich illustrative tapestries of the 14th and 15th centuries of European cultures, all helped to forge what we appreciate as textile based art today. The term "fiber arts" came to be applied much later; post World War II with the insurgence of the craft movement. With this came the recognition of craft as fine art and the diminished idea of utilitarian needs.

Hook, Pulp and Weave is a collection of just a few examples of what textile or fiber arts has evolved into. With the lessening of the importance of function, and the consideration of pure artistic concept being delivered through the fiber medium, artists have found a new voice to explore ancient arts, utilizing texture, color and form. While much of the work included to this exhibition is functional, many pieces are based strictly on principle of art form, utilizing fiber to create compelling and complex pieces.

Susan Circone of Portland, brings intricate wall hung abstract compositions focusing on brilliant use of texture, pattern and nuance of color. Coming from a former career in geological sciences, her compositions are inspired by nature. About her work she states: Paying homage to the curvilinear nature of organic forms, especially at the microscopic scale, is the main focus of my work. Repetition of these cell shapes and filaments creates the visual vocabulary that interests me. These abstracted motifs reference the simplest single-celled organisms. I am drawn to the prevalence, perseverance, and resilience of microorganisms, the first forms of life on Earth. They reproduce quickly and readily adapt to changing conditions, often despite the best efforts of mankind to control and defeat them. Our existence is intimately entwined with their presence in our microbiome, and they will continue to thrive long after our species has disappeared from the Earth. Working primarily on a foundation of cotton or silk fabric that she has hand-dyed, discharged and printed, Circone cultivates visual depth with translucent layers of silk organza and thread. Cheesecloth is often used to provide a distorted organic grid that is further manipulated to define the composition. These layers are bound to the foundation with embroidery floss and hand stitched. Finished pieces are then mounted on felt and framed in acrylic cases.

If you are looking to support local artists this year for your holiday gift giving, Astoria represents. We are excited to include a diverse array of fiber based work by Astoria artists, Lâm Quãng and Kestrel Gates of HiiH Lights, Sally Lackaff, Amelia Santiago, Iris Sullivan and Debra Carnes of Cannon Beach. Husband and wife team Lâm Quãng and Kestrel Gates of HiiH Lights, bring new lighting, a whimsical fusion of purposeful and sculptural, created from their own handmade paper, enhanced with natural pigments. Fiber artist, Iris Sullivan of Astoria includes her hand dyed botanical silk scarves and needle felted monsters, Sally Lackaff brings abstract wall hung embroidery, Amelia Santiago has created several of her adorably life like needle felted wool pups and Debra Carnes brings her intricate handwoven, hand dyed basketry.

Roxy Applegate formerly of Astoria, now residing in Portland, has for years focused on the creation of hooked rugs, dying her own materials and creating her own vibrant designs, she loves color! This year she brings hand hooked wall hung pieces, incorporating more relief to her designs by use of varying materials. Julie Kern Smith of Portland, shares her rich and sophisticated wraps made of nuno felted wool and repurposed silk, from vintage scarves and kimonos. Her choice of materials are exquisitely brought together through fusion of fiber, creating rich and tactile wearable art forms. Collage artist Gabrielle Lundy of Seattle brings her reclaimed fabric wall hung pieces depicting the Seattle skyline as well as more locally recognized terrain with a spectacular fusion of color and texture and pattern. Anne Grgich, known internationally as an outsider artist brings her own hand stitched and embellished handbags. Crystal and Ben Sloane of upstate New York include their vintage styled whimsical free standing and hanging ornaments created from spun cotton. Hook, Pulp and Weave is an eclectic, tactile and exciting blend of fiber forms that all will enjoy.

---
November 2018 Exhibit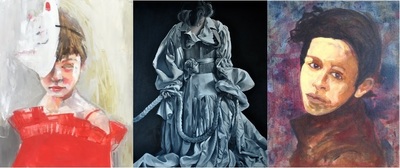 Facing You
An Exploration of Portraiture

Imogen is pleased to be presenting the fourth annual invitational exhibition exploring humanity through portraiture. This year's exhibition will include the sublime paintings of Reed Clarke, Meghann Hanour and Ruth Shively, all exploring the essence of humanity. This evocative collection moves beyond a surface glance of an individual, inviting the viewer a step closer and to consider the underlying. Perhaps even to see ourselves through the eyes of others, and what it means to be a part of mankind. Each portrait tells a story, we invite you to participate. The exhibition will open for Astoria's Second Saturday Artwalk, November 10th with a reception for the artists, 5 – 8 pm. All are invited to attend and enjoy good company, food and drink, provided by the Astoria Coffeehouse and Bistro. The exhibition will be on view November 10th thru December 4th.

Many artists at some point in their career have placed focus on the human form as subject matter, for some it's a practice of study, for others it's a means to participate with humanity on a more intimate level. Artists Reed Clarke, Meghann Hanour and Ruth Shively fall into that category. Portraiture becomes a vehicle utilized to explore deeper reflection of who we are, what we convey without speaking, simply by stance, expression or direction of gaze. These artists, all incredibly skilled with chosen medium, bring suggestion of story and history through portrayal of individuals.

Reed Clarke of Portland, Oregon has dedicated much of his career as a fine artist painting others. Known for his skill as a painter and printmaker, he has had his work juried into Clatsop Community College's prestigious Au Naturel: Nudes in the 21st Century exhibition several years running, receiving a first prize award as well as a purchase award from CCC. He has exhibited his work throughout Portland including a show at the White Gallery of Portland State University. For Imogen's fourth exhibition Facing You, he brings yet another strong collection of work, inviting the viewer to perhaps create their own story. His skill is apparent in the nuance of palette to create mood and emotion through an intimate look and consideration into another's experience, perhaps with a goal of fostering greater understanding and acceptance of who we are. For this exhibition, Clarke has exchanged his oil paint for acrylic with the goal of creating a unique surface through sheer layers of highly thinned color washes to create luminosity. About this series he states: "People, the subjects of my work, can in many ways be described as holding layer upon layer of meaning extending to great depths. In my work I hope to elicit a statement about being human that is familiar, but which seems impossible to say clearly or completely in other mediums. The idea of having a human subject and the discipline such a subject imposes on the composition of a painting is something I value. My hope is that I am able to portray my subject's unique presence in the work, but also to somehow allude to the underlying mystery of what it means to be human."

Imogen is pleased to welcome back the dramatic work of local artist Meghann Hanour. Hanour who is primarily a self-taught artist brings a large scale acrylic painting on canvas. Her work for 20 plus years has been informed by humanity, primarily depictions of women. Hanour's command of the figure is without question impressive, both in scale and complexity of posture. She exhibits grace and confidence within every gestural mark, creating powerful and narrative story of strength, endurance and a passion for freedom. Her work is informed in much part by the human experience, particularly through the struggles of women, battling to care, nurture and protect offspring while still fighting for the dignity of freedom of self.

Hanour spends countless hours developing her composition before bringing paint to canvas, creating her own period wardrobe for her models. About her process she elaborates: "I start a painting by first sewing garments for my models, then posing and photographing them to help build lines and images before a brushstroke occurs. I work on big canvases, capturing movement, gesture, joy and pain in my work. Compelled to create beauty and narrative, the ace I feel never relents." Specific to her piece included in this year's Facing You, titled "Silver" she states: "At times, the symbolism behind a piece unfolds before I start. I will sense a groaning, to flesh out a form, while words chart my visual course. Other times, I embrace a posture, feel its weight, and then wait for its meaning to speak as I set my hand to the work. I can see Silver and sense her worth, but her complete cup I don't understand yet. I paint in hope, by way of faith. I plant the field and expect her fruit to arrive in due season. Birthing this piece began with a struggle, just as it is a struggle finding words to describe her. She stayed silent while I labored over her layers. I hoped to find meaning in her low leash but her hush remained. She kept cold and tall. A languid kind of lady. Mute."

This year we are excited to include the intimate and evocative paintings of Portland artist Ruth Shively. Like Hanour she is drawn to imagery of women, portraying quiet resilience and an innate sense of strength and beauty. About her work she states: "I work largely with the figure, concentrating on women. In awe of the strength women behold, I feel the need to express their character through my work. I can't explain how I choose my subjects, I go with my instinct and immediate feelings and drawn to stark, positive/negative space. I like humor, mysteriousness and intimate mood, wanting the viewer to make their own interpretation. I studied drawing and illustration in school but I'm a self-taught painter and prefer this medium as I love the spontaneity of the paint and using color to create space." Shively, who grew up in the Midwest has lived in Paris, New York City, Minneapolis and now Portland. She has exhibited her work in numerous group and solo exhibitions that have taken her from Los Angeles to New York and many venues in between.

---
October 2018 Exhibit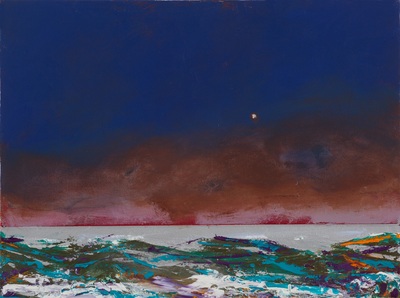 Marc Boone

Shaman's Way

Imogen Gallery is honored to present a second solo exhibition for reputable artist Marc Boone. Boone who has enjoyed a career that has spanned both the Atlantic and Pacific coasts, now resides in Ocean Park, of southwest Washington. For this exhibition, Shaman's Way he brings a series of oil paintings dedicated to jazz masters and his love of the dramatic landscape he now calls home. The exhibition opens October 13th during Astoria's Second Saturday Artwalk, with a reception held from 5 – 8 pm. All are invited to join us for the reception and to meet Marc Boone who will be available to answer questions about his work. Light bites and beverages will be provided by the Astoria Coffee House and Bistro. Shaman's Way will remain on display through November 6.

For his exhibition Shaman's Way, Boone brings a series of paintings paying homage through metaphor to the late great jazz artists that he has held a lifelong love for. For five decades, their music has been the backdrop of his painting process. From his New York studio to Baltimore and now Ocean Park, the indelible music of Ella Fitzgerald, Sarah Vaughn, Miles Davis, Thelonious Monk and many others have been with him consistently, silently instilled within his paintings. Since relocating back to the Northwest, Boone has also found great inspiration in the dramatic and mystical landscape of the coastal region while never letting go of his upbringing, surrounded by the volcanic hills of the Palouse area of Eastern Washington and the northern glacier lakes of Idaho. His work has not been an attempt to emulate nature in a realistic manner, but to instead offer a poetic depiction of the mystery of the natural world.

Native American culture has also influenced the sense of mysticism infused into his work. This series, Shaman's Way, has its origins in the medicine men and women who connected with nature and all creation to influence the world of good and evil while also instilling the influence of random back notes that come through the genre of jazz. About that connection he states: "For many of them the world's center was a tree—the axis mundi—which the shaman ascends for enlightenment. Jazz musicians—Coltrane, Miles Davis, Oscar Peterson, Herbie Hancock—and vocalists Ella Fitzgerald and Sarah Vaughn—embody the shaman's way along with some painters. For me those painters who most exemplify the shaman's tradition include Van Gogh, Mondrian, Morris Graves, Charles Burchfield, Rothko and Jackson Pollock."

As an artist and educator, Boone has enjoyed a diverse and rewarding career. After earning his Bachelor of Fine Arts from the Pacific Northwest College of Art, formerly the Portland Museum School where he studied under the iconic Northwest painter Louis Bunce, he went on to receive a Master of Fine Arts from Maryland Institute College of Art in Baltimore. Richard Speer, art critic and writer who wrote about Boone's previous exhibition at Imogen, eloquently described his work as "confident and assured, yet never showy, these are the works of a master of chroma and composition who, by talent and good fortune, enjoyed early personal exposure to some of the giants of modern and contemporary art." Beyond mentorship by Louis Bunce, Boone after moving to New York City found himself in the midst of many of the art world's influential figures, including the likes of Philip Guston, Elaine de Kooning, Salvatore Scarpitta, Edward Dugmore, Clyfford Still, Sam Gilliam, as well as others who ranked as illustrious leaders of modern abstraction.

Boone has exhibited his work at the Portland Art Museum, the Seattle Art Museum, Spenser Museum, Lawrence, Kansas, and the Boise Art Museum. He has also exhibited his work extensively in galleries in New York, Washington DC, Baltimore, Idaho, Montana, and Seattle where he was represented by Polly Friedlander, a great champion to the Northwest contemporary art movement and founder of the former Espy Foundation that offered residencies to artists in idyllic and historic Oysterville, Washington. His work can be found in private and public collections, including the permanent collections of the Boise Art Museum, the Tucson Art Museum and the Baltimore Museum of Art.

---
August 2018 Exhibit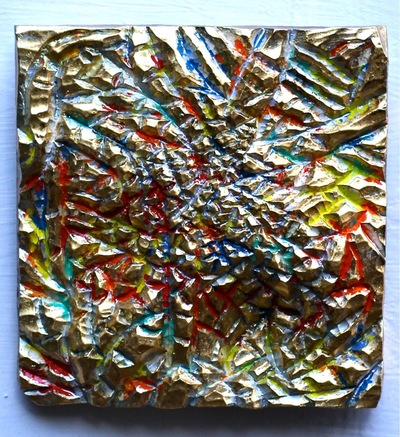 Tom Cramer: New Work
Art as Verb
We are excited to be presenting the second exhibition at Imogen by the renowned Portland based artist Tom Cramer. He brings bold, complex, color saturated paintings along with carved wood relief wall pieces. The exhibition opens August 11th during Astoria's Second Saturday Artwalk, with a reception held from 5 – 8 pm. All are invited to join us for the reception and meet Tom Cramer who will be available to answer questions about his work. Light bites and beverages will be provided by the Astoria Coffee House and Bistro. The exhibition will remain on display through September 6th.
Tom Cramer has been at the epicenter of the Portland art scene for decades, known for his distinct and evocative painting style that reverberates with a sense of playful drama. For years many things have acted as a canvas to Cramer, utilizing furniture, cars, buildings, the ballet; these are just a sample of the channels of creative self-expression Cramer has utilized. Within this series, his collectors might notice a shift in style as he merges into a new era, both personally and artistically. His work continues with strong use of color and pattern in smaller scale paintings on canvas, echoing his long interest in eastern spirituality and music, specifically jazz. Also using wood as a medium, the exhibition will include just a few of his carved relief pieces, glowing effervescently with intricate application of gold, silver and copper leaf. Some of the wood relief pieces are reminiscent of complex Tibetan mandalas. Cramer, utilizes organized color, and pattern through intricate carved concentric circles to hold elements of geometry, that then in entirety become a vessel of essence and/or spirituality.
A conversation with Cramer always leads into avenues that may have been little explored or considered, full of energy, ideas and many twists. Cramer's paintings reflect very much the same, and are in many ways a direct reference to his own experiences. Drawing inspiration from intense periods of travel, and engaging on a deep and personal level in what he considers to be older and wiser cultures, has helped him to create "an art driven by emotional content". When discussing his work, he states, "I am concerned with what I saw- not what I see- the paintings in this show represent various memories, dreams and reflections that are influenced from the passage of time and the layers of different things that happen around the ideas I attempt to transmit. All the pieces are semi abstract inasmuch as they are representing an emotion or event and to some extent give visual clues as to what they are about. For example- in "DRIVING IN A CAR", it looks like a cockpit of a modern car and also reflects the feelings of a passing landscape going by. All the pieces have a similar semi representational story of some sort. Emotional content is the goal of all my art. For me- Art is a verb- something that changes or moves. Perhaps this is why I depend on a strong sense of interaction and collaboration with the viewer.

Included to this most recent series will be oil paintings, wood burnings and carved wood relief pieces. For inspiration he draws heavily from many different cultural and metaphysical facets and states, "The idea of the picture as a door to a higher state of consciousness appeals to me. Towards that end, my work has numerous visual, cultural, and literary influences. Influences on my work include: everything, nothing, Buddhism, romanticism, irrational mental states, insanity, order, chaos, music, East Indian art, organic patterns, industrial forms, Hinduism, randomness, things with no apparent reason, Alan Watts, Nietzsche, Blake, Beethoven, Bach, Klaus Shultze and others. I prefer the work to be about the work, and not about me. One of my goals is to turn the viewer on to an expanded view of themselves."
Cramer's formal training began at PNCA in Portland and then on to Pratt Institute in New York. He has enjoyed a long and diverse career, showing in many reputable Northwest galleries over the years, including Russo Lee Gallery, and currently Augen Gallery, both in Portland. His work has been exhibited at the Tacoma Art Museum and the Portland Art Museum, as well as many other prestigious visual art venues. Cramer's work can be found in the permanent collection of the Jordan Schnitzer Museum of Art, University of Oregon, Eugene where they are preparing for a retrospective show of his work, curated by art critic and writer Richard Speer. The exhibition Journey to the Third Dimension will be a comprehensive exhibition focusing on paintings and drawings, by Cramer and created from 1977 to current, the exhibition opens August, 2019. Cramer's work can also be found in the permanent collections of Microsoft, Inc, Portland Art Museum, the Boise Art Museum, and many other prestigious institutions.