October 2018 Exhibit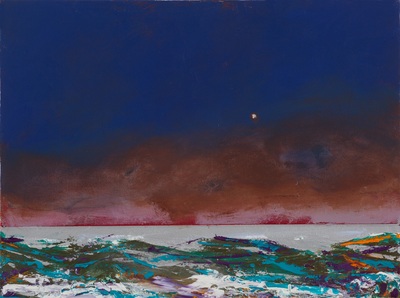 Marc Boone

Shaman's Way

Imogen Gallery is honored to present a second solo exhibition for reputable artist Marc Boone. Boone who has enjoyed a career that has spanned both the Atlantic and Pacific coasts, now resides in Ocean Park, of southwest Washington. For this exhibition, Shaman's Way he brings a series of oil paintings dedicated to jazz masters and his love of the dramatic landscape he now calls home. The exhibition opens October 13th during Astoria's Second Saturday Artwalk, with a reception held from 5 – 8 pm. All are invited to join us for the reception and to meet Marc Boone who will be available to answer questions about his work. Light bites and beverages will be provided by the Astoria Coffee House and Bistro. Shaman's Way will remain on display through November 6.

For his exhibition Shaman's Way, Boone brings a series of paintings paying homage through metaphor to the late great jazz artists that he has held a lifelong love for. For five decades, their music has been the backdrop of his painting process. From his New York studio to Baltimore and now Ocean Park, the indelible music of Ella Fitzgerald, Sarah Vaughn, Miles Davis, Thelonious Monk and many others have been with him consistently, silently instilled within his paintings. Since relocating back to the Northwest, Boone has also found great inspiration in the dramatic and mystical landscape of the coastal region while never letting go of his upbringing, surrounded by the volcanic hills of the Palouse area of Eastern Washington and the northern glacier lakes of Idaho. His work has not been an attempt to emulate nature in a realistic manner, but to instead offer a poetic depiction of the mystery of the natural world.

Native American culture has also influenced the sense of mysticism infused into his work. This series, Shaman's Way, has its origins in the medicine men and women who connected with nature and all creation to influence the world of good and evil while also instilling the influence of random back notes that come through the genre of jazz. About that connection he states: "For many of them the world's center was a tree—the axis mundi—which the shaman ascends for enlightenment. Jazz musicians—Coltrane, Miles Davis, Oscar Peterson, Herbie Hancock—and vocalists Ella Fitzgerald and Sarah Vaughn—embody the shaman's way along with some painters. For me those painters who most exemplify the shaman's tradition include Van Gogh, Mondrian, Morris Graves, Charles Burchfield, Rothko and Jackson Pollock."

As an artist and educator, Boone has enjoyed a diverse and rewarding career. After earning his Bachelor of Fine Arts from the Pacific Northwest College of Art, formerly the Portland Museum School where he studied under the iconic Northwest painter Louis Bunce, he went on to receive a Master of Fine Arts from Maryland Institute College of Art in Baltimore. Richard Speer, art critic and writer who wrote about Boone's previous exhibition at Imogen, eloquently described his work as "confident and assured, yet never showy, these are the works of a master of chroma and composition who, by talent and good fortune, enjoyed early personal exposure to some of the giants of modern and contemporary art." Beyond mentorship by Louis Bunce, Boone after moving to New York City found himself in the midst of many of the art world's influential figures, including the likes of Philip Guston, Elaine de Kooning, Salvatore Scarpitta, Edward Dugmore, Clyfford Still, Sam Gilliam, as well as others who ranked as illustrious leaders of modern abstraction.

Boone has exhibited his work at the Portland Art Museum, the Seattle Art Museum, Spenser Museum, Lawrence, Kansas, and the Boise Art Museum. He has also exhibited his work extensively in galleries in New York, Washington DC, Baltimore, Idaho, Montana, and Seattle where he was represented by Polly Friedlander, a great champion to the Northwest contemporary art movement and founder of the former Espy Foundation that offered residencies to artists in idyllic and historic Oysterville, Washington. His work can be found in private and public collections, including the permanent collections of the Boise Art Museum, the Tucson Art Museum and the Baltimore Museum of Art.

---
August 2018 Exhibit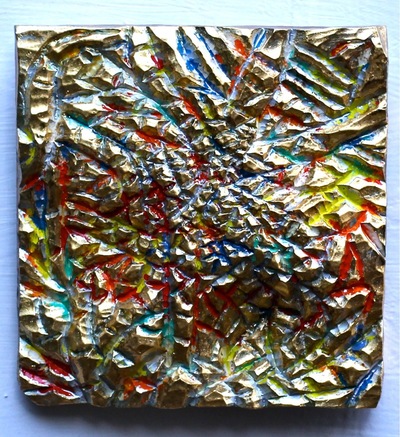 Tom Cramer: New Work
Art as Verb
We are excited to be presenting the second exhibition at Imogen by the renowned Portland based artist Tom Cramer. He brings bold, complex, color saturated paintings along with carved wood relief wall pieces. The exhibition opens August 11th during Astoria's Second Saturday Artwalk, with a reception held from 5 – 8 pm. All are invited to join us for the reception and meet Tom Cramer who will be available to answer questions about his work. Light bites and beverages will be provided by the Astoria Coffee House and Bistro. The exhibition will remain on display through September 6th.
Tom Cramer has been at the epicenter of the Portland art scene for decades, known for his distinct and evocative painting style that reverberates with a sense of playful drama. For years many things have acted as a canvas to Cramer, utilizing furniture, cars, buildings, the ballet; these are just a sample of the channels of creative self-expression Cramer has utilized. Within this series, his collectors might notice a shift in style as he merges into a new era, both personally and artistically. His work continues with strong use of color and pattern in smaller scale paintings on canvas, echoing his long interest in eastern spirituality and music, specifically jazz. Also using wood as a medium, the exhibition will include just a few of his carved relief pieces, glowing effervescently with intricate application of gold, silver and copper leaf. Some of the wood relief pieces are reminiscent of complex Tibetan mandalas. Cramer, utilizes organized color, and pattern through intricate carved concentric circles to hold elements of geometry, that then in entirety become a vessel of essence and/or spirituality.
A conversation with Cramer always leads into avenues that may have been little explored or considered, full of energy, ideas and many twists. Cramer's paintings reflect very much the same, and are in many ways a direct reference to his own experiences. Drawing inspiration from intense periods of travel, and engaging on a deep and personal level in what he considers to be older and wiser cultures, has helped him to create "an art driven by emotional content". When discussing his work, he states, "I am concerned with what I saw- not what I see- the paintings in this show represent various memories, dreams and reflections that are influenced from the passage of time and the layers of different things that happen around the ideas I attempt to transmit. All the pieces are semi abstract inasmuch as they are representing an emotion or event and to some extent give visual clues as to what they are about. For example- in "DRIVING IN A CAR", it looks like a cockpit of a modern car and also reflects the feelings of a passing landscape going by. All the pieces have a similar semi representational story of some sort. Emotional content is the goal of all my art. For me- Art is a verb- something that changes or moves. Perhaps this is why I depend on a strong sense of interaction and collaboration with the viewer.

Included to this most recent series will be oil paintings, wood burnings and carved wood relief pieces. For inspiration he draws heavily from many different cultural and metaphysical facets and states, "The idea of the picture as a door to a higher state of consciousness appeals to me. Towards that end, my work has numerous visual, cultural, and literary influences. Influences on my work include: everything, nothing, Buddhism, romanticism, irrational mental states, insanity, order, chaos, music, East Indian art, organic patterns, industrial forms, Hinduism, randomness, things with no apparent reason, Alan Watts, Nietzsche, Blake, Beethoven, Bach, Klaus Shultze and others. I prefer the work to be about the work, and not about me. One of my goals is to turn the viewer on to an expanded view of themselves."
Cramer's formal training began at PNCA in Portland and then on to Pratt Institute in New York. He has enjoyed a long and diverse career, showing in many reputable Northwest galleries over the years, including Russo Lee Gallery, and currently Augen Gallery, both in Portland. His work has been exhibited at the Tacoma Art Museum and the Portland Art Museum, as well as many other prestigious visual art venues. Cramer's work can be found in the permanent collection of the Jordan Schnitzer Museum of Art, University of Oregon, Eugene where they are preparing for a retrospective show of his work, curated by art critic and writer Richard Speer. The exhibition Journey to the Third Dimension will be a comprehensive exhibition focusing on paintings and drawings, by Cramer and created from 1977 to current, the exhibition opens August, 2019. Cramer's work can also be found in the permanent collections of Microsoft, Inc, Portland Art Museum, the Boise Art Museum, and many other prestigious institutions.

---
July 2018 Exhibit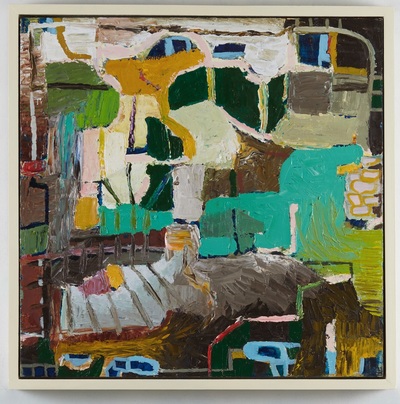 Letting It All Hang Out - New Works by Rachel Maxi

We are excited to be presenting the first solo exhibition at Imogen for Seattle artist Rachel Maxi. Known throughout the northwest for her representational oil paintings of Seattle scenes, old trucks, dumpsters and oysters, she has transitioned into the realm of abstraction. Still working in oil she explores the process of painting more intuitively allowing an expression of personal growth and development after life altering experiences. The exhibition opens July 14th during Astoria's Second Saturday Artwalk, with a reception held from 5 – 8 pm. All are invited to join us for the reception and meet Rachel Maxi who will be available to answer questions about her work. Light bites and beverages will be provided by the Astoria Coffee House and Bistro. Letting It All Hang Out will remain on display through August 7th.

Rachel Maxi is not a new comer to the Astoria art community, she spent several months living and working here as a member of the restoration crew for the Astoria Column in 2015. Following the completion of the restoration, Imogen Gallery had the honor of hosting a group exhibition of the many talented artists who participated in the arduous task of restoring the iconic Column. Maxi contributed three small paintings to that exhibition depicting the final days of completion of the monumental project when a wind storm tore the protective tarping from scaffolding. We are pleased and excited to welcome Maxi back to Astoria.

For many, a life altering experience can reroute one's personal path, the tried and true no longer makes sense in day to day existence, forcing an individual to allow for growth and change that may seem daunting in the beginning. For Maxi, who had already been feeling restless with her past work that had brought her notoriety in the northwest art community, it was time for a change but still hesitation slowed that process. After completing the restoration project here in Astoria she took a few weeks off and while traveling was met with that pivotal life changing experience. In her artist statement she shares the catalyst for departure within her creative process as well as her life in general. She states: "In late 2015, I was hit by a car while walking in a crosswalk in St. Louis, I suffered a pretty good blow to the head along with many other severe injuries. In my concussion recovery, I had to start using my brain differently, exercising it differently. That's when I knew it was time to go forward with abstraction. I was also getting tired of what I was doing - it was a predictable process. Now, with the new work, I have no idea where it will end or what I'm going to find out. I also feel that with my new work, I am processing my experience in less literal, more internal way."

In her work, Maxi holds to her source of inspiration by the stimulus of environment, urban decay, graffiti, compositions in landscape and architecture, patterns, textures, textiles, and the paint itself. She includes reference to music, specifically African Jazz and old Soul within her paintings. She likes to think of color as notes, and composition and repetition as structure and rhythm. Having recently completed a month long residency in Tetouan, Morocco she also adds reference to place. About her experience there and its impact to her work she states: "look for the feeling of that place in this body of work - I will be including some pieces that use Beeswax from Tetouan, which was rich and deep golden yellow, I came to realize that it also embodies the culture of the place and the spirit of Umma - the whole community working together. I have also been incorporating gold metal leaf, and gold spray paint into my work. The color gold is associated with illumination, love, compassion, courage, passion, magic and wisdom - and flexibility. Having nearly lost my life just before turning 50 makes these attributes particularly desirable to me at this juncture."

---
June 2018 Exhibit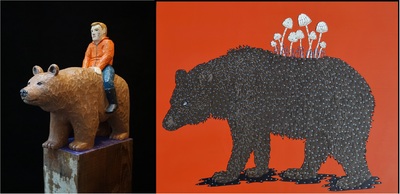 Mycology & Mythology
Kim Hamblin and Christopher Wagner

Imogen Gallery is pleased to be presenting a two person exhibition for artists Kim Hamblin and Christopher Wagner. Linked by a common background in farming, the two bring a series of work inspired by elements important to the lifestyle. Based from personal experiences they explore connectivity of farming practices and lore. Mycology & Mythology is a close look through metaphor about the relationship between man and horticulture. The exhibition opens for Astoria's Second Saturday Artwalk, June 9th 5 – 8 pm. All are invited to join us for a reception and the opportunity to meet Kim Hamblin and Christopher Wagner, who will be available to answer questions about their work. Light bites and beverages will be provided by the Astoria Coffee House and Bistro. Mycology & Mythology will remain on display through July 10th.

Working in two distinctly different mediums but sharing the common element of a cutting tool, the two bring a new series depicting elements important to the farming culture combined with a common interest in animals. Kim Hamblin brings a new collection of her intricate hand cut paper assemblages exploring her ongoing interest in mycology and its importance to life. Within this series she considers mushrooms and their connection to our cultural traditions and to the natural world, including the complex relationship with mushrooms as a source of spiritual enlightenment, food and poison. Christopher Wagner provides newly carved and painted reclaimed wood sculpture depicting man's relationship with animals while also considering his interest in mythology of different cultures and the evolution of stories handed down from generation to generation, also rooted in tradition.

Both artists enjoy working in a very direct, hands on manner, gravitating to mediums that require use of working carefully in tandem, with hand tools. Hamblin has spent years honing the ancient art from of paper cutting, a delicate and tedious practice that originated in 6th century China. Regarded as an art form that requires careful forethought and concentration, Hamblin considers it therapeutic, utilizing the practice as focus and relaxation from her busy life style. Christopher Wagner is a sculptor who typically works with reclaimed wood that comes with its own history, imperfections from nail holes and past use become a part of his finished hand carved three dimensional forms. His love of wood as artistic medium developed early as he enjoyed carving/whittling with his grandfather, on the family farm in Kentucky. At a young age he delighted in the process of revealing something meaningful from a raw piece of wood.

Kim Hamblin of Sheridan, Oregon is a woman who wears many hats. Besides being known throughout the northwest for her intricate paper-cut assemblages, she is also a farmer, realtor, music festival organizer, winemaker and mom. Hamblin resides on a 50 acre farm called Roshambo ArtFarm, located in the Willamette Valley where she and her husband keep pastures for rescue sheep, alpacas & chickens, they also maintain apple, quince and pear orchards, ferment cider & wine and host an annual music festival, the Wildwood MusicFest. Her interests are vast but always connect in a meaningful way to her artistic endeavors.
Specific to her artwork, inspiration is gleaned from her lifelong love of the sciences; particularly anatomy, botany, biology, entomology and zoology. The focal point of her work is not merely subject matter and imagery, process also becomes quintessential to each finished piece. Hamblin's use and application of materials goes beyond traditional paper cut assemblage. By adding painted surface and nails to further enhance tessellation and texture, Hamblin adds an industrial nature to the delicateness of pattern revealed in each paper cut. The juxtaposition between paper and steel make for a unique and striking finished composition.

About this series Hamblin states, "For this show, I wanted to explore the themes of mushrooms and their connection to our cultural traditions and to the natural world. Humans have a complicated relationship with mushrooms as a source of spiritual enlightenment, food and poison.
Mushrooms were one of the first forms of life on this planet, so it's no wonder humans have a long history with them. Our modern relationship with them has primarily been one of fear, or mycophobia, but things are starting to change. The field of mycology is currently booming and making discoveries at a rapid rate. Now that mycologists and soil scientists are discovering the vast interdependence of healthy soil and fungal life, our relationship with fungi will likely broaden and our farming practices will be altered to take advantage of the symbiotic benefit they offer. The importance of mycology in farming has only recently been discovered, and there is much left to learn, it's an exciting time to be a farmer!
As an organic apple farmer, mycorrhizae is important to me as it is symbiotic with apple trees, feeding the trees with vital nutrients and water and offering protection from disease. As I've been learning more about these relationships, my obsession for mushrooms has grown and I've been taking more notice of their vast presence and many forms on our farm.
What better way to work out my new obsession than to make art? The intricate delicacy of fungi forms lend perfectly to cut paper art and have become my new favorite subject matter to cut. For this body of work, I'll explore themes such as regeneration, spiritual connections with humans and animals, life and bloom and death and decay."

Christopher Wagner, who grew up on a farm in rural Kentucky has held a strong interest in the symbiotic relationship between man and domesticated animal. For his second exhibition at Imogen, he brings an impressive collection of figurative sculpture that explores through metaphor the longstanding relationship between man and beast, a connection that goes back to the beginning of mankind, forming a longstanding mutual reliance for survival between the two. Subsequintly that relationship evolved into stories told, and mythologies defined over time within the development of cultures. Wagner directly and literally narrates the balance of that relationship, man leaning on animal and vice versa, sometimes through the perspective of the animal.

About this series he states, "Mythology has always been woven throughout my art. Sometimes it's obvious, other times it is subtle references to the stories or the feelings that they inspire. One of my favorite aspects of Mythology is how it changes and grows. It relies on each story teller to reinterpret the meanings and choose what characteristics to elaborate on. Growing up a conservative Baptist stories from the Bible were constantly referenced to everyday life but these often got tangled up in my childhood mind to other outlandish tales blending with the contemporary world. Later in life while studying Latin I grew to love ancient Myths. I was fascinated how they could morph from religion to story. In America we also have an incredible reservoir of folk tales along with the incredibly rich stories of the Native Americans. All these influences provide endless inspiration to draw from. The first animals I carved were ones that I loved from mythology and that I encountered in my own life. These were the Crow and the Coyote. Both are characters in mythology, Native American stories cross the natural characteristics of these animals with god like powers and human like faults. My most recent work referencing mythology portrays contemporary characters thrown into scenarios akin to that tradition. Sometimes I am creating my own narrative other times I am directly borrowing from tales that I love. Both ways I try to pay homage to my favorite types of mythological stories. Ones that include animals, the everyman, and a ridiculous situation."

For Wagner, his process and choice of medium is integral to his finished work. The reclaimed wood he selects is chosen because of its past marks of time and history, adding a naturally aged appearance, not to be mimicked through immediacy. He utilizes traditional carving techniques to pull his imagery from the grain of the wood, incorporating any marks or scars into the finished composition. The piece is then finished with milk paint, one of the oldest forms of water based paint, made from milk, lime and raw pigments. Color is applied to define content and in many cases adding a level of approachability. Wagner has exhibited his work from coast to coast and many places in between. He possesses an M.F.A. in sculpture from Edinboro University and a B.A. in art with a dual concentration in history and sculpture from Georgetown College.

---
May 2018 Exhibit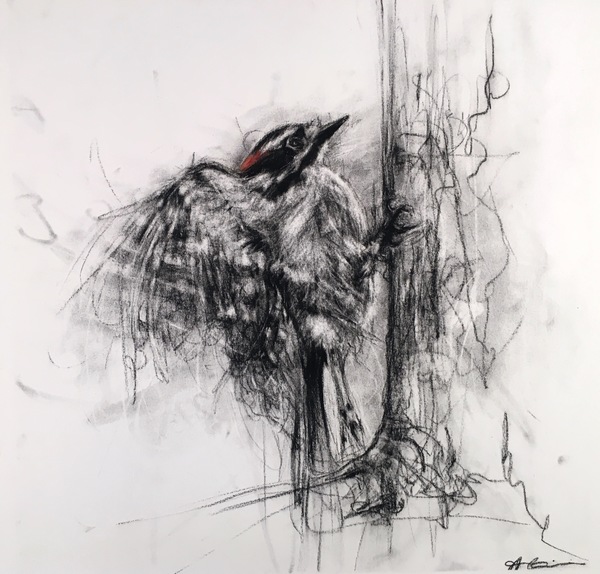 April Coppini

Trails of Teeth & Feathers
Drawing Through Grief

We are honored to be presenting the powerful work of April Coppini for her third solo exhibition at Imogen, bringing a sublime and powerful collection of gorgeously rendered charcoal drawings. For this series Coppini focuses on the practice of mark making as means to process and move beyond life altering events. She portrays drama in her subject matter, depicting the wild and unseen side of animals as metaphor to the human experience. A slight movement, the tension of muscle before a possible leap or the sharp, raw power of animal instinct in the constant state of survival all are contained on paper through profound use of gestural line. The exhibition opens May 12th during Astoria's Second Saturday Artwalk, with a reception held from 5 – 8 pm. All are invited to join us for the reception and meet April Coppini who will be available to answer questions about her work. Light bites and beverages will be provided by the Astoria Coffee House and Bistro. Trails of Teeth & Feathers will remain on display through June 5th.

Coppini has always portrayed a focused record in her subject matter depicting the wild and unseen side of animalia. Known for her drawings of all creatures, large and small Coppini has held a strong fascination for animal behavior and their relation to human kind whether it be a physical connection or metaphorically. For this series Coppini, who along with her children experienced a life altering loss has looked inward and towards her relationship with all animals to help process the profound layers of grief. She found herself taking refuge from the enormity of loss by studying birds outside her window, watching growth and renewal from a new spring bursting to life before her, regardless of sorrow held within. These profound moments became a gift, developing into this new series that Coppini shares. She, with grace and elegance brings home the very instinct of survival and acceptance in all of us.

A master at conveying emotive qualities that for most are indescribable, Coppini finds a way through unabashed, unforgettable use of line and composition. In one piece she portrays a fox faced with the unknown, erupting with a visible howl of tangled suggestion of pain, fear, anguish, even protectiveness. These characteristics are all confidently expressed by Coppini's unapologetic and honest approach to her own experience. She bravely shares her experience of life and death. About the series she states "In the first few months of this I let myself draw mostly for drawings sake; in sketchbooks and on scrap paper and with the kids; little plant studies and blind contour drawings of my children and pets. We hung a bird feeder outside the window at the kitchen table and I've been drawing who comes. I've tried to hang on to that looseness and openness to let my grief come through when it can (it doesn't always) and it has been sometimes excruciating and indescribable and sometimes soft, tender – almost magical. Death, after all, is just the other side of birth – and is so much like one. The meals brought, the overwhelm of visitors, the gifts, flowers, ceremony. The surreal quality of everything. I have been noticing the little bright spots along the way, and seeing how grief, in its enormity and intensity is also the other side of love."

Coppini tends to focus primarily on charcoal for her chosen medium because of "its immediacy and forgiving nature". For her, the starkness of black on white strikes a basic and guttural cord. Within this series there are several pieces that she includes color, pure blocks as background helping to define emotive qualities or even echo elements of subject matter while still letting the dominant line of charcoal do its work. The stark juxtaposition lends to the overall power and drama conveyed in each piece.

Coppini has also taken great interest in the rapid disappearance of honey bees, also known as "colony collapse disorder". As a result she has created over 1000 drawings of bees. Her hopes in this practice is to create awareness of the significance bumble bees have on mankind. In her own words, Coppini states, "I believe, foolishly or not, in the possibilities of the human race. I believe the act of being called on to make these drawings is something that comes from a force bigger than us. Its stating, here's what needs attention, listen to the fables being told here. What we do next, what happens to all the imperiled species is, quite literally, up in the air." Coppini has taken the cause to heart, not only by creating her luscious drawings of bumble bees in flight, but also donating a portion of the sale of each bee drawing to the Xerces Society for pollination research and conservation.

---
April 2018 Exhibit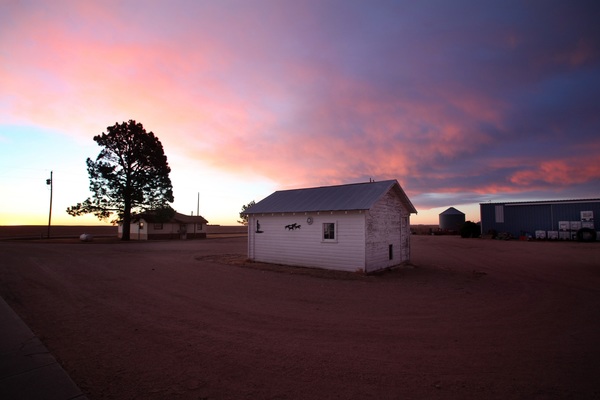 Don Frank
From Somewhere Else

We are pleased to be presenting the first solo show at Imogen for the talented North Coast photographer Don Frank. Frank who is known for his compelling and sometimes quirky compositions of the coastal region, brings a new series of work recently completed, inspired by regions of Wyoming, Colorado and Nebraska where his family immigrated to. What began as a photo documentary of American farming became something profoundly personal to Frank. He captures intimate moments of family, still working their land with poetic and profound imagery. This is the culmination of a two year project and is presented as both a documentary and homage to the people who continue to carry on this family tradition and those that came before them. From Somewhere Else opens during Astoria's Second Saturday Artwalk, April 14th with a reception from 5 – 8 pm. All are invited to attend and meet Frank who will be available to answer questions about his current series of photographs. Food and drink will be available, generously provided by the Astoria Coffeehouse and Bistro. The exhibition will be available for viewing through May 8th.

Don Frank, known regionally for his compelling sense of composition has always tended to bring what might be considered the more obscure to the foreground. His slightly sardonic worldview seeps into powerful imagery that lends to good storytelling. This series From Somewhere Else quickly became a personal journey for Frank who sought out wanting to know more of his own family's history since immigrating to the United States. This intimate look at one family's focus and connection to land quickly became a compelling project for Frank with many levels of meaning, content and connection. Much like families of this region, depending on the land for economic substance through timber or fishing, families have been for the past several decades met with evolving challenges of sustaining a lifestyle. Frank focuses his attention to the beauty of land, its people and their commitment to a way of life through sense of purpose and place.

About this series he states: "Like all of us, the paths my ancestors took to get me to where I am right now are lined with stories of triumph and heartbreak. For my family, many of these trails lead directly through small farms in the Great Plains. The towns of Julesburg Colorado, Big Springs Nebraska and Powell Wyoming are where my forebears grew up, raised families, farmed the land, settled into retirement, and were eventually buried in. As time presses forward, these lands that once sustained them are either meagerly providing or are on the verge of being sold.

I wanted to meet my cousins and spend time with them while they farmed sugar beets, wheat, and barley; or raised cattle and cared for horses. They invited me into their homes, answered my questions, and shared their meals and memories. I learned to appreciate the beauty of flatlands in the early morning and the sense the excitement of storms in the late afternoon. What I thought was going to be a photo documentary about contemporary farming turned into something else entirely. It became a road into the past including our family's immigration from Germany, then Russia, then to the Western US. It was about stories of people I never met, but whom looked like someone I know. This project was a realization that everyone is from somewhere and most are from somewhere else."

This intimate look at one family's journey illustrates a common thread, linking what it means to be American, emigrating from a foreign land with the hope and goal of prosperity. Frank carefully considers his own family's history in the story of immigration, providing rich photographic depictions of land and people. His stunning sense of composition highlights the region where one family found home. Along with the beautiful and sometimes stark landscape, Frank provides written narration with each photograph, furthering the story told of personal journey. Allyn Cantor, writer for Preview Magazine, a comprehensive guide to museums and galleries in Western Canada, Washington and Oregon states: "Frank's images are accompanied by inter-woven texts from three or four family voices, recreating the essence of place, people and individual lineage, to pave a path to today. Frank's personal familial journey can be seen as a reflection on the ideals of the American Dream. This is a story validating that the majority of Americans are From Somewhere Else. Each image is printed through an archival dye sublimation process, directly to aluminum allowing for crisp clarity of composition, inviting the viewer that much closer to sense of place with alluring intensity of color and immediacy.
Frank has enjoyed a career that has taken his work across the country both in galleries and in private collections, including the Museum of Contemporary Photography, Chicago and the Center for Fine Art Photography in Colorado.

---
March 2018 Exhibit

Sea Stories


Paintings by Jill Mayberg and ceramics by Kim Murton
We are pleased to be hosting a two person exhibition by the dynamic duo, Kim Murton and Jill Mayberg. Together they bring Sea Stories, a salty and whimsical collection of sea inspired, two and three dimensional work. Kim Murton, new to Imogen brings her delightfully playful terra cotta sculpture and Jill Mayberg returns with her bright and cheery mixed medium paintings. The exhibition opens March 10th for Astoria's Second Saturday Artwalk with a reception from 5 – 8 pm. All are invited to attend the reception and meet both artists. Food and drink will be provided by our friends at Astoria CoffeeHouse and Bistro. The exhibition will remain on display through April 10th.
Mayberg and Murton, who are both from Vancouver, WA share a commonality in their interest and appreciation of South American art. Through her interest in Folk, Outsider, Aboriginal, Primitive and children's art, Jill Mayberg brings her compositions to life with use of bright, vivid color and form. She readily takes inspiration from primitive art, expressionism and abstract modernism while merging that with imagery depicting her love of nature, animals, water, color and geometrical design.

Utilizing primarily acrylic paint, she incorporates other elements through collage and other mediums to build a sense of dimension. Bold colors pop from the canvas while background shapes and form push forward her imaginative imagery. About her process she states, "An idea is conceived (sort of-it can change) and a tentative paper sketch is affixed to a painted substrate. It is then worked on, added and subtracted, to and from, until it feels right-the result being a textured, dimensional painting." About this series "Sea Stories" she goes back to her own childhood where her love of water and all things nourished by it came alive. Reflecting on early memories she references beach walks with her mother, exploring tide pools with her brothers, studying habitat teeming with anemones, starfish, crab, sea grasses and algae. Her imprints of memory went beyond the natural world to include the urban waterways surrounding New Jersey and New York, where visits on the way to grandmother's house included stops at the iconic Coney Island amusement park. Here she developed her fascination for the more commercial side of sea life through aquatic themed advertising imagery, painted to the sides of buildings that included mermaids and octopus, imagery that is still part of her painting practice.

Mayberg's work has been exhibited across the country and is also included in private collections throughout the United States. She is the recipient of an Artist's Trust Fellowship award, a non-profit organization supporting Washington State artists, and has been a featured artist to Oregon Public Broadcast's ArtBeat program.


Kim Murton, a long time ceramic artist works in low-fire terra cotta clay and colored slips creating hand built sculpture, vast in scale that are inspired by pre-Columbian and Mexican pottery. Her colorful, whimsical pieces borrow from the traditional forms of South American art combined with her training and work history in animation and love of comics. Murton studied ceramics at The School of the museum of Fine Arts, Boston as well as study of film and animation at The Cooper Union School of Art in NYC. About her work she states: "When working on my production pieces I work on a dozen at a time, lining the pieces up, adding the features, and painting on the colored slips. I love making a crowd of heads of half figures, their hands up or folded, mouths pouting or grimacing. The last steps before firing is painting the lips and adding the black dot to the eyes – they have no expression until that last tiny gesture. I imagine my background in animation reinforces my love of repetition. I can't make just one of anything. If I like a piece I need to make it again. The small changes that happen in the repetition inspire me to continue. I am always hoping that humor and wit will show up in my work and I am pleased when my surroundings and inner thoughts are reflected in the pieces. In thinking about a show in Astoria the first thing that comes to mind are boats-fishing boats, row boats, and cats lost at sea. The simple boat form and symbolism give way to lots of possibilities. Murton has successfully cultivated her two careers, merging her love of ceramics with comics. She is also a freelance illustrator for the New York Times, has her own blog dedicated to the cartoon of the day as well as exhibiting her ceramic work in Portland, Seattle, Bainbridge Island and now Astoria.

---
February 2018 Exhibit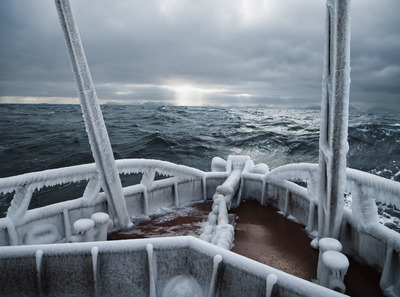 Aleutian Dreams
With FisherPoets Gathering just around the corner, Imogen Gallery is pleased to be hosting Aleutian Dreams, an exhibition by professional artist/fisherman, Corey Arnold of Portland, Oregon. This will be Arnold's third exhibition at Imogen, held in conjunction with the 2018 FisherPoets Gathering, an annual celebration of the fishing community, offering a glimpse into a very specific industry through stories and poetry written and recited by fisher folk. The exhibition opens February 10th for the Astoria Second Saturday Artwalk with a reception from 5 – 8 pm, followed by an artist/welcoming reception held Friday, February 23rd from 4 – 6 pm, to kick off the full weekend of events scheduled for FisherPoets Gathering. Throughout that weekend, Arnold is also planning a collaborative projection show on an adjacent building to Imogen Gallery, located on 11th and Marine Drive. Light bites and beverages will be provided by the Astoria Coffee House and Bistro for both events. The exhibition will remain on display through March 6th.
Corey Arnold began fishing as a child, about the same time he first picked up a camera. What began as weekend adventures with the family quickly became a permanent part of life, culminating into a successful dual career, one mutually supporting the other. This exhibition will include photographs from his most recent series Aleutian Dreams. Arnold began fishing commercially in 1995 as a deckhand aboard various vessels and skiffs in Alaska. His career as a fine art photographer and fisherman has taken him far, both documenting and fishing the world's oceans. The photographs included to this exhibition are from more recent trips, working out of Dutch Harbor, Alaska, where he focused his time documenting the challenging work of the commercial fishing industry. Despite his international success as a photographer, Arnold returns every summer to Bristol Bay, Alaska, where he captains two skiffs, fishing for salmon.
Arnold's work is without doubt a celebration of the lifestyle of the fisherman. He also hopes to convey a broader message, raising awareness to the challenges that coastal communities and our oceans, are facing in the 21st century. Through his lens he captures the raw and rugged reality of hard work, with brutal and honest images that depict both danger and beauty, sometimes in the same moment. Corey is not one however to overly romanticize, he is critically aware of the struggle of a rapidly changing global fishing industry. He states "Serious threats to small-scale fishing communities include fleet consolidation due to catch shares, poorly managed fisheries abroad, ocean acidification, fish farming, and watershed destruction due to urban development, mining and pollution."
Regardless of present obstacles and demands on a struggling industry, Arnold states: "Although it's important to be aware of the challenges facing those who work at sea, the most essential message of all comes from the spirit of this way of life. Whether we are landlocked in the mountains, or out on a boat at sea, the hard work, passion, blood and guts of this profession speak to a vitality that I hope will inspire the viewer on his/her own personal journey."

About this current series, Aleutian Dreams, Arnold states, "I returned to the Aleutian Islands this time to photograph instead of fish in order to capture the life that I couldn't previously. There is a collision of nature and industry up there that I find captivating and in this new work, I focused on elements of the place and the life at sea that inspired me as a young greenhorn. As a new fisherman going up there what is most striking is the scale of nature and the oversized tools needed to harvest and survive under such harsh conditions. I love the Aleutians because it feels like you're in on a strange behind the scenes secret, and that 'normal' people don't ever experience such things."

Arnold's fine art photographic work runs deeper then capturing a lifestyle, he tackles environmental issues, food production and man's complex relationship to the natural world, all on a global level. With a keen eye for composition, Arnold brings imagery that narrates the reality of contemporary culture from a perspective he knows best. When asked in a recent interview to elaborate on why he continues to fish and how that plays into the American dream he responded by addressing our current political landscape. He states, "Make America Great Again… whose dream is that? What does the American Dream look like? The fishing industry in the Aleutian Islands, as dangerous it is, as messy as it is, you can go out there and you can find this American Dream. It's a dream that might look like a nightmare to some, but a certain breed of human thrives off its gritty reality. You can make good money and have this experience. The eagle, our national symbol, is not always the stoic icon we see on postage stamps and nature documentaries, it can also be a scavenger and opportunist feasting off human garbage in town. Their population is thriving because of the food fishermen have brought to the island, but is that "great"? Maybe for the eagle or maybe not, it's all about perception. I'm very interested in these kind of themes."

Arnold, who graduated from the University of Art Academy in San Francisco has enjoyed a diverse and exciting career. His ongoing series Fish-Work was launched after receiving a commission from the PEW Charitable Foundation, taking him to Europe and photographing from aboard fishing vessels in eight European countries. He has also been awarded an American Scandinavian Foundation grant which lead to the documentation of the work of fishermen in Northern Norway. His work has been exhibited in Portland, San Francisco, Los Angeles, Chicago and New York as well as numerous other venues worldwide, and published in Harpers, The New Yorker, New York Times LENS, Art Ltd, Rolling Stone, Time, Outside, National Geographic, Mare and The Paris Review among others. Arnold has published two books of photography by Nazraeli Press including Fish-Work: The Bering Sea, and Fishing with My Dad. He is represented by Charles A. Hartman Fine Art in Portland, Oregon.

---
January 2018 Exhibit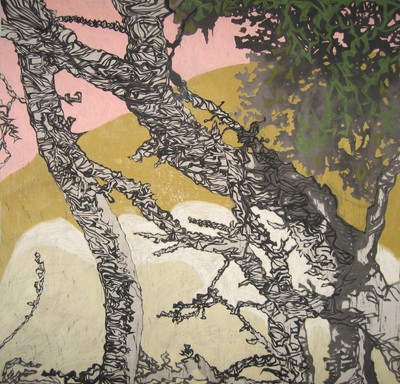 Roger Hayes

Memento Mori

It goes without saying the end of one year and the beginning of a new, brings time of transition. It is with this in mind that local favorite and internationally renowned Outsider artist Roger Hayes returns to Imogen for his third exhibition. Painting primarily in acrylic, he brings a new series of abstract and representational paintings considering Memento Mori, a Latin phrase translating to "remember you must die", or in this case artwork intended to remind the viewer of mortality with imagery portraying symbolic reference to the shortness and fragility of human life followed by regeneration. Memento Mori opens during Astoria's Second Saturday Artwalk, January 13, with a reception for the artist 5 – 8 pm. Food and drink will be provided for the reception during Artwalk by our friends at Astoria Coffeehouse and Bistro. The show will be on display through February 6th.

Memento Mori, the ancient practice of reflection on mortality dating back to the time of Socrates has also played a prominent role in art history. One of the better known painters of Memento Mori was surrealist Salvador Dali, with imagery reminding the viewer of time slipping away through symbols such as hourglasses, clocks and even skulls to depict the practice of recognizing one's own mortality. Through painting the concept is portrayed that with life comes the acknowledgement of time passing, moving forward. The practice of honoring one's impending death is not to be feared but looked upon as a guide to self-reflection. Seneca, a Roman Philosopher stated "Let us prepare our minds as if we'd come to the very end of life. Let us postpone nothing. Let us balance life's books each day. … The one who puts the finishing touches on their life each day is never short of time."

Roger Hayes, who recently finished up a four month residency sponsored by Astoria Visual Arts Artist in Residence program, took advantage of the time and space to focus primarily on the genre/concept of Memento Mori. For this series he takes a literal look at the theme with powerful and large scale depictions of skulls to anchor the exhibition. He also brings a more metaphorical approach through imagery of trees and other life forces of the forest, portraying death, decay and the regeneration that follows. When discussing this series he considers the life forces of the forest and states:

In a sense one species yielding its constituents to another, as a form of feeding, and finding nutrients, is a reminder of the transitory nature of life. Trees then became the most symbolic vector of natural loss, and decomposition, rendering minerals as food, and a symbol of interconnectedness amidst the inevitability of death.

In the case of painting skulls, there was a desire to connect with tradition, and improvise on a familiar theme. There was no over-bearing meaning, just a familiar object that could be improvised on like a musical theme. The form itself offered the most potential, along with colors and tones laid side by side.

Thus both themes speak to the temporal nature of beings. This seems more pronounced with trees of the northwest, with symbiotic relationships between moss, lichen, and mycelium forming a conduit of energy and the continual exchange of information and the transformation of matter, easily seen as a moment mori of being in the present, ever becoming other things, and other life-forms. Hopefully there are some moments of subtle meditation on transitory states, the interconnectedness of things, and symbiotic relationships.

Change and the mercurial nature of all things that bear form are the themes of these pieces. As a remembrance of mortality I am reminded of organic decay. As with death, the subject is unseen - natures' decomposers, and rebuilders who borrow from one form to build another.

Hayes, who hails from the gritty streets of Detroit, studied ambiguously the constant evolution of sides of buildings, billboards, and passing trains created by graffiti artists whose only canvas was the city itself. He has enjoyed a colorful and eclectic career as a painter, extending well beyond the diverse art community of Astoria, Oregon, establishing himself early on in his career into what was known as the International Neo-Expressionist movement. His work has been exhibited extensively throughout the great cities of the Mid-West prior to his inclusion in European exhibitions. He has participated in exhibitions throughout France, Switzerland, Argentina and many other destinations.