January 2018 Exhibit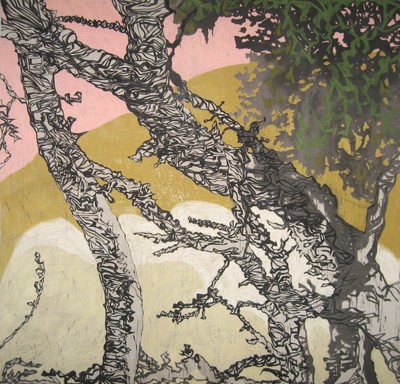 Roger Hayes

Memento Mori

It goes without saying the end of one year and the beginning of a new, brings time of transition. It is with this in mind that local favorite and internationally renowned Outsider artist Roger Hayes returns to Imogen for his third exhibition. Painting primarily in acrylic, he brings a new series of abstract and representational paintings considering Memento Mori, a Latin phrase translating to "remember you must die", or in this case artwork intended to remind the viewer of mortality with imagery portraying symbolic reference to the shortness and fragility of human life followed by regeneration. Memento Mori opens during Astoria's Second Saturday Artwalk, January 13, with a reception for the artist 5 – 8 pm. Food and drink will be provided for the reception during Artwalk by our friends at Astoria Coffeehouse and Bistro. The show will be on display through February 6th.

Memento Mori, the ancient practice of reflection on mortality dating back to the time of Socrates has also played a prominent role in art history. One of the better known painters of Memento Mori was surrealist Salvador Dali, with imagery reminding the viewer of time slipping away through symbols such as hourglasses, clocks and even skulls to depict the practice of recognizing one's own mortality. Through painting the concept is portrayed that with life comes the acknowledgement of time passing, moving forward. The practice of honoring one's impending death is not to be feared but looked upon as a guide to self-reflection. Seneca, a Roman Philosopher stated "Let us prepare our minds as if we'd come to the very end of life. Let us postpone nothing. Let us balance life's books each day. … The one who puts the finishing touches on their life each day is never short of time."

Roger Hayes, who recently finished up a four month residency sponsored by Astoria Visual Arts Artist in Residence program, took advantage of the time and space to focus primarily on the genre/concept of Memento Mori. For this series he takes a literal look at the theme with powerful and large scale depictions of skulls to anchor the exhibition. He also brings a more metaphorical approach through imagery of trees and other life forces of the forest, portraying death, decay and the regeneration that follows. When discussing this series he considers the life forces of the forest and states:

In a sense one species yielding its constituents to another, as a form of feeding, and finding nutrients, is a reminder of the transitory nature of life. Trees then became the most symbolic vector of natural loss, and decomposition, rendering minerals as food, and a symbol of interconnectedness amidst the inevitability of death.

In the case of painting skulls, there was a desire to connect with tradition, and improvise on a familiar theme. There was no over-bearing meaning, just a familiar object that could be improvised on like a musical theme. The form itself offered the most potential, along with colors and tones laid side by side.

Thus both themes speak to the temporal nature of beings. This seems more pronounced with trees of the northwest, with symbiotic relationships between moss, lichen, and mycelium forming a conduit of energy and the continual exchange of information and the transformation of matter, easily seen as a moment mori of being in the present, ever becoming other things, and other life-forms. Hopefully there are some moments of subtle meditation on transitory states, the interconnectedness of things, and symbiotic relationships.

Change and the mercurial nature of all things that bear form are the themes of these pieces. As a remembrance of mortality I am reminded of organic decay. As with death, the subject is unseen - natures' decomposers, and rebuilders who borrow from one form to build another.

Hayes, who hails from the gritty streets of Detroit, studied ambiguously the constant evolution of sides of buildings, billboards, and passing trains created by graffiti artists whose only canvas was the city itself. He has enjoyed a colorful and eclectic career as a painter, extending well beyond the diverse art community of Astoria, Oregon, establishing himself early on in his career into what was known as the International Neo-Expressionist movement. His work has been exhibited extensively throughout the great cities of the Mid-West prior to his inclusion in European exhibitions. He has participated in exhibitions throughout France, Switzerland, Argentina and many other destinations.