September 2017 Exhibit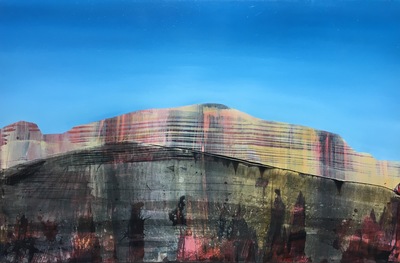 Ryan Dobrowski
Leaves for The Forest

Many artists can spend a lifetime trying to master one art form, Ryan Dobrowski happens to be one of those rare individuals who seems to cultivate a balance between two very different artistic expressions, music and painting. The Astoria based artist brings to Imogen a new collection of paintings and drawings inspired by the forests and the desert. The exhibition, Leaves for The Forest opens Saturday, September 9, 5 – 8 pm with a reception for Dobrowski, who will be present and available to answer questions about his work. Light bites and drink will be provided by Astoria Coffeehouse and Bistro. Leaves for The Forest will be on view through October 10th.

Ryan Dobrowski is not one to sit idle; creative and physical energy seem to perpetually feed his talents. Known as drummer to two bands, the internationally known indie-pop band, Blind Pilot as well as the regionally respected Hook and Anchor, Dobrowski still finds time to express himself through the visual language. Although he has cultivated a successful career as a musician, honing his skills as a drummer since childhood, he has also consistently worked to express himself through painting, earning a BFA from the University of Oregon.

For his second show at Imogen, Dobrowski brings a series of paintings and drawings of varying points of reference, tying them all neatly together through metaphor, while seeking to contain and/or make sense of that which may not be controlled. He brings depictions of terrain of the Sonoran Desert where he spent the last winter, as well as imagery realized by imprint of forests. Dobrowski has long taken inspiration from the land for his painting, seeking out places that are meaningful to him. About his paintings of place he states, "By creating paintings, I am given a chance to physically engage with the landscape again and remember to keep seeking those unknown experiences." This current series is a departure from his past body of work which depicted the stark terrain of the Icelandic landscape. There is a common thread connecting the two bodies of work that is undeniable. Working primarily in oil for his larger pieces, Dobrowski continues to show stark and rugged beauty of landscape sought out for its drama. With a primarily subdued palette and flattened plane, Dobrowski carefully plays with a fine balance of surrealism to hyper-realism, softening and whether intentional or not, romanticizing what is known as a dramatic and inspirational landscape for artists of all disciplines. He portrays through sometimes sharp contrast of color and defined raw edges, the powerful geological wonders of the desert of the Southwest.

Along with paintings of more arid terrain, he takes the viewer into the trees with paintings and graphite drawings that echo the play of light and shadow. In beautiful gradation of grays, nearly from black to white he creates sublime pattern from light dancing its way through the dense canopy of tree tops above. These elegant depictions are as much about the tree, the limb, and the leaf as they are about negative space defined by contrast of filtered light. Dobrowski also brings tiny and delicate acrylic paintings on various species of leaves he's collected. On leaves he paints miniature scenes depicting our relationship to one another and to the land we live within. Also part of this collection is a series of abstract drawings and paintings, a departure from other pieces included to the exhibition, but making sense in his quest to find balance, or to cultivate a place of order out of chaos. His calculated and repetitive mark making are the end result of dynamic and geometric compositions that resound with a sense of rhythm, much like a steady drum beat forming the backbone to musical composition.

About this series Dobrowski states, "Leaves For The Forest is a show more about personal experience than being about actual trees. Although that is clearly a reference point for many of these pieces. Having been on the road touring as a musician and relocating to the desert this past winter, these pieces have been created in various places and in different dedicated chunks of time. While scale, materials and even style will vary from piece to piece, there is a common theme of finding stability in an increasing unstable world. Leaves for the Forest is a modification of the saying 'Can't see the forest for the trees'. In this case it is a reminder to see what is in front of me instead of only focusing on that which I can't control."

---
August 2017 Exhibit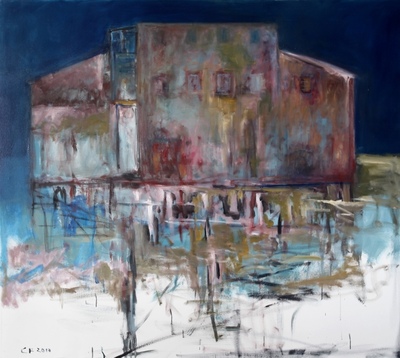 Christos Koutsouras
Venetian Red for Despina

Imogen Gallery is excited to be celebrating its 5th anniversary with the third solo exhibition for internationally known artist Christos Koutsouras, who brings Venetian Red for Despina. Koutsouras delivers yet another powerful collection of paintings; smaller impasto paintings on wood and several of his evocative large scale canvases in both oil and acrylic. The exhibition opens for Astoria's Second Saturday Artwalk August 12, with an artist's reception 5 – 8 pm. Koutsouras will be present and available to talk about his recent series with light bites and beverages generously provided by Astoria Coffeehouse and Bistro. The exhibition will remain on display through September 5.

Astoria has been Koutsouras' U.S. home base for nearly 7 years, working consistently here in Astoria to create exhibitions that have traveled to the Indianapolis Museum of Contemporary Art as well as art venues in Europe. His upcoming exhibition will be focusing on one of the last remaining union fisherman net sheds on the Astoria riverfront. The building, affectionately known locally as Big Red, was owned by the late artist Royal Nebeker who used the building for years as his own studio. Christos has like many been impressed by the history of the building. Its allure still strong, even now in its failing stature, but still upheld as being iconic to Astoria and the lore of its renowned fishing industry.

Koutsouras was born and raised on the island of Samos Greece, sharing the birthplace of famed philosopher/mathematician Pythagoras. At the tender age of 17 he began his first career navigating the world's oceans as a merchant marine, rising quickly to the rank of third mate. His dream of becoming an artist took hold and could no longer be ignored by 1980 when he jumped ship to enroll in the art schools of Germany's most prestigious institutions, studying under those he felt could teach him what he yearned to understand and master. His years on the open ocean gave him a deep understanding and respect of nuance of atmospheric conditions, this element today is still eloquently portrayed in his paintings. In 1995 Koutsouras continued his career in New York before relocating to the Midwest where he became an Adjunct Professor of Drawing and Painting at the University of Indianapolis, while furthering his career as a painter. Following his ex-wife and sons, he came west to take up studio space in Seattle. It was here that plans for a second solo exhibition at the Indianapolis Museum of Contemporary Art (IMOCA) were brought to fruition. In 2010, knowing he wanted to create a body of work about the Pacific Ocean to share with his audience in the Midwest, he took an exploratory trip down the Oregon Coast. It was along the banks of the Lower Columbia River he found his muse, her name is Astoria, Oregon.

His intent was simple, to stay six months for an intensive period of painting, ultimately creating a body of work inspired by the wildness and integrity of the region. This place of confluence took hold like an anchor dropped from a freighter; Astoria beckoned and he listened. Inspired by the landscape, and tenacity of those who settled here, he has worked from the same studio on the banks of the Columbia River for seven years, creating four distinct bodies of work for exhibitions shown here in the United States as well as Europe. This series, Venetian Red for Despina takes on an epic quality, considering Astoria's past, present and future and how the creative community participates in the framework of the area. Many great artists over time have visited the area to take inspiration of the grand and vast landscape. Cleveland Rockwell first came to the lower Columbia region as a surveyor in 1868 where he became a highly regarded landscape artist. He painted "Smoky Sunrise, Astoria Harbor" in 1882 which now hangs in the Seattle Art Museum as part of their permanent collection. Childe Hassam, an American impressionist traveled from his home in New England to Oregon twice to paint the majestic terrain. In 1904 he came to the North Oregon coast and inspired by some of the same things Koutsouras sees today, he painted "Ecola Beach, Oregon", now part of the Fred Geller Family Foundation based out of San Francisco. Hassam was noted in describing the quickly changing skies and effects of subsequent play of light and shadow on landscape, what is now the base of Koutosuras' work.

The series is for Koutsouras a personal one. He like many has been taken by the allure of the Uppertown net shed that was built in 1900. The building stands as a symbol to the now declining fishing industry, much like the building itself, failing but still standing as an iconic tribute to a way of life that has shifted dramatically. Through exquisite and subtle use of color he paints the structure in its state today, portraying rough shards of structure battered by decades of storms, reminiscent of old bones of an aged individual not ready to relinquish vanishing youth. Jeremy Efroymson, former director of the Indianapolis Museum of Contemporary Art and Lori Miles, Professor of Art at DePauw University when discussing this current series noted that Koutsouras "used to paint people like architecture, and now paints architecture like people." Efroymson goes on to say "Christos' new body of work represents a dramatic shift in conceptual approach, while remaining true to his expressionistic, moody style. The buildings he renders are suspended in spaces that alternate between chaos and calm; persistent and still structures that seem imminently mortal in their rendering. He knows these buildings well, with an evident familiarity that borders on a personal relationship. This makes sense, of course, since Christos' subjects are now the physical structures in which he spends most of his time; homes, studios, and spaces he occupies in his travels. His itinerant life, a life with multiple places to call home, has allowed him an intimate understanding of these spaces."

Koutsouras has enjoyed a career that has offered many unique opportunities including commissions for large scale public art projects. One such project is located at the East Side Gallery in Berlin, Germany where a monument of freedom was established when the Berlin Wall came down. He, along with over 100 other internationally respected artists were each designated with a 30' segment of the wall to create a mural celebrating a message of peace. In addition to being represented by Imogen Gallery in Astoria, Koutsouras has exhibited work in various solo exhibitions around the world including the Martin Luther Kirche in Cologne, Germany; Abraham Lubelsky Gallery in New York, New York; Center for the Artist, Melian Merkouri in Athens, Greece; Christel DeHaan Art Center and the Indianapolis Museum of Contemporary Art in Indianapolis, Indiana. He most recently produced a soon to be released documentary focusing on six artists from his home island of Samos and is currently preparing for a solo exhibition in Denmark as well as a third exhibition at IMOCA in 2018. Koutsouras firmly has one foot in two continents, managing a career that spans from Astoria, Oregon, to Samos, Greece with several stops in between.

---
July 2017 Exhibit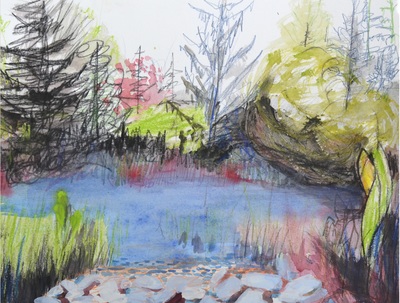 Haunt
Cynthia Lahti

We are excited to welcome back Cynthia Lahti for her third solo exhibition, Haunt at Imogen. Recently finishing a residency at Sitka Center for Art and Ecology located in the central coast area of Cascade Head, and now residing in the idyllic woods of Clatsop County, Lahti brings a fresh series of drawings depicting places known and loved by her since childhood. She combines imprints of cherished memory with the landscape of today to create compellingly lush yet delicate compositions of our mystical coastal region. Haunt is a reflection of her own heritage and history through visual exploration of places familiar over a lifetime. The exhibition opens Saturday, July 8th 5 – 8 pm with a reception for Lahti who will be present and available to answer questions about the series. Light bites and drink will be generously provided by Astoria Coffeehouse and Bistro. The exhibition will be on view through August 8th.

For artist Cynthia Lahti, landscape intimate to her has always informed her two-dimensional work. Since childhood she has immersed herself in place, seeking out sites that instill an affirmation of the grand landscape of Oregon and her own connection to home. Lahti, known and respected for her mixed media three dimensional ceramic work, creates balance for her career by turning her focus on the process of mark making on paper. She has always held a strong affinity for the land, creating drawings and paintings representing places known and haunted by her and family who immigrated here from Finland. Her longtime love affair with the wetlands, forests and coastal regions of Clatsop County, culminated in a temporary move from Portland to the Lewis and Clark area of the county. Lahti brings a series of plein aire paintings, (work created on site as opposed to within the comforts of a studio) depicting places of personal importance to her, etched in her memory but now revisited decades later. Through quick and immediate gesture she portrays areas surrounding Youngs Bay, Fort Stevens and other locations around county.

Lahti's painting style shows an immediacy and sincerity to the power of the landscape, her own history and sense of enchantment embedded within each brushstroke or drawn line. Her work reflects a desire to go deeper into the ability of mark making, creating metaphor in the construct of landscape. Her use of different materials, colors and line are all vehicles for describing and expressing elements included in the landscape. They contrast and complement each other, creating a sacred place that reflects the land itself and her emotional connection to it. This series takes a turn from past work, with vibrant and bold use of color echoing a sense of mysticism and spiritualism that pervades the forests of the county. The glow of sunlight filtered through dense overgrowth of trees towering overhead, allowing shafts of light to permeate surface of presumed moss, lichen or other local flora provide a richness in her conveyed tapestry of sacred space, a cathedral to nature itself.

About this series she states: "Oregon is magnificent in its intense natural beauty. I spent a lot of time as a child exploring its wild landscapes. They were haunted places and I was a guest walking through, lighting campfires, laughing and drifting its waters. It began my romance with natural places that has continued as an adult. It understands; nature in its complete and pure acceptance of life is where I find the greatest acceptance. The artworks included to the show Haunt reflect some of the recent adventures I have had around Oregon in the last year and my response to it. Many of the locations are places I have memories of visiting as a child and/or are of places that many of my ancestors would have seen."

Lahti is highly respected by peers, collectors and institutions who work to further the acknowledgement of artists. She has been awarded a Hallie Ford Family Foundation fellowship in 2013 for her contribution to Oregon visual arts, a recipient to a Bonnie Bronson Fellowship Award, and most recently awarded a grant by the prestigious Adolph and Esther Gottlieb Foundation. The Gottlieb Foundation awards up to 12 artists internationally each year who have dedicated their lives to art as a career choice. Lahti has also enjoyed residencies that have taken her to Berlin, Germany, Caldera at Sisters, Oregon and most recently the Sitka Center for Art and Ecology at Cascade Head, Oregon. Her work can be found in the collections of the Jordan Schnitzer Museum of Art in Eugene, Reed College, Portland, Oregon and the Boise Art Museum, Boise, Idaho.

---
June 2017 Exhibit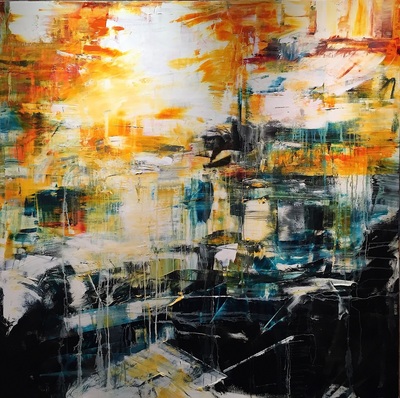 Darren Orange
Under The Surface
We are proud to present the work of Northwest artist Darren Orange with his first solo show at Imogen. Darren, who is known throughout the region for his bold and evocative style brings his latest collection, Under The Surface. His paintings encapsulate the raw power of the Pacific Northwest through abstract interpretations of landscape. Under The Surface opens during Astoria's Second Saturday Artwalk, June 10th with a reception from 5 – 8 pm. All are invited to attend and meet Darren who will be available to answer questions about his paintings and process. Food and drink will be available, generously provided by the Astoria Coffeehouse and Bistro. The exhibition will be available for viewing through July 3.
Astoria artist Darren Orange is an individual who is known to push boundaries, in his own painting process and his career as an artist. Within this new series the push and pull of paint over surface emulates the power of the lower Columbia River region. The river rolls by, sometimes with quiet and meditative current almost appearing motionless, other times white caps violently push against itself as if trying to climb back to its source. His new series Under The Surface captures that very spirit and energy. The suggestion of boundaries set by land create sense of containment, as the massive body of water pushes forward to meet with the grand Pacific Ocean. It is here that Darren finds a sense of place and meaning.
Darren Orange was raised in the agricultural region of Central Washington where vistas are vast and life is connected intimately to land, much like his adopted home of the lower Columbia region. He seeks places of authenticity where man is directly linked to terrain through farming, timber or fishing. These places have stories to tell, Darren strives to participate in that narrative through his painting. His direct and sometimes raw work conveys through abstracted landscape his own personal connection to place, but more importantly to those who came before, those who made their living through and from the land by fishing the river or felling trees. His work pays homage to independence and tenacity and the general spirit of the Northwest.
Within this new series, Darren brings paintings of all scale. His palette shifts from past work to infuse hint of complex color, reminiscent of faint hues of refracted light forming when light hits reflective surface. About his new body of work he states: "My work continues to explore abstract interpretations of environment. Through destruction of established paintings new works emerge by carving into the foundation of the painting. These works are built from an aesthetic game of chess, an intuitive mark making process. I build up representational landscapes and break the predictable endgame with slashes, spills, and drips watching for more interesting outcomes to present themselves to the surface like a stone block to the sculptor." Also included to the show will be the finished painting that took shape onstage at the Liberty Theater as part of a performance with famed cellists Ilya Kazantsev and Sergey Antonov, during the 2016 Astoria Music Festival.
Darren's work has been widely exhibited, reaching all four corners of the United States, including New York, Atlanta, Santa Fe, Portland as well as the Coos Art Museum in Coos Bay, Oregon. He has been presented awards from the Oregon Arts Commission, the Ford Family Foundation, and the Ucross Foundation Residency Fellowship. His work has been selected for exhibitions by Dominic Iocono of the Syracuse University Art Galleries, Michael Klein of the Microsoft Collection, Nat Trottman of the Guggenheim, Bonnie Laing Malcolmson of the Portland Art Museum, Margaret Bullock of the Tacoma Art Museum, and many others. Academic institutions such as Portland State University, Mt. Hood Community College, Peninsula College, Mt Hood Community College, Lower Columbia College, Oregon Coast Council for the arts have awarded him with solo exhibitions. His work can be found in private, public and corporate collections around the world.

---
May 2017 Exhibit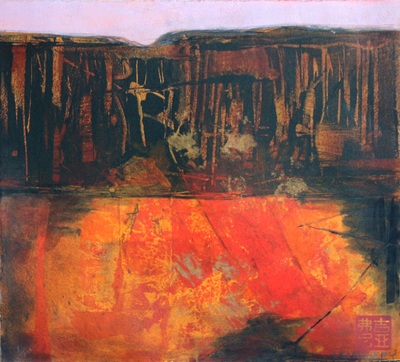 Gin Laughery

Field Notes
Astoria, for generations has been known as a somewhat transient place, with people constantly coming and going. Some merely pass by on freighters, traveling the world's seas from port to port. Others settling to start families well over a century ago, with offspring still calling the area home. Regardless of how many generations were born to this place and remain, there are just as many who have made their mark and moved on. Their time and experience here making an indelible mark. Gin Laughery is one of those people. It is with great pleasure we announce the return of Laughery for her second solo exhibition at Imogen. Laughery brings a new series of monotypes for her show Field Notes, opening during Astoria's Second Saturday Artwalk, May 13th with a reception from 5 – 8 pm. All are invited to come say hello and enjoy food and drink generously provided by the Astoria Coffeehouse and Bistro.

Laughery and her husband, Bill Lind resided in Astoria for forty years before deciding to relocate to Redmond, Oregon this past year. Originally from Eastern Washington, she has always been inspired by the landscape of the high plateau desert. The region has consistently crept into her rich imagery, sharp lines intersect with deep and unexpected nuance of color. It is this landscape that has always been pivotal to her. A place of inspiration that has and remains informative to her work. She describes her transition to another region of the state quite simply, "My love for open space is central to my being. Necessary for balance and the act of breathing fully." She returns to Astoria, fresh with new vision of landscape that she has completely immersed herself within.
Many artists spend years exploring medium and subject matter before finding their primary vehicle of communication. For Gin Laughery, the printmaking process, drew her in immediately, quickly becoming a chosen form to convey her personal ideas and vision of the world around her. Her love of the printmaking process was fostered by the late Royal Nebeker, an artist, educator and former Oregon Arts Commissioner. Nebeker, a legend in his own time was known as an excellent instructor. He encouraged artists and students of all ages to follow their passion, to take their work seriously and push boundaries that even they may not have known existed. Laughery flourished under Nebeker's tutelage; she's dedicated this exhibition to him.

In discussing this current body of work she cites Nebeker's thirteen points, "How to be an Explorer of the World", she goes on to explain how his lesson "became especially relevant following a move from the North Coast to Central Oregon." About this series she also states, "Central Oregon's unique landforms and seasonal changes continue to inspire. Daily walks in a nearby canyon allow impressions of form, movement and pattern. Observations of the stories around me and personal dialogues with the environment allow me to document my findings. These monotypes are my field notes."

Laughery's choice of medium is simple to understand when considering the land she lives within. Printmaking, specifically monotype became a clear choice early on for her. The process itself can be compared to the geological occurrences that created the lands she now lives within. With compression being a key component to the printmaking process, other tools utilized also exemplify early formation of land. Brayers and brushes are used to move and "break" ink, before going to a steel press, to literally force the composition. This action can be likened to a slow moving glacier, changing the surface of terrain by slowly carving and creating texture while revealing nuance of color shift through exposed mineral deposits. Laughery describes her process; "Ink is applied, scraped and layered with brayers and brushes, creating an image in up to 24 layers and eventually transferred to paper using a steel press bed at high pressure. The results are abstract suggestions of place and mood, my response to the natural world."

Returning to Astoria, Laughery shares her intimate connection to her new home, with friends and fans from her past place. Combining observation and memory are critical to her finished compositions. Beautiful and thoughtful rendition of space, most often through abstraction, explore stratification of land with layers of vibrant blankets of tonality. She skillfully weaves color to visually describe the deceivingly complex terrain of the high desert. She invites the viewer to look through geological land structure, considering what may lie beyond the portal of a distant land mass. Atmosphere always playing its role in the characterization of the unique and powerful region of Central Oregon.

Laughery has exhibited her work throughout the Northwest in both solo and group exhibitions. She has had her work juried into the prestigious Au Naturel: Nudes In the 21st Century hosted by Clatsop Community College, The Printmaker's Hand II, held at the Northwind Arts Center in Port Townsend, WA as well as the 2014 Around Oregon Annual at The Arts Center of Corvallis, OR. Laughery is also a founding member of the North Coast Printmakers' Collective, exhibiting annually throughout the North Coast region.