December 2016 Exhibit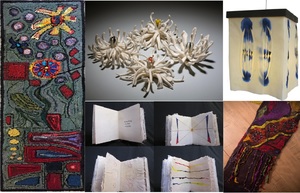 Hook, Pulp and Weave
An Exploration of Fiber as Medium
Celebrate the holidays with Imogen as we host a rich and diverse invitational exhibition exploring fiber. Functional and non-functional work will be included in this unique exhibition of textile based arts. Color, texture and composition form the backbone of this diverse collection including a new selection of hand hooked rugs by Roxy Applegate, wall hung and free standing paper art by Lâm Quãng and Kestrel Gates of HiiH Lights, nuno felted scarves and wraps by Julie Kern Smith, felted wool sculpture by Kristy Kun, and hand bound book art by Christine Trexel, are just a few of the exquisite examples of fiber in art to be presented for the exhibition. The exhibition will open for Astoria's Second Saturday Artwalk, December 10th with a reception for the artists, 5 – 8 pm. All are invited to attend and enjoy good company and cheer. Food and drink will be provided by the Astoria Coffeehouse and Bistro.
Fiber art is both an old and new art form, with weaving techniques dating back to Neolithic times some 12,000 years ago. It is respected as one of the oldest surviving craft forms in the world that evolved from multiple cultures, including the Incans who utilized textiles as currency, which held a more prominent role then gold for trade. Native Americans, for centuries have created elaborate basketry for all uses, including vessels that were water tight, made from regionally known plant materials. Middle Eastern nomadic tribes, have been respected for intricate hand knotted rugs made of wool and silk, dating back over 4000 years, and the rich illustrative tapestries of the 14th and 15th centuries of European cultures, all helped to forge what we appreciate as textile based art today. The term "fiber arts" came to be applied much later, post World War II with the insurgence of the craft movement. With this came the recognition of craft as fine art and the diminishing of the idea of utilitarian needs.
Hook, Pulp and Weave is a collection of just a few examples of what textile or fiber arts has evolved into. With the lessening of the importance of function, and the consideration of pure artistic concept being delivered through the fiber medium, artists have found a new voice to explore ancient arts, utilizing texture, color and form. While much of the work included to this exhibition is functional, several pieces are based strictly on sculptural methods, incorporating some form of fiber. Kristy Kun of Portland brings 3-dimentional soft sculpture created from felted wool. About her process she states: "With (mostly) gentle coaxing and a soapy water assist, a dense sculptural material is formed from soft wool fibers. With the same process, the lightest of fabrics that incorporate silks or plant fibers emerges…. It's magic, it's renewable and reactive." Christine Trexel of Astoria includes her intricate hand-made books utilizing handmade paper fiber. Roxy Applegate formerly of Astoria, now residing in Portland, has for years focused on the creation of hook rugs, sometimes dying her own materials and creating her own vibrant designs, she loves color! Her finished pieces are meant for the floor, but they look equally grand on the wall, presented as strictly an art form. Julie Kern Smith of Portland, shares her rich and sophisticated wraps made of nuno felted wool and repurposed silk, from scarves and kimonos. Also included to this year's exhibition will be the work of husband and wife team Lâm Quãng and Kestrel Gates of HiiH Lights, they bring a new series of their own handmade paper wall art and screens, to accompany their many gorgeous lights currently on display at Imogen. Hook, Pulp and Weave is an eclectic, tactile and exciting blend of fiber forms that all will enjoy.
---
November 2016 Exhibit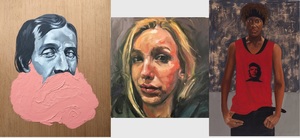 Facing You
An Exploration of Portraiture
Imogen is pleased to be presenting the second invitational exhibition exploring humanity through portraiture. This year's exhibition will include the sublime paintings of Reed Clarke, April Coppini and Timothy Peitsch all exploring the essence of humanity. This evocative collection moves beyond a surface glance at an individual, inviting the viewer a step closer and to consider the underlying. Perhaps even to see ourselves through the eyes of others, and what it means to be a part of mankind. Each portrait tells a story, we invite you to participate. The exhibition will open for Astoria's Second Saturday Artwalk, November 12th with a reception for the artists, 5 – 8 pm. All are invited to attend and enjoy good company, food and drink, provided by the Astoria Coffeehouse and Bistro. The exhibition will be on view November 12th thru December 6th.
Many artists at some point in their career have placed focus on the human form as subject matter, for some it's a form of study, for others it's a means to participate with humanity on a more intimate level. Artists Reed Clarke, April Coppini and Timothy Peitsch fall into that category. Portraiture becomes a vehicle utilized to explore deeper reflection of who we are, what we convey without speaking, simply by stance, expression or direction of gaze. These artists, all incredibly skilled with chosen medium, bring suggestion of story and history through portrayal of individuals.

Reed Clarke of Portland, Oregon has dedicated much of his career as a fine artist painting others. Known for his skill as a painter and printmaker, he has had his work juried into Clatsop Community College's prestigious Au Naturel: Nudes in the 21st Century exhibition 5 times, receiving a first prize award as well as a purchase award from CCC. He has exhibited his work throughout Portland including a show at the White Gallery of Portland State University. He brings a strong collection of work, inviting the viewer to perhaps create their own story. His skill is apparent in the nuance of palette to create mood and emotion through an intimate look and consideration to another's experience, perhaps with a goal of fostering greater understanding and acceptance of who we are. About this series he states:
The paintings I have selected for the Imogen Gallery show called "Facing You" have all been painted during the last year. They all take as subject the human face and body. However, I tend to resist the word "portrait" for what I do. I have no interest in being asked to paint someone's portrait in a manner that would please him or her. For me, what I set out to paint are images. The model, if there is one, is only a starting point and I would much rather finish with a good painting that looked nothing like the model than a faithful one that was not very interesting. There is something I'm looking for that is different than being "realistic". What I hope is that the viewer of my work sees something in the painting that is recognizable and in some way truthfully expresses the challenge of being human, perhaps, for example, a viewer identifying with sense of vulnerability that is masked but still observable.

April Coppini of Portland, who is well known for her gestural charcoal drawings of bees and other flora and fauna, has also found herself drawn to the human face for her own reasons. April has for quite some time focused on the energy of animals and insects, portrayed with respectful accuracy for what each animals role is, sharing an element of each species essence and its role on the planet. She has received great critical acclaim for her drawings, including articles published in Luxe and Artist's Magazine. This will be April's second inclusion to Facing You, where she deftly proves her skills as a painter. It seems use of color comes easily to this artist who has mastered the gestural movement of charcoal on paper. Her portraiture exudes the life and spirit of each individual depicted with thick and bold moving of oil on canvas. For this series, April brings gorgeous portrayals of women who balance the roles of mother and artist, something she knows well. She states:
I have done a lot of thinking, a lot of writing (including letters of encouragement and warning!) and a lot of talking about being an artist and a mother at once. It's something I turn around in my thoughts and feel the tugging of daily. It occurred to me recently in a moment of isolation (that is part artist reclusiveness and part unavoidable result of parenthood) that who I most wanted to connect with, who I most wanted to see most, were other mother artists. So I am embarking on a year(s) long project to paint the portraits of as many artist/mothers as I can. At best, I will make true connections and gain collective insight on this ever personal subject, and at least, I will be visually surrounded by my people (and maybe find myself as a painter along the way...)

This year we are pleased to be including the exquisite work of Astoria artist, Timothy Peitsch. Timothy, has always focused on the portrayal of people in his work. His last solo show at Imogen was an impressive series of graphite portraits of historical characters who somehow added to the lore of Astoria history. For this series he's ventured into the world of color, using surprising pops of color, adding a twist that takes a skillfully rendered portrait into a new and unexpected realm. Timothy has always enjoyed the challenge of portraiture, considering it "the purest subject matter, the most recognizable". For him, it's an exploration of personality, with the goal of capturing something beyond the surface and finding an understanding or hint of who someone is, not merely what they appear to be. About this series he says:
In this body of work I've tried to bring a new range of color and form into my work. I have been experimenting with the introduction of thick broad strokes of color into each piece. Traditionally my work has largely only been done in only black-and-white. Consequently, this is a diversion that I have found to be extraordinarily enjoyable and rewarding.