December 2016 Exhibit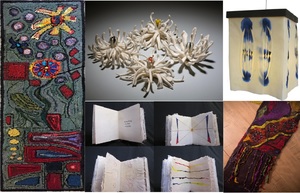 Hook, Pulp and Weave
An Exploration of Fiber as Medium
Celebrate the holidays with Imogen as we host a rich and diverse invitational exhibition exploring fiber. Functional and non-functional work will be included in this unique exhibition of textile based arts. Color, texture and composition form the backbone of this diverse collection including a new selection of hand hooked rugs by Roxy Applegate, wall hung and free standing paper art by Lâm Quãng and Kestrel Gates of HiiH Lights, nuno felted scarves and wraps by Julie Kern Smith, felted wool sculpture by Kristy Kun, and hand bound book art by Christine Trexel, are just a few of the exquisite examples of fiber in art to be presented for the exhibition. The exhibition will open for Astoria's Second Saturday Artwalk, December 10th with a reception for the artists, 5 – 8 pm. All are invited to attend and enjoy good company and cheer. Food and drink will be provided by the Astoria Coffeehouse and Bistro.
Fiber art is both an old and new art form, with weaving techniques dating back to Neolithic times some 12,000 years ago. It is respected as one of the oldest surviving craft forms in the world that evolved from multiple cultures, including the Incans who utilized textiles as currency, which held a more prominent role then gold for trade. Native Americans, for centuries have created elaborate basketry for all uses, including vessels that were water tight, made from regionally known plant materials. Middle Eastern nomadic tribes, have been respected for intricate hand knotted rugs made of wool and silk, dating back over 4000 years, and the rich illustrative tapestries of the 14th and 15th centuries of European cultures, all helped to forge what we appreciate as textile based art today. The term "fiber arts" came to be applied much later, post World War II with the insurgence of the craft movement. With this came the recognition of craft as fine art and the diminishing of the idea of utilitarian needs.
Hook, Pulp and Weave is a collection of just a few examples of what textile or fiber arts has evolved into. With the lessening of the importance of function, and the consideration of pure artistic concept being delivered through the fiber medium, artists have found a new voice to explore ancient arts, utilizing texture, color and form. While much of the work included to this exhibition is functional, several pieces are based strictly on sculptural methods, incorporating some form of fiber. Kristy Kun of Portland brings 3-dimentional soft sculpture created from felted wool. About her process she states: "With (mostly) gentle coaxing and a soapy water assist, a dense sculptural material is formed from soft wool fibers. With the same process, the lightest of fabrics that incorporate silks or plant fibers emerges…. It's magic, it's renewable and reactive." Christine Trexel of Astoria includes her intricate hand-made books utilizing handmade paper fiber. Roxy Applegate formerly of Astoria, now residing in Portland, has for years focused on the creation of hook rugs, sometimes dying her own materials and creating her own vibrant designs, she loves color! Her finished pieces are meant for the floor, but they look equally grand on the wall, presented as strictly an art form. Julie Kern Smith of Portland, shares her rich and sophisticated wraps made of nuno felted wool and repurposed silk, from scarves and kimonos. Also included to this year's exhibition will be the work of husband and wife team Lâm Quãng and Kestrel Gates of HiiH Lights, they bring a new series of their own handmade paper wall art and screens, to accompany their many gorgeous lights currently on display at Imogen. Hook, Pulp and Weave is an eclectic, tactile and exciting blend of fiber forms that all will enjoy.
---
November 2016 Exhibit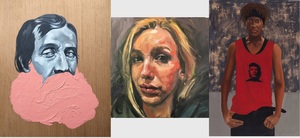 Facing You
An Exploration of Portraiture
Imogen is pleased to be presenting the second invitational exhibition exploring humanity through portraiture. This year's exhibition will include the sublime paintings of Reed Clarke, April Coppini and Timothy Peitsch all exploring the essence of humanity. This evocative collection moves beyond a surface glance at an individual, inviting the viewer a step closer and to consider the underlying. Perhaps even to see ourselves through the eyes of others, and what it means to be a part of mankind. Each portrait tells a story, we invite you to participate. The exhibition will open for Astoria's Second Saturday Artwalk, November 12th with a reception for the artists, 5 – 8 pm. All are invited to attend and enjoy good company, food and drink, provided by the Astoria Coffeehouse and Bistro. The exhibition will be on view November 12th thru December 6th.
Many artists at some point in their career have placed focus on the human form as subject matter, for some it's a form of study, for others it's a means to participate with humanity on a more intimate level. Artists Reed Clarke, April Coppini and Timothy Peitsch fall into that category. Portraiture becomes a vehicle utilized to explore deeper reflection of who we are, what we convey without speaking, simply by stance, expression or direction of gaze. These artists, all incredibly skilled with chosen medium, bring suggestion of story and history through portrayal of individuals.

Reed Clarke of Portland, Oregon has dedicated much of his career as a fine artist painting others. Known for his skill as a painter and printmaker, he has had his work juried into Clatsop Community College's prestigious Au Naturel: Nudes in the 21st Century exhibition 5 times, receiving a first prize award as well as a purchase award from CCC. He has exhibited his work throughout Portland including a show at the White Gallery of Portland State University. He brings a strong collection of work, inviting the viewer to perhaps create their own story. His skill is apparent in the nuance of palette to create mood and emotion through an intimate look and consideration to another's experience, perhaps with a goal of fostering greater understanding and acceptance of who we are. About this series he states:
The paintings I have selected for the Imogen Gallery show called "Facing You" have all been painted during the last year. They all take as subject the human face and body. However, I tend to resist the word "portrait" for what I do. I have no interest in being asked to paint someone's portrait in a manner that would please him or her. For me, what I set out to paint are images. The model, if there is one, is only a starting point and I would much rather finish with a good painting that looked nothing like the model than a faithful one that was not very interesting. There is something I'm looking for that is different than being "realistic". What I hope is that the viewer of my work sees something in the painting that is recognizable and in some way truthfully expresses the challenge of being human, perhaps, for example, a viewer identifying with sense of vulnerability that is masked but still observable.

April Coppini of Portland, who is well known for her gestural charcoal drawings of bees and other flora and fauna, has also found herself drawn to the human face for her own reasons. April has for quite some time focused on the energy of animals and insects, portrayed with respectful accuracy for what each animals role is, sharing an element of each species essence and its role on the planet. She has received great critical acclaim for her drawings, including articles published in Luxe and Artist's Magazine. This will be April's second inclusion to Facing You, where she deftly proves her skills as a painter. It seems use of color comes easily to this artist who has mastered the gestural movement of charcoal on paper. Her portraiture exudes the life and spirit of each individual depicted with thick and bold moving of oil on canvas. For this series, April brings gorgeous portrayals of women who balance the roles of mother and artist, something she knows well. She states:
I have done a lot of thinking, a lot of writing (including letters of encouragement and warning!) and a lot of talking about being an artist and a mother at once. It's something I turn around in my thoughts and feel the tugging of daily. It occurred to me recently in a moment of isolation (that is part artist reclusiveness and part unavoidable result of parenthood) that who I most wanted to connect with, who I most wanted to see most, were other mother artists. So I am embarking on a year(s) long project to paint the portraits of as many artist/mothers as I can. At best, I will make true connections and gain collective insight on this ever personal subject, and at least, I will be visually surrounded by my people (and maybe find myself as a painter along the way...)

This year we are pleased to be including the exquisite work of Astoria artist, Timothy Peitsch. Timothy, has always focused on the portrayal of people in his work. His last solo show at Imogen was an impressive series of graphite portraits of historical characters who somehow added to the lore of Astoria history. For this series he's ventured into the world of color, using surprising pops of color, adding a twist that takes a skillfully rendered portrait into a new and unexpected realm. Timothy has always enjoyed the challenge of portraiture, considering it "the purest subject matter, the most recognizable". For him, it's an exploration of personality, with the goal of capturing something beyond the surface and finding an understanding or hint of who someone is, not merely what they appear to be. About this series he says:
In this body of work I've tried to bring a new range of color and form into my work. I have been experimenting with the introduction of thick broad strokes of color into each piece. Traditionally my work has largely only been done in only black-and-white. Consequently, this is a diversion that I have found to be extraordinarily enjoyable and rewarding.

---
October 2016 Exhibit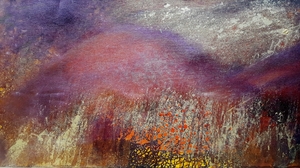 Linden
The Tao of An, a Journey to Peace
Known for evocative abstraction, native born Astoria artist, Linden, brings a new collection of paintings celebrating the life of her close friend and artistic mentor, An Marie, a longtime resident of Astoria. Along with her own paintings Linden is sharing the work of An Marie, who was an incredibly gifted artist, quietly creating but seldom sharing her beautiful renderings of the human form. This will be the first and only time the work of these two talented women will be exhibited together. A fitting and appropriate way to honor the life of a mentor to many. Proceeds from sales of An Marie's work will go to Astoria Visual Arts a local nonprofit group supporting visual arts. The exhibition opens during Astoria's Second Saturday Artwalk, October 8th, 5 – 8 pm and will remain on display through November 8th. Linden will be present and available to talk about her work, all are invited to join in this moving tribute of friendship shared through creativity.

For many artists, months, even years can go into preparing for a single exhibition. Most give careful thought to what they want to convey through a body of work, whether it's technical ability to capture light and form, mastering the beauty of landscape, or a message about humanity. For Linden, her focus for this series took a sharp turn at the passing of her longtime friend An Marie. For anyone who has lost someone close, it goes without saying, there is a process of coming to terms with something so definite. For Linden, who is an intuitive painter the loss had a profound impact on her creative process. She eventually realized the only way to move forward was to incorporate her struggle of loss through painting. This series of work is a celebration of life as well as physical manifestation of transition and stages of grief after such a loss.

Linden has almost always conveyed thought and idea through abstraction, allowing her the freedom to thoroughly explore the visual language by reducing known forms to suggestion of content. For this series she incorporates, memory and metaphor to provide a window of who An was. About An and her work, Linden states, "An's art was rarely seen by the public. I was amazed at the quality and quantity of the drawings she had saved in the flat files I inherited at her passing - this body of work, just her drawings, took me 3 days to go through and reintroduced me to her vast talent as an artist. The work chosen to share with you here is what I consider to be an inclusive retrospective of her evolving style over the years. Proceeds of sales will benefit Astoria Visual Arts where she was a founding member in 1989."

About this body of work, Linden articulates well on her current series and process. She states: "The death of my close friend and artistic mentor, An Marie, focused the energy of the paintings in this collection on the journey of an artist in transition. My profound sense of loss is reflected in these works, both in grief and in the memory of the Tao of friendship." Within this series is reflection of an individual's life and travels, spiritual beliefs, and interests that were cultivated over a life time. With a marked path of process, intentional by the artist, there is clear and poignant evidence of evolution from dark to light, an honest journey shared. This is a loving and personnel tribute of passing and/or transition; the Tao of An, and a journey of peace.

Beginning her studies at Clatsop Community College, Linden sites instructors the late Royal Nebeker and Roy Garrison as instrumental in her development as a fine artist. She continued her studies at Pacific Northwest College of Art where she earned a Bachelor of Fine Arts, focusing both on painting and sculpture. Relocating to the Bay Area in the late 90's, Linden continued her career while also teaching. In Benicia, California she founded a school dedicated to the education of all fine art practices for all ages. Linden opened the school under the premise that "the innate creativity that we have as children isn't ever really lost. It just needs to be fed so it can blossom." The Linden Tree is still in operation today with the same mission that Linden founded it under. She has exhibited throughout the northwest as well further locales, including Chicago. She began her local exhibition career at the former Ricciardi Art Gallery in 1996. Some of her accomplishments include a "Juror's Award" for sculpture created for the 2003 Journey's End International Art Exhibition held at Clatsop County Heritage Museum. Her work has also been juried into the Around Oregon Annual exhibition, in both 2014 and 2015, held at the Art Center in Corvallis, OR. She is also proud to have her work included in the permanent collection of Clatsop Community College, Pacific Northwest College of Art and the Astoria Public Library.

---
September 2016 Exhibit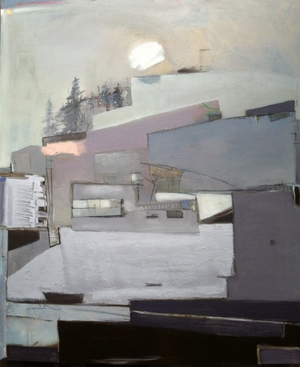 Bury The Hatchet, Stars Are Falling

For her second solo exhibition at Imogen, Diane Kingzett of Portland, brings a new series of oil paintings exploring issues of turmoil. Within this series, Bury The Hatchet, Stars Are Falling, her work conveys in sublime and intuitive ways, content echoing her own response to conflict with the goal of creating a path to move forward. In her own words: "laying down old relics and bones of interference so we may see the beauty that is offered, whether we are available to grasp it or not. A movement toward peace over turmoil." The exhibition opens for Astoria's Second Saturday Artwalk, September 10th 5 – 8 pm with a reception for the artist. Kingzett will be present and available to answer questions about her work. The exhibition will remain on view through October 4th.

Diane Kingzett is an artist who creates from an intuitive approach, her own responses to outside circumstances, help to form her imagery. Places she's been, memories of experiences and events, for better or worse are all open to consideration once in the studio. As an artist, she conscientiously utilizes this in her painting process as a tool to work through difficult times, whether within her own life or on a broader level. Kingzett focuses her approach to how she considers the world. Taking in what is beyond control to explore its impact on her and/or the planet. Many of us have felt frustration when keeping up with the news of the day; anger, fear and insecurity are all things that one may come away with. Kingzett paints to put things in focus, not in a deliberate calculated way, but to find peace and understanding, even acceptance in a world that doesn't always make sense. Her work is not an attempt to mirror what she sees, but through reflection of emotional response, she constructs imagery to create beauty and resolve out of chaos and uncertainty.

Through abstraction, her compositions might bring vague memory of place. With calculated use of palette, exquisite deep blues work to anchor landscape, offering a sense of haunting mystery and a nod to the unknown. Pale washes of grey and lavender hues defined by thoughtful use of line, provide a calm moment to rest, perhaps allowing peace to permeate a space and to further create an emotional place to pause and reconnect. In this time, we often are looking to "reset", Kingzett's paintings provide that natural instinct to lay down burden, to retrace footsteps to a place that nurtures, through an ethereal sense of reality. About the series she states, "These landscape paintings are a reflection of movement towards peace over turmoil both personally and within my work. My obsession with color and gesture, which previously manifested in frenetic, aggressive mark making, is now opening into larger quiet color fields and softening horizons. A prevailing theme of "as above so below" conveys an essence of temperance and self-mastery, both internally and externally. This gradual surrender has led to a new level of self-control within my work. With these paintings I have sought to balance familiar aspects of abstract expressionism with more deliberate elements of composition."

Kingzett, who has painted for over 30 years earned her BFA at West Virginia University and also studied at the San Francisco Art Institute as well as the Vermont Studio Center. Having lived in all four corners of the country, Kingzett has taken inspiration from her experiences and utilized that towards the development of her work as a painter.

---
August 2016 Exhibit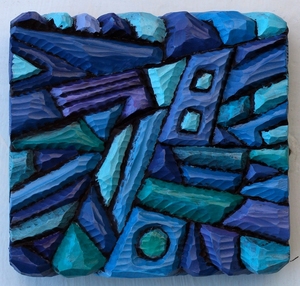 Tom Cramer: New Work

We are excited to be presenting an exhibition by the renowned Portland based artist Tom Cramer. He brings bold, complex, color saturated paintings along with carved wood relief wall pieces. The exhibition opens August 13th during Astoria's Second Saturday Artwalk, with a reception held from 5 – 8 pm. All are invited to join us for the reception and meet Tom Cramer who will be available to answer questions about his work. Light bites and beverages will be provided by the Astoria Coffee House and Bistro. The exhibition will remain on display through September 6th.

Tom Cramer has been at the epicenter of the Portland art scene for decades, known for his distinct and evocative painting style that reverberates with a sense of playful drama. For years many things have acted as a canvas to Cramer, utilizing furniture, cars, buildings, the ballet; these are just a sample of the channels of creative self-expression, Cramer has utilized. Within this series, his collectors might notice a shift in style as he merges into a new era, both personally and artistically. His work continues with strong use of color and pattern in smaller scale paintings on canvas as well as ink drawings, echoing his long interest in eastern spirituality and music, specifically jazz. Also using wood as a medium, the exhibition will include just a few of his carved relief pieces, glowing effervescently with intricate application of gold, silver and copper leaf. Some of the wood relief pieces are reminiscent of complex Tibetan mandalas. Cramer, utilizes organized color, and pattern through intricate carved concentric circles to hold elements of geometry, that then in entirety become a vessel of essence and/or spirituality. Sadly, because of an injury to his shoulder, creating these monumental and labor intensive pieces has become much more limited for Cramer.

A conversation with Cramer always leads into avenues that may have been little explored or considered, full of energy, ideas and many twists. Cramer's paintings reflect very much the same, and are in many ways a direct reference to his own experiences. Drawing inspiration from intense periods of travel, and engaging on a deep and personal level in what he considers to be older and wiser cultures, has helped him to create "an art driven by emotional content". When discussing his work, he states, "I prefer my work to be experienced rather than explained. Be that as it may, I like Picasso's statement that art is what nature is not. My work attempts to deal with what is not. What is, bores me. What is not is where it's at for me. Therefore, I am interested in sincerity, not irony. My work is strictly apolitical and idealistic. Instead of viewing such a position as an escape from reality, I view it as an exploration of the infinite nature of reality, or to put it into more prosaic terms, my recent work tends towards purely aesthetic, erotic, idealistic considerations. The idea of the picture as a door to a higher state of consciousness appeals to me. Towards that end, my work has numerous visual, cultural, and literary influences. Influences on my work include: everything, nothing, Buddhism, romanticism, irrational mental states, insanity, order, chaos, music, East Indian art, organic patterns, industrial forms, Hinduism, randomness, things with no apparent reason, Alan Watts, Nietzsche, Blake, Beethoven, Bach, Klaus Shultze and others. I prefer the work to be about the work, and not about me. One of my goals is to turn the viewer on to an expanded view of themselves."
Cramer's formal training began at PNCA in Portland and then on to Pratt Institute in New York. He has enjoyed a long and diverse career, showing in many reputable Northwest galleries over the years, including Laura Russo Gallery, and most recently Augen Gallery, both in Portland. His work has been exhibited at the Tacoma Art Museum and the Portland Art Museum, as well as many other prestigious visual art venues. Cramer's work can be found in the permanent collections of the Jordan Schnitzer Museum of Art, University of Oregon, Eugene, Microsoft, Inc, Portland Art Museum, the Boise Art Museum, and many other prestigious institutions.